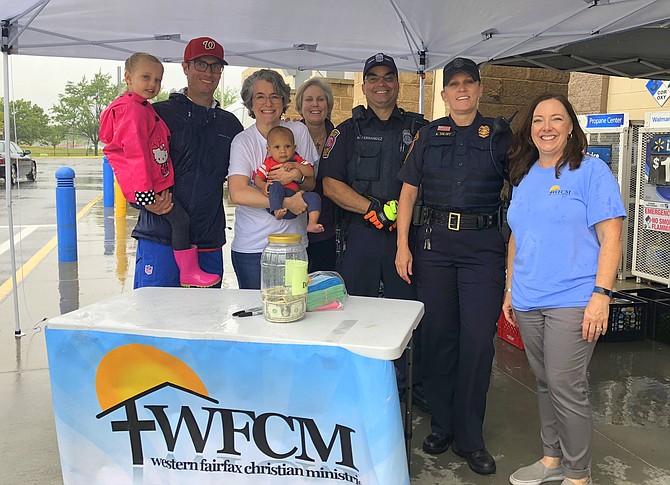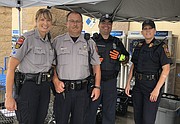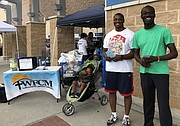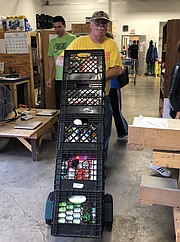 Despite heavy downpours producing more than 5 inches of rain, local residents didn't leave Western Fairfax Christian Ministries (WFCM) up the creek without a paddle. Instead, they grabbed their umbrellas and went to three stores, Saturday, July 21, to help replenish WFCM's food pantry.
It was the nonprofit's annual Stock Our Shelves food drive, which enables WFCM to keep feeding families in need in Western Fairfax County. Overall, the event yielded 5,005 pounds of food and $586 in cash, and WFCM Community Outreach Manager Jennie Bush was delighted.
"WFCM is grateful for the support of the community at our food drive," she said. "It really was neighbors helping neighbors."
Each month, the organization's food pantry in Chantilly serves more than 370 hungry individuals and families. But, said Bush, "This is a very critical time of year for WFCM. Keeping the food-pantry shelves stocked during the summer months is always a challenge — particularly with children out of school [and those eligible for free and reduced-price meals not receiving them], plus donors on vacation."
That's why the Stock Our Shelves event was so important. The stores participating in the food drive were the Centrewood Plaza Giant in Centreville and the Walmart, and Franklin Farm Giant in Chantilly. The event was held from 9 a.m.-3 p.m. At each location, volunteers distributed a list of the most-needed food and personal-care items to encourage shoppers to purchase what was especially needed.
"Thanks to the caring customers who donated food and toiletries — and store management who made the food drives possible — many families in need will have an abundance of food to shop for at WFCM's pantry," said Bush. "In fact, our volunteers often witnessed generous donors push a cart full of groceries out of the store, remove just one bag for themselves and donate the rest to WFCM."
Also praising the volunteers working outside each store, Bush said they, too, contributed to the event's success. Throughout the day, they stood — often in the rain — passing out the lists of the most-needed items, sharing WFCM's story and explaining why there were there.
"They kept smiles on their faces as they accepted food, weighed, marked and sorted it for the pantry," she said. "And at the end of the drive, many volunteers were also on hand at the pantry to unload the trucks full of food and personal-care items. They then stocked the nearly empty shelves with the donations."
Pleased with the results, Bush said, "Our community is very caring, supportive and generous, We couldn't do what we do without our neighbors, and we thank them all for donating food and for making Stock Our Shelves such a success."