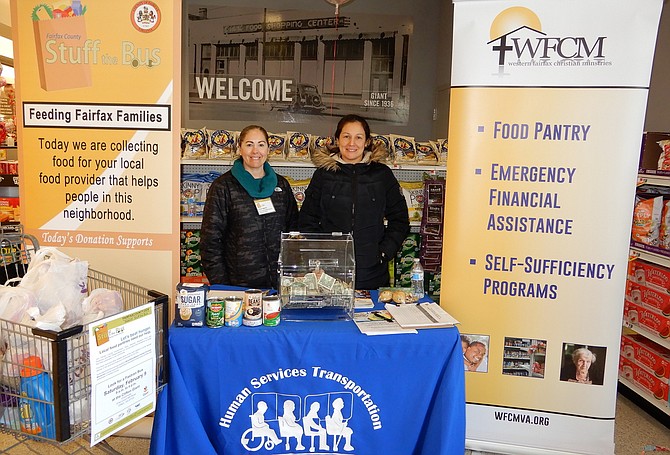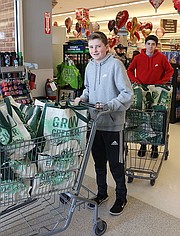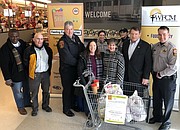 Community spirit was on display during the Stuff the Bus food drive for Western Fairfax Christian Ministries (WFCM). Held Feb. 9 at the Giant grocery store at the Colonnade at Union Mill Shopping Center, it was part of Fairfax County's annual initiative to stock local food pantries in the winter.
From 9 a.m.-4 p.m., various volunteers greeted Giant customers and passed out fliers asking for donations of food or money so the nonprofit WFCM can continue providing food for local families in need. What was collected was then stuffed into a bus and other vehicles and brought to the organization's pantry.
"We received more food than MV Transportation expected," said Jennie Bush, WFCM community outreach manager. "We filled its bus, a police department truck and an a MV Transportation personal vehicle."
"We are grateful for the support of our community which generously donated food and helped with volunteer needs," she continued. "One customer even took our list of most-needed' items and bought everything on the list to donate."
Bush noted that another customer bought and donated a grocery cart full of cereal, then returned to the donation area again with a second load of large bottles of liquid, laundry detergent and other needed food — and then went back to do his own shopping.
Impressed with people's generosity, Bush said, "The community response always amazes me. We couldn't do what we do without them, and any time we ask for donations of food, they respond. #neighborshelpingneighbors."
And when she needed last-minute help with an unexpected problem, the local police came to her rescue. "We had an unfortunate situation where we thought we had volunteers lined up this year, but something fell through," said Bush. "We put out a last-minute — at 5 p.m., the night before the event — plea to our community to help, and we got the volunteers we needed. Sully District Police Department officers, plus three auxiliary officers, came to help all day. Those auxiliary officers are volunteers, but they were really engaged, handing out fliers and collecting food."
In addition, a Boy Scout Troop leader also spent all day at the event. "All these people really made the difference in how many shoppers we were able to tell about the food drive," said Bush. "Also, two students from Stone Middle School, and a Boy Scout, stopped by to help pack food and load it into the truck and bus."
As a result of everyone's efforts, she said, all items collected will go toward helping the most vulnerable members of the community feed their families. She also expressed WFCM's gratitude toward the Giant Foods Corp. and to the Clifton Giant at The Colonnade for hosting this Stuff the Bus event each year.
"The store manager, Ken Trask, orders food ahead of time to make sure enough is on hand, the day of our food drive," said Bush. He specifically ordered some of our most-needed items for us to pre-bag in reusable shopping bags, which the store donated, enabling us to offer customers an easy way to buy a bag of food for about $10."
In addition, one of WFCM's community partners, Northwest Federal Credit Union (NWFCU), sent five employees to the store, a week early, to help fill 200 bags with these items — sugar, black beans, canned peaches, tuna, spinach and canned tomato sauce — all top choices of WFCM's clients. These were the food bags that were available for purchase by willing donors during Stuff the Bus.
"We are grateful for all the volunteers who made this day possible," said Bush. "And thank you to the residents and organizations for their generous food donations for our pantry and the hungry families in our community."