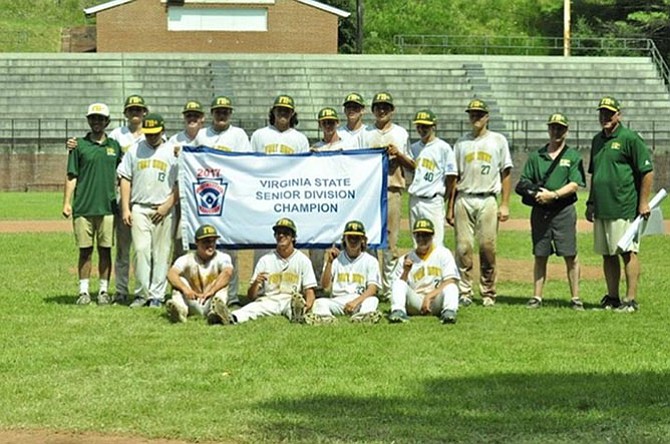 Fort Hunt Little League Senior All Stars are Virginia State Champions.
The FHLL Senior All Star team had to beat Bristol LL Seniors twice to claim the State Championship and they did so last week in a double-header by scores of 7-4 and 9-4. This is the second State Championship won by Fort Hunt Little League in any division in its 62 years of Little League baseball. The only other State Championship was won by a FHLL 2005 11U All Star team.
This week's Virginia State Championship was a team win in all aspects with contributions made by every player on the 15-man roster. Fort Hunt Seniors won behind great pitching, near-flawless play in the field and a solid performance at the plate.
The Championship game came down to the 6th inning when Fort Hunt, trailing Bristol, took back the lead for good and stretched a one-run lead in the 5th to a five run lead in the 6th and held that through the 7th.
The team included: Fort Hunt Little League Manager Joe English and coaches Matt Hagan and David Wagner and players Justin Bassett, Wesley Duffy, Joey English, Adam Fischer, Alex Grove, Dominic Holmes, Gavin Luscombe, Declan McPherson, CJ Promen, Aidan Sanderson, Nick Sanderson, Ryan Smith, Thomas Sowell, and Jacob Trumbo.