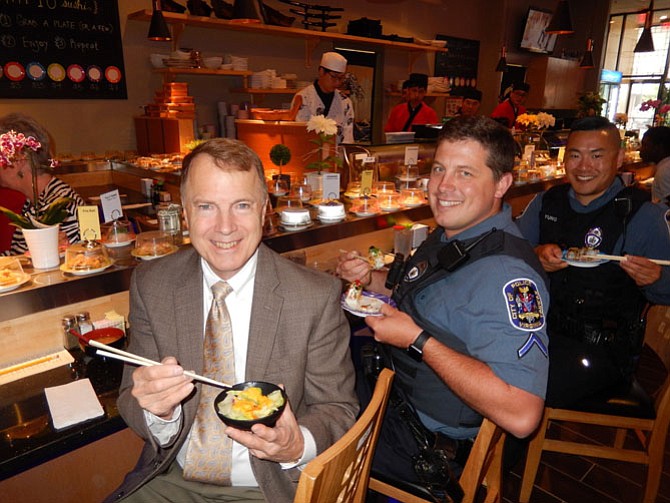 The word, "kaiten," means rotation in Japanese; so in a play on words, KAI 10 Conveyor Sushi has opened in the City of Fairfax. It's next to Mamma Lucia's, inside Fair City Mall.
It opened to the public in March and recently held its official grand opening and ribbon-cutting. It's the fourth KAI 10 in Virginia; there are also two in Fredericksburg and one in Tysons Corner.
"The food is labeled and comes along the conveyor belt in covered, plastic containers," explained the restaurant's Matthew Ahn. "The belt circulates around the tables and the customers pick what they want. Prices are according to the plate color and, if a dish is spicy, it will have a sign on it saying so."
Owner David Kim said he chose this location for the restaurant because "Fairfax has a lot of people who eat sushi, especially the younger generation. We also wanted to introduce conveyor-belt sushi in this area."
Besides being a new and novel idea, he said, "This way, it's a quick and convenient way to get your food. You don't have to put in an order and wait 30 minutes to get it, and you can pick out what you like. We have fresh, sushi-quality fish delivered every day, and we have a quick turn-around so the customer always gets fresh fish."
Kim said the five chefs there have a combined 70 years of experience. Steve Baik, his head chef, has 22 years, alone. The restaurant is open Monday-Saturday, 11:30 a.m.-10 p.m., and Sunday, 11:30 a.m.-8:30 p.m. Phone 703-865-8608.
Twenty different appetizers are offered, including everything from Jalapeno Hamachi Sashimi to Soft Shell Crab Tempura to Potato and Vegetable Croquettes. Entrees range from sushi and sashimi dishes to chicken, beef or salmon teriyaki. Hot noodles, such as Tonkotsu Ramen, and Yaki Soba (noodles and vegetables in a special sauce – with chicken, shrimp or beef) are also available.
Also on the menu are various soups and salads, plus poke bowl specials featuring salad or rice, spicy poke sauce and fish. Among the desserts are mochi ice cream, cheesecake and chocolate cake.
Kim says the most popular items are the fresh Tuna and Salmon Sashimi and the sushi Fire Roll consisting of spicy tuna, cream cheese and spicy crabmeat, deep-fried and served with a special sauce on top.
There for the ribbon-cutting and lunch, Fairfax City Mayor David Meyer said, "This is going to set a new standard for restaurants in the City of Fairfax and will put this restaurant and the City even more on the map. The food, atmosphere and service are outstanding. I highly recommend KAI 10 – it's a great experience."