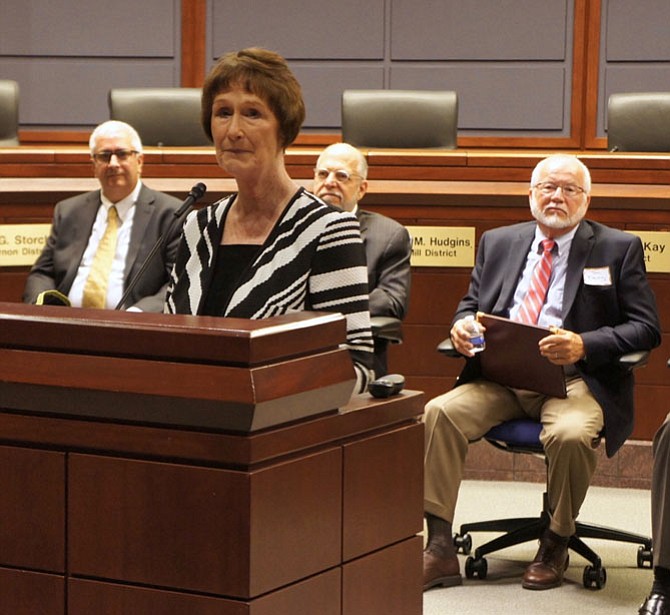 Part exhibition, part symposium, and part networking opportunity — there was something for everyone even vaguely interested in environmental issues at the Environmental Showcase, hosted by Fairfax County Board of Supervisors Chairman Sharon Bulova on Saturday, July 22 at the county's Government Center.
The Fairfax County Environmental Vision was first adopted by the Board of Supervisors in 2004, when U.S. Rep. Gerry Connolly (D-11) was the board's chair. Working with then-Supervisor Bulova and others like Supervisor Penny Gross (Mason District), an environmental advisory committee was established to help develop and direct the region's environmental agenda.
The board recently updated the Vision document, so the event provided the community with some insight into the revisions. It also acknowledged the achievements of local government departments and non-profit organizations and civic groups, while recommitting to the task of protecting the local environment and developing models of sustainability as the county continues to grow.
There were kudos enough to go around.
Bulova noted Fairfax County reduced its per capita emissions by 10 percent from 2005 to 2012 and reduced greenhouse gas emissions from public buildings by 21 percent from 2006 to 2015 — at the same time that county properties have grown in square footage.
More than 60 percent of the county's Fairfax Connector buses are "mini-hybrids" which utilize engine cooling systems to reduce emissions and save on fuel bills.
BOTH BULOVA AND CONNOLLY noted the county's goal to increase tree cover in Fairfax County by 45 percent by 2037 has already been met — and exceeded. In addition, according to the Park Authority, said Connolly, the goal of preserving 10 percent of all land in the county is well within reach. "9.26 percent there," said Connolly. "Only 1,864 acres more to go."
Connolly also praised the board for "once again taking a leadership role" and adopting a resolution to sign on to the National Climate Action Agenda to uphold the standards agreed upon by 195 nations at the Paris Climate Summit. "President Trump has withdrawn us from the agreement," said Connolly. "Congratulations. We've joined the ranks of Nicaragua and Syria, the only two other countries who refused to sign … and Nicaragua only declined because they thought it didn't go far enough."

Much of Connolly's remarks centered on the redevelopment of Tysons Corner.
"Consider the revolutionary provisions developed by the citizens Tysons Task Force. America's Next Great City is being built in a transit-oriented manner … ensuring for the first time in Fairfax County that transit, biking and walking will be the safest, most convenient modes of transportation."
Connolly listed a number of additional achievements that had been made, and pointed out that all had been accomplished in partnership with the business community. He also paid tribute to the "unsung heroes in much of our environmental progress," referring to the hundreds of individuals and civic groups who have not only advocated in support of environmental protection, but also put in the hours and added their expertise for the good of the whole community, today and for the future.
A diverse panel of government employees and business leaders made presentations highlighting the partnership that Connolly spoke of. Kambiz Agazi, who Bulova introduced as the "Environmental Orchestra Conductor," is the county's environmental coordinator. Agazi mentioned some of the changes in "Vision 2.0" and also informed the audience that a new "environmental inventory" measuring environmental impact and improvements would be soon forthcoming.
Also present from Fairfax County government were James Hart, planning commissioner, and Susan Hafeli, senior utility analyst.
Tom Fleury, executive vice president of Bowman Consulting; Dr. Dann Sklarew, Ph.D. from George Mason University; and Steve Smith, principal with Cooper Carry architects, all spoke of innovations within their various disciplines that were aimed at marrying profitability with efficiency and environmental stewardship.
Smith had the assembly particularly interested in the description of his company's pilot project, re-designing a test floor in a hotel to align with "wellness building concepts." "In these rooms, even the shower is thinking about your health" with a Vitamin C infused water flow, he said.
Before and after the speakers' presentations and questions for the panel, an estimated crowd of about 200 visited booths set up in the conference center lobby and in the main forum.
In the week ahead Reston Association will be reviewing its first major "RASER" – Reston Association State of the Environment Report. The work for the 190-page document was conducted over the last year by Doug Britt and a nine-person volunteer army who donated more than 1,000 hours to the task of unbundling information from a variety of sources and physically viewing, monitoring, testing and observing the natural environment in the area. The Reston booth drew quite a crowd, including Joan Kaspbowicz of Vienna ("just over the Reston line") who was impressed by the quantity of information being gathered and the work planned to restore and protect those resources.
Patrick Keenan, hotel operations project manager with Maryland-based B. F. Saul Company, Hospitality Group, stopped by to visit with Raea Jean Leinster, self-described "Chief Yuck Officer," of Yuck Old Paint recycling company. B. F. Saul is a client of Yuck. "Everybody can do their part," said Keenan.
THE YOUNGER GENERATION made its presence felt at the Showcase, as well. Members of ESLI – Eco-Schools Leadership Initiative – were also on hand. Sophia Applegate, a rising senior at Oakton High School, joined Madison High School rising junior Kathryn Hammond and VCU freshman Archana Nakkara of Vienna to talk about the program that helps other youths learn about environmental issues and start their own environmental initiatives. The three met at an ESLI Conference, and their mutual interest in environmental protection has brought them together to help spread the word.
"We love to do the programs especially in the middle schools and even younger. It's great to get kids started early, knowing how important it is to protect the Earth we live on and the community we live in," said Applegate.
There was no disagreement among those gathered. The work needed to be done on environmental issues and on combining the goals of growth and sustainability will probably never be done. "Things keep changing. People, technologies, the world around us, and we need to keep looking ahead to be ready," said Bulova.
The Fairfax County Environmental Vision can be reviewed at www.fairfaxcounty.gov/living/environment/sustainability/.