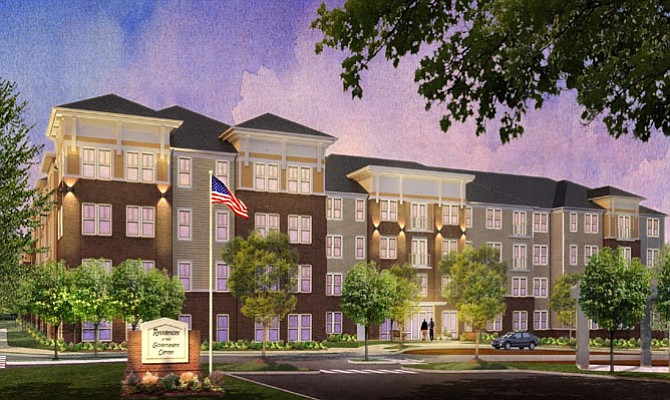 With an eye toward providing workforce housing in the local area, Fairfax County recently broke ground on a 270-unit apartment complex in Fair Oaks.
"This is a celebration in many ways and a great day for Fairfax County," said Greg Lamb, executive vice president of the Jefferson Apartment Group, the project's developer. "It took determination, dedication, persistence and commitment."
He was speaking May 5 in the county Government Center's forum, during a ceremony prior to the groundbreaking. The apartments are being built on county-owned land off Monument Drive, on the Government Center's perimeter, so they're named Residences at the Government Center.
On some 9 acres across from the Fairfax Corner shopping center, they'll offer a 5,800-square-foot amenity space including an outdoor pool, fenced playground, two courtyards and connections to walking trails. The apartments will include green and energy-saving features and will be available to people making up to 60 percent of the area median income (AMI).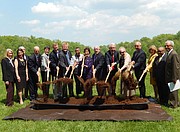 Calling it a great addition to the county, Robert Schwaninger, chairman of the county's Redevelopment and Housing Authority (FCRHA), said it took nine years to bring it to fruition. And Lamb said it was actually "birthed by Congressman Gerry Connolly (D-11)" when he was the Board of Supervisors chairman in November 2006 and made ending homelessness one of the county's eventual goals.
After the recession hit in 2008, the county asked first responders if they'd live in Fairfax County if affordable housing were built for their income levels, and 68 percent said yes. A plan to build it was proposed and approved, and construction documents and permits were obtained through 2013. But, said Lamb, "Rising interest costs made it unfinanceable."
However, in June 2014, the project became the first of its kind in Virginia to structure the financing via a combination of both 9-percent and 4-percent tax-credit allocations from the Virginia Housing Development Authority (VHDA, plus tax-exempt bonds from the FCRHA and other financing sources. It's a public-private partnership between the county, the FCRHA, Jefferson Apartment Group and Stratford Capital Group.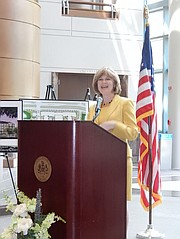 The apartment complex will be LEED-certified, with its marketing targeted to Fairfax County employees, although availability won't be restricted to them. And besides being affordable to households earning up to 60 percent AMI, at least 20 percent of the units are geared for households at or below 50 percent AMI.
Paradigm Construction Co. is the general contractor. There'll be studio, plus one-, two- and three-bedroom apartments. For people with yearly incomes of $38,000-$70,000, the rents will range from $1,000-$1,700 per unit. Site work actually began in April, and the first apartment is expected to be available for occupancy by October 2016.
Steve Wilson, president of Stratford Capital, which provided the financial backing for this project, also spoke during the ceremony. He said the Residences will improve the quality of life for those living there, but "We've only just begun. This was a real Rubik's cube of a deal with lots of moving parts, but we were able to do it."
"The affordable-housing problem continues to grow every year — especially in large, metropolitan areas — and Northern Virginia is no exception," continued Wilson. "We couldn't have done this without help from the local community. The county provided the land, effectively, at no cost to the developer."
"What we're celebrating today is a value system — a community that understands we need a mix of housing and that people need to be able to afford to live here," said Connolly. "And I can't thank my colleagues on the Board of Supervisors, years ago, enough for their commitment to make this happen. This is the fulfillment of that pledge — allowing people who want to live here to do so."
Supervisor Cathy Hudgins (D-Hunter Mill) said she was excited about it. "You can talk about something, but you don't have something to celebrate unless you can produce," she said. "And this provides a community people can be a part of. This is one more example of our commitment to affordable housing in Fairfax County, and it's housing where people can live and give back to their community."
"This project's been around so long that it was in the Springfield District and Elaine McConnell was its supervisor when it first started," added Supervisor John Cook (R-Braddock). "It shows how we can build things via partnerships — and things that couldn't have been done any other way. It's also an environmentally friendly building, so we're putting our money where our mouth is and showing we can do what we ask the private sector to do."
Board of Supervisors Chairman Sharon Bulova called it "a project that refused to die; people stepped in at various times to save it." And she thanked Connolly for his vision and her board colleagues for "having the courage to make this happen."
Because the developer was able to lease land from the county, and federal low-income, tax credits were obtained, said Bulova, "This is being done at no cost to the county. By providing workforce housing, many young people, low-income families and those having long commutes to jobs here will be able to live here. And because the property is privately owned, it'll also be a source of revenue for the county. It also illustrates an innovative use of smart growth, going forward."
VHDA Executive Director Susan Dewey said her organization's sole mission is affordable housing, and she thanked everyone involved in this project "on behalf of the 270 families who'll live here. It's difficult to do affordable housing; it takes a long time and a lot of people to put it all together." Thanking the supervisors and county staff for making sure the county has affordable housing, she said, "The tax credits amounted to $26 million of equity that made this project possible."
Agreeing, Schwaninger told those gathered, "Affordable housing is vital because it shows the soul of a community — its compassion. And I ask you to go out and tell others about it."