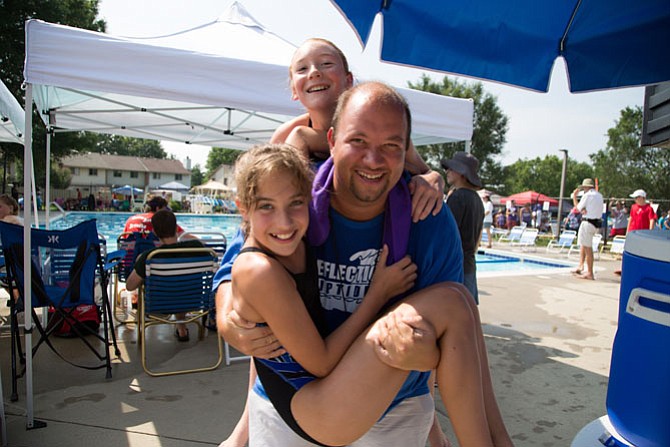 On Saturday, July 22, at the Four Seasons Recreation Center in Herndon the Herndon Swim League marked the 35th Anniversary. Gathered around the pool, crowds cheered the children all the way to 18 years of age competing in lane races with various strokes.
This was the 25th all league meet featuring a championship competition, all-star meet, and an alumni swim.
Bill Liedtke, founder and commissioner of the Herndon Swim League, was at the swim meet to hand out scholarships and watch his life's work.
When the Herndon Swim League started in 1983, there were six teams. "They would compete on an ad-hoc basis. Each week we could have a schedule," said Liedtke.
There were 300 swimmers in the first year of the swim league. Now there are nine teams with 800 swimmers.
"Northern Virginia is a huge swimming area," said Liedtke.
The purpose of the Herndon Swim League is to promote sportsmanship through friendly competition. "The kids swim more against the clock than against each other," said Liedtke.
Saturday was also the alumni relay. Having started the league in the 1980s most of the alumni are in their 30s. Many of the youth swimmers go on to compete in high school and even college.
Liedtke and the Herndon Swim League decided to build a scholarship fund for swimmers going on to compete at the college level. "We had trouble keeping the kids in the swim league," he said. "If you graduated from college, it was $500. It has worked."
The Herndon Swim League holds a silent auction to raise money for the fund. This year they handed out 10 scholarships to swimmers going on to compete at the college level.
Many of the older swimmers enjoy giving back to the younger children in the program. "The scholarship winners are not just here to swim, they help everybody else," he said.
Dylan Evans, 38, who works for Parks and Recreation of Loudoun County is one of the coaches at the meet. His team, the Reflection Riptides, competed Saturday. "I just had a coaching moment. One of the kids I coached a few years ago in high school just came up to me and thanked me," he said.
He enjoys coaching because he likes working with the children. "It's a nice change of pace," said Evans.
Two of his swimmers, both wearing Reflection Riptides swim suits, 11-year-old, sixth graders Caitlyn Allain and Grace Dowell were excited about their team's performance.
"What I like about the Reflection Riptides is that the coaches are not mean," said Allain. "I love the coaches and I like the way that they coach us," said Dowell.