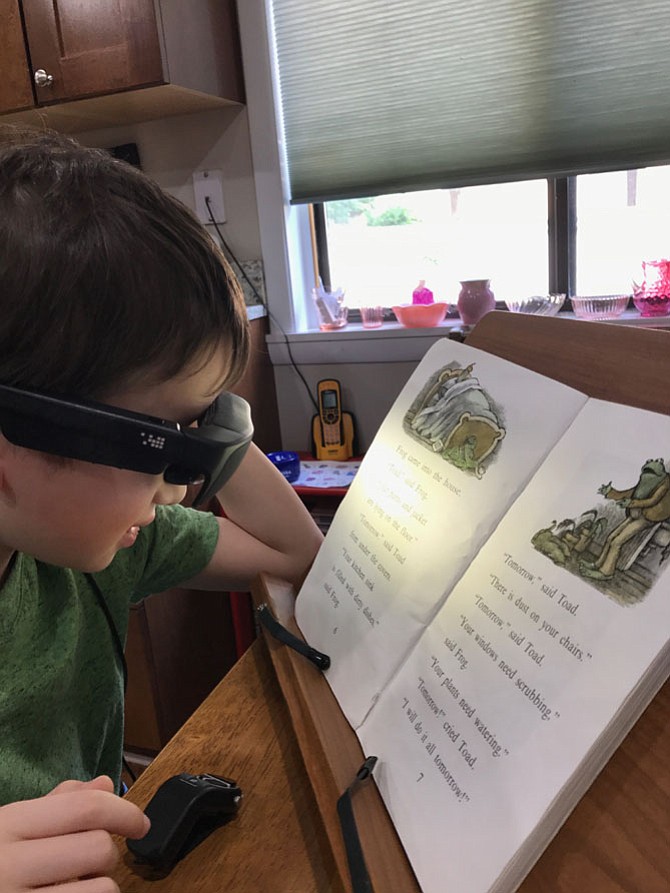 Felix Reges, 10, of Reston has so many good things in his life: Loving adoptive parents and four siblings, an unparalleled curiosity for all things IT, a joy of reading, and now NuEyes, a head-worn device for the visually impaired featuring Osterhout Design Group (ODG) Smartglasses that helps him see.
Felix has low vision. He is one of the 246 million visually impaired individuals worldwide, a number estimated by the World Health Organization. Felix's vision cannot be restored or corrected with regular eyeglasses.
Glenn and Ina Reges are Felix's parents. Recently the Reges family met with Kristi Linz Moore, a representative of the IWearTec, the local distributor of NuEyes. Moore said NuEyes created proprietary software for the ODG Smartglasses to benefit those with low vision.
She was there with the Reges family that day to review with Felix how to use the smart glasses and set up a monitor linked to the glasses via Bluetooth which would allow everyone to see what Felix saw through the glasses. While Moore set things up and worked with Felix, Glenn and Ina Reges shared a bit about their son, how Felix came into their lives and the challenges he faced.
Glenn Reges said Felix was abandoned five days after being born in southern China. He was placed in an orphanage where the caretakers were told not to interact with him unless necessary. Fifteen months later, Glenn and Ina Reges traveled to China hoping to adopt the baby boy.
"When they handed Felix to us, we immediately knew something wasn't right.... We had 24 hours to decide if we wanted to keep him or not," Glenn Reges recalled. "We kept him."
Later, Felix was diagnosed with a condition known as ocular albinism, in which the pigmentation of the iris and retina, essential for normal vision, is reduced and leads to low vision and blindness. "I can sit beside Felix, and he cannot see me," said Glenn Reges.
"We leave nothing on the floor for fear he will trip," added Ina Reges.
FELIX WAS ALSO DIAGNOSED with Hermansky-Pudlak Syndrome (HPS), a rare genetic metabolic disorder that causes albinism and platelet dysfunction with prolonged bleeding. Adding one more diagnosis to the list, Felix was found to be autistic, which when added to his vision impairment Glenn Reges said, "Creates additional anxiety for him. Felix does not have a sense of his environment, what is around him."
Glenn Reges recalled how he recently searched the internet trying to find something to help their son see, to level the educational playing field. "I considered braille," he said stopping to watch Felix as he tried out different controls on the smart glasses with Moore. Continuing, Glenn Reges told how it was during one of his many internet searches, looking for a low vision app to help Felix, that he came across an application for the Dr. Sam Genensky Video Magnification Award offered by the Council of Citizens with Low Vision International. Glenn Reges said he completed the application and then waited.
As the school year drew to a close, they received notification Felix had been selected as one of three individuals to receive a pair of the innovative electronic glasses, NuEyes, the head-worn visual prosthetic.
As Moore continued to instruct Felix on how to use the smart glasses, Glenn Reges asked about their durability. Moore explained the device features technology originally designed for the military. "They are nearly indestructible, except for water, and they are packed with high tech gadgets that will help Felix see," she said as Felix grabbed a book and set it on the table in front of him.
Moore described some of smart glasses' features. "NuEyes has a set of lenses, a digital camera, a computer with 64 GB storage, Bluetooth and a light," she said. "I like it because it's voice activated," Felix called out looking at his book. "Glasses make bigger," Felix said.
Everyone looked at the monitor. On the screen was the text, magnified. Moore noted there is a small handheld wireless controller if Felix preferred to use that, rather than voice commands.
Moore described how the camera located on the nose bridge worked. She explained the camera live-streams what's going on around Felix, then plays it back on the lenses he sees but with a brighter, sharper, and larger image. "The camera can focus at all distances, near, mid, and far," Moore said.
With that, Ina Reges asked Felix to go upstairs and check on his brother. Felix darted off wearing the glasses. Via the monitor, everyone followed Felix, seeing what Felix saw through the monitor – the walls of the kitchen, the steps, down the hall, through a doorway, and into his brother's room, and the bed where Felix looked down and at his brother. "He's here," Felix called.
According to the manufacturer's website, NuEyes are the first ever wireless, lightweight head-worn device that is voice activated and includes text-to-speech recognition, OCR. In other words, the glasses can read aloud any print seen through the lenses.
Also, unlike magnifiers commonly set up on tables for those with eye diseases such as macular degeneration, diabetic retinopathy, or retinitis pigmentosa, a person using NuEyes is not tethered to a screen. Instead, the head worn visual prosthetic can go anywhere – in the car, to restaurants, the mall, out and about because there are no wires, no screen to carry. The smart glasses hold the computer in their frames with the screen located on the inside lens, in front of the viewer's eyes.
"The first time Felix put the smart glasses on, he jumped up and down," Glenn Reges said. "Then he ran upstairs and got three books. Never did that before... My hope is that Felix will be able to go into the regular classroom with these glasses."
REACHED FOR COMMENT after the training session and asked how she thought the meeting went, Moore answered, "While being adopted by the Reges' was clearly a blessing, a second stroke of good fortune, if not a miracle has found its way to Felix.... He will now be able to enter a room full of people and see who's there. Enhance his school involvement by participating in regular class sessions and walk across the street and experience his neighborhood. And, for the first time be able to see the faces of his mother, father and brothers, and sisters from further than two feet away."