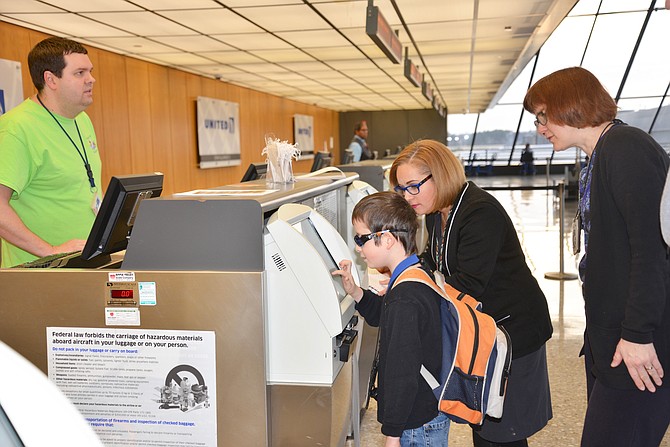 Glenn Reges and Ina Laemmerzahl are planning on taking their 9-year-old son, Felix Reges, on a trip to Colorado. Many couples would simply book their flights, a hotel room and the rental car and when the day arrived would be off to the airport for a fun-filled family vacation, but things are a bit more complicated for this Reston family. Felix has autism and is legally blind. His parents were worried how they would manage the challenges of travel by air, and how Felix would react to an experience that has been known to cause stress even for the most prepared travellers.
The "Wings for All" program's latest offering was one way to take a dry run at the travel adventure.
The Metropolitan Washington Airports Authority (MWAA) teamed up with non-profit The Arc, local chapter The Arc of Northern Virginia, United Airlines, Travelers Aid, MarketPlace Development, and the Transportation Security Administration (TSA) to simulate a typical airport travel experience for people with intellectual and developmental disabilities.
About 125 people — participants with differing special needs and their family members — arrived at Dulles International Airport on Saturday, March 25 and were guided through the travel process by an army of volunteers clad in neon-green t-shirts and directed by dozens of like-colored posters with directional arrows and additional instructions.
AT THE UNITED check-in kiosks, United employee May Hester helped each participant use the screens to enter their information and her colleague Jeff Lattea printed out boarding passes. Lattea, whose mother was a special education teacher, has volunteered to work this event several times. "I love doing this," he said. "If it helps give these families the confidence to take trips they may have avoided, it's worth every minute."
To gain that kind of confidence is why Lauren Gibson brought her 8-year-old son Aiden out to participate in the program. Where would Aiden take his flight if given the choice? Without hesitation, the youngster declared "Disney World!"
With boarding passes for United "Flight 2839 to Baltimore" in hand, the "passengers" then made their way to the TSA checkpoints. Some accommodations for wheelchairs had to be made. A back brace posed a momentary delay. A few of the parents and guardians looked somewhat anxious, concerned that their participant would become distressed at the on-and-off shoe action, the passing through the monitors, and, in one or two cases, a wave of the wand, but the piece of the pre-flight travel puzzle that had worried many the most, went off without a hitch and it was on to the subway to Terminal C.
At Gate C12 there was the wait that seasoned travelers have come to expect, as planes are maintained and crews come aboard. Not part of the regular routine, however, was the visit of First Officer Julie Callens, who circled the gate area and introduced herself to all of her passengers, offering souvenir wing pins and a smile.
At first, Kelsi Da Re, 11, was too shy to accept Callens' overtures and her gifts, but before long the girl, who had travelled from Haymarket to experience the travel rehearsal, was chatting with ease with the pilot, who was fresh off a flight from Frankfurt, Germany. Callens has volunteered with "Wings for All" before and said she wouldn't have missed this opportunity, "no matter what."
Kelsi's mom, Ann, was thrilled at how things were going. Up to now, she wasn't sure how her daughter would react to the noises, the lines, and the typical whirlwind of humanity that can be found at the airport. "There have been no plane trips," she said. She's thought about a trip to Maine, just for the peace and the beauty, or maybe a trip to see family in Chicago. "I think we can really start thinking about those trips now."
Robbie Frost, an 11-year-old from Centreville, didn't seem too shy or really too bothered by the wait at the gate. Surrounded by his grandparents Marsha and Lawrence Frost, from Springfield, and accompanied by his brother Tanner, Robbie had one word for the day's activities so far: "Awesome!"
AT LAST, the call was given to begin boarding and everyone lined up according to their boarding pass group number. The walk down the jetway did bring on a few frowns, especially from Giovanni Solis-Sosa, but for the youngster from Manassas, there were too many interesting things to check out once he and his family had found their seats, so smiles once again became the order of the day.
The all-volunteer flight crew were prepared for their special passengers. Several of the participants had to be carefully transferred from their own wheelchairs onto special "aisle chairs" that can fit in the narrow cabin space, and then transferred again into their assigned seats. At the end of the "flight," this process had to be performed in reverse, but was accomplished with minimal fuss and discomfort for the passenger. Janene Shaw, the Dulles Terminal operations coordinator who was on hand throughout the event, said that the airport and many of the airlines were pleased to accept training from Kymberly DeLoatche, The Arc of Northern Virginia's travel training project coordinator. As part of her duties, DeLoatche teaches airport personnel how best to interact with special needs passengers, how to alleviate many of their fears and make the experience the best possible for all.
Once everyone was safely belted in, the crew did their checks and the "flight" was underway, courtesy of an "engine-in-operation" soundtrack that was played over the PA system. Just a few minutes after "take-off" the cabin crew offered a beverage service.
When the "We've reached our cruising altitude" announcement was made, those able and who wished to do so were allowed to move about the cabin for some exploration. Flight attendant Rosemary Koenig said that airplane bathrooms have caused anxiety for some special needs passengers being such a small space, and equipped with louder-than-normal flushing mechanisms, so the fliers are welcomed to check them out during this travel walk-through.
There was one added bonus to the "Wings for All" journey that isn't part of a typical travel experience — the chance to visit the cockpit. Many braved the close quarters for a chance to see the heart of their flying machine, and a lucky few, like 16-year-old Julia Ferguson from Lorton, even climbed into the captain's seat and tried out the wheel.
AFTER THE ON-BOARD ADVENTURE, the newly-minted air travelers returned to the main terminal and the baggage claim area — a few of the passengers had checked bags that were awaiting their arrival near Carousel 2 — and a luncheon where they were joined by many of the staff, volunteers and the crew of Flight 2839.
MWAA media relations specialist Andrew Tull, who also joined the day's "flight" hopes to help make more people aware of programs like "Wings for All." Rizza and Erwin Lai of Fairfax only found out about the event a few days earlier, when they were researching the regulations regarding medications on flights. They want to take their 2-year-old son Ryle to visit their family in the Philippines. "It's a long flight and Ryle has a lot of medications," said Erwin Lai. "We were worried, so we looked it up and that is where we found out about this program."
The Arc of Northern Virginia's DeLoatche urges the families of anyone with intellectual and/or developmental disabilities to contact them for assistance for any of their needs, concerns or questions. More information about The Arc of Northern Virginia is available at www.thearcofnova.org. A "Wings for All" event is planned for the fall at Reagan National Airport, so more special passengers can become real-life travelers.
As for Felix Reges, he passed all steps of the simulated travel day with flying colors and is ready for that family trip to Colorado.