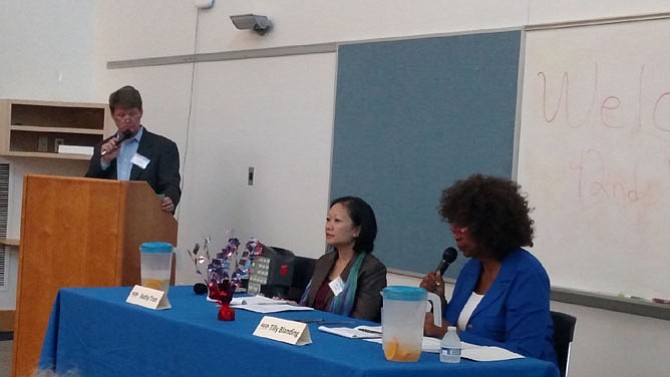 Kathy Tran
Career: Department of Labor; National Immigration Forum
Education: Duke (undergrad); Michigan (Masters)
Focus of First Bill: Increased investment in education
Nelfred "Tilly" Blanding
Career: Retired social worker
Education: South Carolina State
Focus of First Bill: Improved Pre-K education enrollment
GOP to Hold Primary Canvass
42nd District GOP Primary Canvass will be held, June 10, 10 a.m.-3 p.m. Firehouse Primary between the three candidates to be the Republican nominee for the 42nd House of Delegates seat is open to eligible voters of the 42nd district. South County Middle School, 8700 Laurel Crest Drive, Lorton.
A standing-room-only crowd was on hand for Wednesday night's 42nd District Democratic forum at the West Springfield Government Center—to listen to two women.
Candidates Tilly Blanding and Kathy Tran are competing for the party's delegate nomination. The district has been served by Republican Del. Dave Albo for 24 years, but he announced in April that he would not seek reelection. The Democratic party views this district as a prime flip target in November. The district voted 57 percent for Hillary Clinton in November to Donald Trump's 37 percent. Clinton won every precinct in the district except one, Fountainhead.
Both candidates said they were inspired to run in large part because of the 2016 election result. With the women's march taking place one day after Donald Trump's inauguration, there are a lot of newly energized citizens who are taking a more active role in politics at all levels, Tran said. Tran called the energy at the forum "undeniable."
"I think having two women running is very exciting," Blanding said. "We both attended the Emerge Bootcamp Training a couple of months ago, and there were 30-something women from around the state in that training. So it's very, very exciting to see women coming in there and taking charge, especially after what happened to Hillary [Clinton], the disappointment there. I think that's why you see so many women running, not just in Virginia but around the globe."
Blanding and Tran discussed education, health care and state transportation, among other issues, during the 90-minute debate, which was moderated by Mike Henry, chief of staff for Sen. Tim Kaine (D-VA). While the two candidates agreed on most matters of policy, their differing styles were on display. Blanding, for instance, made a point to involve the room during her points ("Raise your hand if you've been in traffic"), while several of Tran's talking points centered on friends or family members.
Tran's time working at the U.S. Department of Labor and the National Immigration Forum gives her experience dealing with legislation. She played a role in implementing the Workforce Innovation and Opportunity Act, and her vision includes an emphasis on improved education.
"As a legacy, [my husband] and I want to make sure that all our kids know that we're doing absolutely everything we can when our country is facing this moment of crisis," Tran said in her closing statement.
Blanding spent three decades as a social worker in the region. She came out of retirement to enter this race, and said she will place a premium on listening and inclusiveness during her campaign and beyond.
"My door will swing on open hinges to people in my region," Blanding said. "They can come to me because that's what I'm being elected for: to help people."
The primary election for the Democrats in this race is June 13, and the winner will run against one of three Republican candidates — Steve Adragna, Michael Drobnis or Lolita Mancheno-Smoak — in the general election on Nov. 7. The Republican candidate will be chosen at a Primary Canvass on June 10.