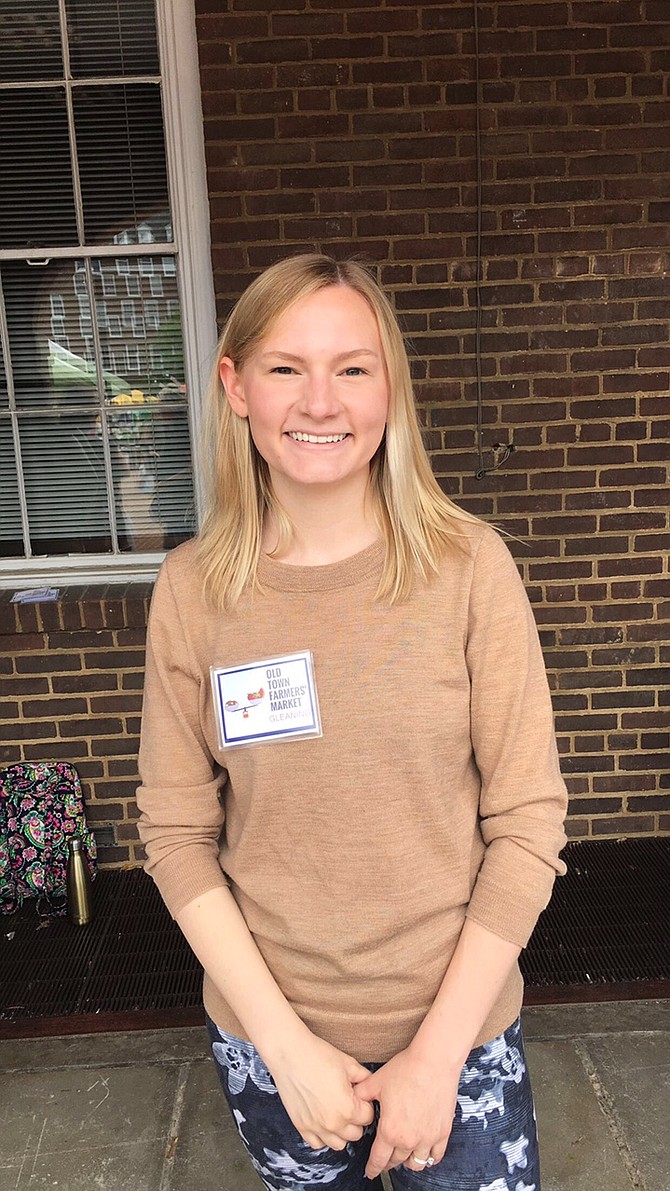 The Old Town Farmers Market is one of the oldest farmers markets, held in the same location since 1753, which is outside of City Hall every Saturday year-round from 7 a.m. to 12 p.m. But, since 2014 a rapidly growing volunteer program has become a part of this history.
Gleaning, or the collecting of unwanted left-over produce or products that any vendor at the market decides they want to donate instead of throwing away, has made its way into Old Town. Christ Church and St. Paul's Church provide volunteers every Saturday to help glean and sort the donated produce and products to be distributed at each of their Lazarus food pantries and to Friends of Guest House, a home for formerly incarcerated women re-entering the community.
"Gleaning is important because we are helping those in the community get food that are unable to do so otherwise," said Brandie Mae Grubb, the gleaning coordinator. Her role is to weigh, keep track of, and sort all the produce and products that the vendors donate. Even though Grubb works at Christ Church as their parish administrative coordinator she is also paid a stipend by Hunger Free Alexandria for her work as the gleaning coordinator.
Grubb gets to see the process come full circle — from when she sees vendors, sorts the goods, and then sees it go directly to the people at the Lazarus Food Pantry.
Stephanie Roberts, the representative from Christ Church, and Cindy Brack, the representative from St. Paul's Church, take charge after the donated goods have been sorted and taken to each church. The goods then are placed in each separate food pantry, and distributed to the Friends of Guest House on Monday, on Tuesday for St. Paul's and Thursday for Christ Church.
Lori Brown, a vendor from The Farmstead of Charlotte Hall, travels from Charlotte Hall, Md. 45 miles to participate in the farmers market. Brown's commute usually starts around 3 a.m. and she arrives in Old town around 5-5:30 a.m. The Farmstead has been a vendor at the Old Town farmers market for 20 years now and hasn't been participating in any other markets.
"I have a lot of regular customers, we always try and produce and meet their demands for our customer but no matter what we grown there are always leftovers," Brown said. The convenience of having a gleaning program at the market has saved Brown multiple trips into D.C. to the soup kitchens where she used to donate her produce.
Margaret (Maggie) Livelsberger, the city's SNAP/EBT program coordinator, helps organize the gleaning process through the months of June to November. The first three Saturdays in every month Livelsberger helps Christ Church and St. Paul's glean from the market.
The gleaning is a chance for vendors to give back to the community and donate to people in need. This program has fed hundreds of families in the City of Alexandria.