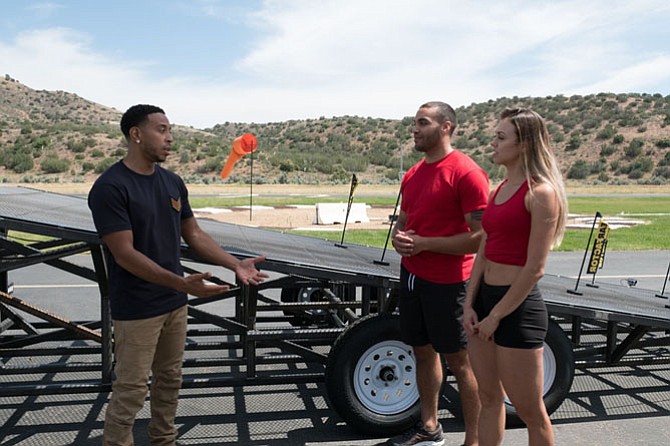 Confronting fears such as heights, snakes and spiders, isn't usually on anyone's bucket list — except for Alexandria's Kevin Carter and Cynthia Hughell.
When the two northern Virginia residents — Carter hails from the Clermont neighborhood and Hughell in the Wilton Woods neighborhood — heard about a reboot of the MTV show, "Fear Factor," neither hesitated to audition for the show. Being face to face to their fears such as "eating something gross" for Hughell and "having to bob for snakes" for Carter, didn't discourage them. In fact it motivated them, to fight the challenges presented, and pursue the $50,000 prize.
"Fear Factor" has a history of pushing people to their limits. From 2001 to 2006, it aired on MTV, and during its five years on television, it had Carter "hooked as a fan growing up."
"["Fear Factor"] was a show I used to watch when I was younger," he said. "I grew up in the age of the beginning of reality TV. Some of the shows didn't seem to be true to reality but 'Fear Factor' seemed to be one of the genuine ones." When the show first aired it was originally presented by comedian Joe Rogan. Now, in 2017, Rogan passed the reins to rapper and actor Ludacris, who, according to Carter, "is amazing" and "like a normal person."
For Carter, joining the "Fear Factor" was more about accomplishing a childhood "dream" than anything else. However, for his girlfriend, Hughell, a self-described "fearless person," the show was an opportunity to "conquer her fears." One of her fears was having to consume anything repulsive, that's not the only fear she possesses. As a physical therapist aide who doubles as a personal trainer, she also has a fear of losing, which more likely than not, helped her.
Why did they sign up for a show like the "Fear Factor"? While money did play into some of the reasons, it was not a driving force. Hughell felt that it would be fun and that it would allow their relationship to grow, whereas Carter had an attitude that was more along the lines of "why not?" The couple admitted that the competition did test their relationship, with Hughell saying that the couple needed to work on their communication and with Carter explicitly stating that having $50,000 on the line, tested their "patience, ability and teamwork."
While Carter had a lot to say about the show, and his experience being on TV, he also had much to say about his girlfriend. "I take my hat off to Cynthia. I think she crushed it. I think coming into it, people would doubt her because she's beautiful so they might think she's prissy. But when she went into the snake bobbing and just threw her head in, I was like 'Oh my God, I love this girl,'" he said.
Now living in Los Angeles, they both said they would do it all over again. Why were they chosen for the show? Hughell said that she had "no idea" why they were chosen, and believes that perhaps they just gave a "good interview." Her boyfriend believes the opposite.
"Probably because she [Cynthia] is good looking." Carter said. "I definitely think because I have prior military experience and because Cynthia is a fitness trainer that helped us a lot." He joined the U.S. Army in 2013, after graduating from Fordham University in 2012, he served in the 173rd IBCT in Vicenza, Italy. Currently, he's a full time student at the University of Southern California doing a Masters of Business program. Hughell works at Evolution Physical Therapy in Beverly Hills.
While the two don't know exactly why they were chosen to be on the MTV show, the show's production crew did reveal their "ideal candidate:" "We are looking for people that are naturally funny, have a good story, or you can tell will react broadly to everything. We need big personalities of all types." Occasionally, however, production feels that they may need more specific kinds of people, and they look to casting departments to help them do so. We hire a casting department to cast a wide net. For example we wanted frat brothers, so we called frats to see if anyone was interested."