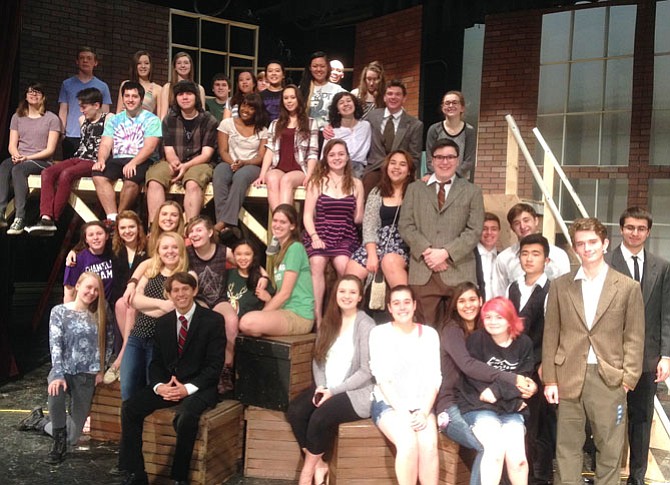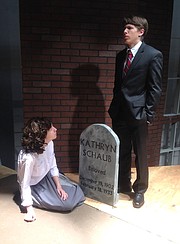 A slice of American history is presented in Chantilly High's production of the drama, "Radium Girls." It features a cast and crew of 35, and Director Ed Monk says his young thespians are doing a terrific job.
"I hadn't intended to double-cast the show, but the auditions were so good that I had to," he said. "We have so many talented actors."
The curtain rises Friday-Saturday, May 1-2, and Thursday-Friday, May 7-8, at 7 p.m. Tickets are $10 at the door or via www.chantillyhsdrama.com.
The play takes place in Orange, N.J., during WW I. "It's based on a real story of female factory workers in 1917 who were painting glow-in-the-dark watch dials for the soldiers," said Monk. "To make a fine point with their brushes, they had to put the brush tips in their mouths. But they were using radium paint – not knowing it would cause cancer. And the story's about their struggle to get compensation from the company that caused their health problems."
Senior Mia Rickenbach plays the lead role of Grace Fryer, who goes from ages 15-26 during the show. "Initially, she does what other people tell her to do," said Rickenbach. "But as time goes on, she begins to stand up for herself. She works at the U.S. Radium Corp., painting watch dials, and faces challenges in her relationships with her fiancé, friends and mother."
It's a tough role, she said, because "It's different from plays we usually do and because Grace changes so much physically, emotionally and heath-wise, throughout the show. But it's exciting to play her because she's so diverse and changes so much. And although she has her flaws, she still fights for what's right."
Rickenbach said the audience will appreciate that "The story doesn't unfold in a linear fashion, but jumps from one character's perspective to another's, so you get different insights on what's happening."
Portraying Arthur Roeder, the vice-president and then the president of the U.S. Radium Corp., is senior Ryan Rickard. "He's a smart, modern businessman with a background in sales, so he has lots of ideas on how to market radium," said Rickard. "But he's also a man of moral principles and hires as many people as possible who need help. And once allegations against his company start coming out, that the radium from his plant causes cancer and radiation poisoning, he's torn between admitting it and finding a way to save his company."
Rickard loves playing him because he gets to show Roeder over a span of 30 years. "Physically, it's a fun thing to do as an actor to go from a man in his mid-30s to his mid-60s," he said. "And emotionally, he's so complex, so I get to portray all his different emotions — which intensify as all the legal problems go on and his conscience tries to tell him what's right."
As for the show, he said the audience will enjoy its cinematic style of story telling. In addition, said Rickard, "It's really character-driven, and they'll care about so many of the characters on both sides of the conflict."
Playing Roeder's wife is senior Aubrey Phares. "She tries to be a good wife and connect with her husband," said Phares. "But all the tension that's been mounting throughout the play eventually affects their relationship. She has a small streak of independence, but is basically a wife of the time period, so I'm doing my best to make her stand out." Phares said the audience will like that the play's based on a true story and that it's fast-paced.
Senior Carly Carter plays factory-worker Kathryn who's Grace's best friend. "She loves her cousin Irene [who also paints the watch dials] and is very loyal to her," said Carter. "They argue with each other like siblings, but they're really close. So after Irene dies, Kathryn becomes a lot more cynical — when, before, she used to romanticize everything. And she now sees the worst in people."
Carter's character gets sick, too, and she said it's an "interesting experience to play someone deteriorating. I get to show how cancer affects the body. And our makeup person, Maddy Farmer, is really great at special-effects makeup. She transforms both Grace's and Kathryn's looks throughout the play, so I'm really excited about that."
Carter said the audience will be fascinated with the play's morality "as Roeder makes tougher and tougher decisions about how to deal with these girls. People will also be able to see the larger picture of how victims are sometimes pushed under the rug and not given the compensation that they deserve."
The action will take place in the factory, people's homes and a courtroom. And, said Monk, "Since the story jumps from scene to scene and location to location very rapidly, we're doing more of a stylistic set."
He, too, said the audience will be absorbed with the story and find it interesting. "The play's still relevant today, sadly enough, with, for example, the General Motors ignition switches and the airbag cases," said Monk. "Companies with good people in them still do horrible things — and why? How do people lie and justify these things to themselves? So, hopefully, our show will make people think. And it's also a piece of American history most people don't know about."