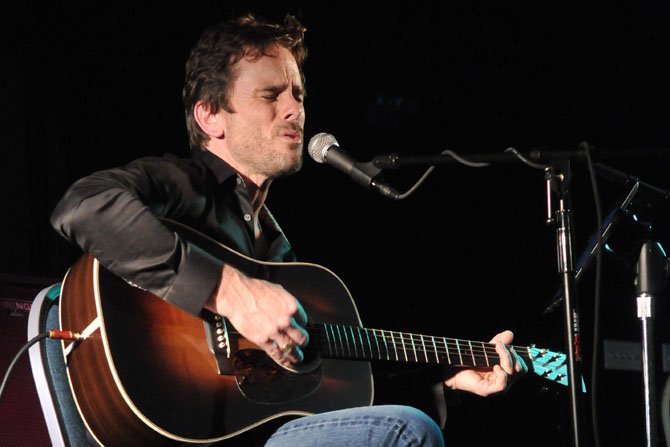 A Word with Chip After the Show
In an interview Esten answered questions raised by the audience.
Q: With a stable, fulfilling marriage of 20 years, what is your thinking as you approach the romantic aspects of the show?
CE: "It's funny because if I'm fighting with Teddy — and I've known Eric [Close, who plays Teddy] for years and we've been friends and it's just as acted and pantomimed with him as it is with Connie [Rayna] and Hayden [Juliette]. Everything I know about being romantic is from [wife Patty Esten]. Those scenes are not … they're both wonderful, great professional actresses and they're professional in that realm."
Esten has been married 20 years to his wife and is quick to acknowledge and emphasize how his marriage has shaped his career positively.
"My wife is and has been everything to me since I met her. It's been particularly wonderful that she's been there every step of the way. She was with me in the middle of the night in college helping pack up frat gear after a party [laughs]. We went to London together [for the musical "Buddy"]. She worked a good job while I was not having any real acting work, just scraping together. I'm so blessed in that arena."
Q: What was going through your head while you were up there on stage?
CE: "The night had a looseness to it. So far I don't tour around playing shows like that. I'd love to get to play more in the future. … It's funny because mostly you're just sitting in front of a room of so many people I know and love and I could never put on any airs."
Q: The audience was divided on the question of whether you're similar or totally different than Deacon. Do you want to weigh in?
CE: "[Laughing] I can see that, I can see that … Deacon's general demeanor when he's in a good place, his demeanor, his sense of humor. He's got a lot of good people in his life, people who love him, and so do I. But he's got that dark side. I'm there but for the grace of God. I'm fortunate that I am not an alcoholic or addicted to drugs in the way that he is. Also, Deacon's had some life experiences … I've been particularly fortunate to have a wonderful life."
Q: You're doing a lot of co-writing lately. Have you gotten to write with any of your co-stars?
CE: "No, actually I haven't yet, though Clare [Bowen, who plays Scarlett] and I have talked about writing an awful lot. I'd love to get a chance to write with her."
The Durant Arts Center multipurpose room rarely gets as glamorous as it did on Friday night, May 3, when The Scholarship Fund of Alexandria ushered Charles "Chip" Esten onto its brightly lit stage.
The "Nashville" star, who plays Deacon Claybourne on the hit series, informed the audience of Alexandrians that though he would be whoever they wanted him to be that night at autograph time — Deacon, Charles or Chip — he was the boy they knew. "It's Chip not Charles. It's Puskar," said the star as he walked on.
In hometown fashion, Esten opened with "Back Home," noting it was also the first song his character Deacon Claybourne sang on the ABC show.
Esten punctuated his set list — equal parts tongue-in-cheek country songs, "Nashville" hits and co-written ballads — with one-liners: "You can't even sort of understand what this show has meant to me," he said. "Gettin' to play the Grand Ole Opry, the Bluebird … if you had told me growing up I was gonna play the Durant Center multipurpose room, I would not have believed you."
His set list unfolded to reveal standout titles such as, "Pour Four More Por Favor" and "One More Time" (another drinking song referencing shots), although the mood turned wistful in recently co-written songs like "Dancing All Around It" and "I'm Still Waiting On Her."
In "Dancing All Around It" Esten drew out a bittersweet ballad. A sweet, romantic scene in the first verse changes tone entirely in the second verse. "We were dancing all around it, we didn't notice the last note sounded. We kept holding on, even though the song's gone," sang Esten in the first verse. On the way to the second, the image of a dancing couple took on new meaning: "I wish we could've stayed right there on that floor. We're not the people in the picture anymore. We're always dancing all around it, losing each other for so long. We kept holding on, even though the song is gone … we both keep holding on."
At one point an enthusiastic member of the 200-person crowd called out a question. "Tell us what it was like doing that steamy scene with Rayna," yelled a fan, referring to the "Nashville" episode aired Wednesday, May 1, in which characters Deacon and longtime friend/former girlfriend Rayna share a romantic scene.
Esten wasn't interested in the drama, though, and laughed but didn't respond. He was there for the cause of raising scholarship money and for all the people he knew and loved, he said.
Following the concert, a "Deacon Claybourne" guitar pick and a guitar signed by Esten, Hayden Panettiere (Juliette), Sam Palladio (Gunnar), Clare Bowen (Scarlett), Jonathan Jackson (Avery) and Lennon and Maisy Stella (Rayna's daughters Maddie and Daphne) were auctioned off for a joint total of $3,700 — $200 of which came from Esten's Rosemont neighbor Suzanne Rathlev in exchange for a guitar pick. Jen Walker of McEnearney Associates, a Del Ray Realtor, contributed the other $3,500 to the fund in exchange for the guitar.
Even Esten's former assistant principal while at T.C. Williams, John Porter, paid a high dollar for swag, winning a Titans sweater with his $120 bid.
Cathy Puskar, chair of the board of trustees for the fund, ushered her brother off the auctioning stage and again into the limelight, this time for photos, as a line of women waiting to smile beside him snaked around the room. Following the photo op, Esten sat for autographs.
"He was very gracious," said Puskar after the event. "Everyone got their turn."
Puskar dedicates a large amount of time to the evening's cause. "The scholarship fund is great because you know exactly where the money is going," she said. "You know when you give a dollar where it's going … and the more diverse Alexandria becomes, the more we are able to support [first generation] college students."
The event proceeds chalked up to $22,000, an equivalent of almost nine scholarships at $2,500 per student. Puskar said the concert supplemented the Scholarship Fund of Alexandria budget with its annual gala, which raised over $275,000 this year, as well as Clash of the T.C. Titans social media drive, which is currently in progress. To see the campaign in motion and to donate, go to http://www.alexscholarshipfund.org/clash/.
The next event for the fund will be their 18th Annual Telethon, slated for Sunday, Oct. 28, from 4-9 p.m. at T.C. Williams with an online and television broadcast scheduled for Channels 69 and 71 and www.AlexScholarshipFund.org.