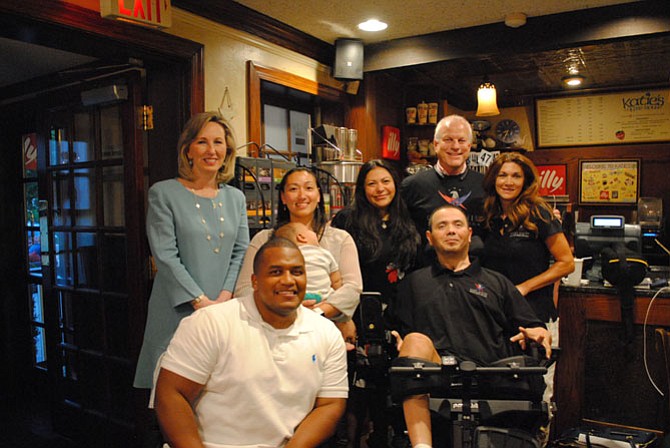 Great Falls — Military veteran, U.S. Army Capt. Luis Avila, sang "God Bless America" at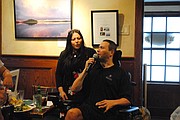 Military Appreciation Monday on June 12. The dinner was hosted by Bob Nelson and the Gary Sinise Foundation at The Old Brogue.
Community members gathered for dinner at 5:30 p.m. and 7:30 p.m. People were able to enjoy drinks and food, proceeds of which went towards the Gary Sinise Foundation.
The Foundation was founded in 2011 by the actor Gary Sinise who is most commonly recognized as Lt. Dan in Forrest Gump.
The foundation has many programs to help veterans including RISE, which helps provide wounded heroes and families various resources, such as smart homes and vehicles specific to their needs.
Avila was injured in Afghanistan while on active duty on his fifth tour. He was pronounced dead three times and then put on life support. Despite what doctors told her, his wife Claudia refused to take him off.
Today, Avila is in therapy that uses music to strengthen his diaphragm to help him speak. Dinner guests were able to listen and sing along to "God Bless America." Avila also played the harmonica for attendees, which he said he did not play before his injury. He recently sang in the 2017 PBS National Memorial Day Concert as well.
Capt. Jeremy Haynes, a veteran who was injured and shot four times, came to share his story as well. He said he had a "phenomenal experience," with the Gary Sinise Foundation, which has given him a special wheelchair. His family is on the list for their own smart home.
Smart homes are homes built to fully adapt injured veterans in their own homes. It provides larger hallways and a lift throughout the house and other special modifications.
MILITARY APPRECIATION MONDAYS are held on the second Monday of each month, except for July and August. They support various groups and organizations that support military and feature different groups on the Mondays.
Both 5:30 p.m. and 7:30 p.m. dinner attendees were able to participate in a raffle. Prizes included handmade jewelry, stadium seats and gift cards and discounted services from a few Great Falls businesses. Two winners were able to win wooden Flags of Valor made by Brian Steorts, a veteran himself. The money from the auctions went directly to the Gary Sinise Foundation.

"This is not directed towards military people. It is directed towards civilians like myself. I have never served in the military. It is our way of saying thank you to those who have," MAM founder, Nelson, said.
To sign up for Military Appreciation Monday updates and information contact Nelson at bob@bobnelsonteam.com.