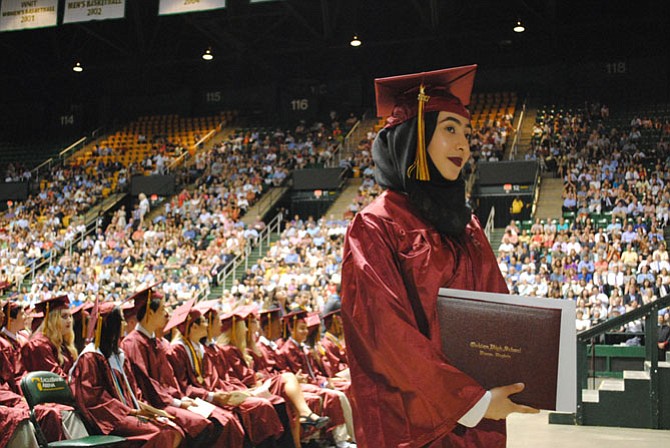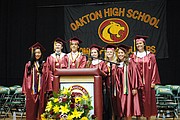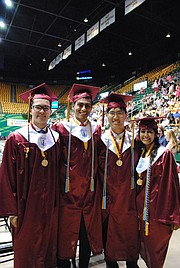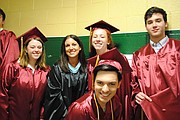 The color burgundy filled the floor of Eagle Bank Arena at George Mason on June 15. Oakton High School students gathered for the 2017 graduation ceremony at 2 p.m. The graduating class of 587 students nervously and anxiously awaited the moment their names would be called to walk across the stage.
Steve Buckhantz, television play-by-play announcer for the Washington Wizards, encouraged students to reach for their dreams.
"Find something you're passionate about, pursue it, and be persistent," Buckhantz said.
He is a Washington, D.C., native and attended Washington-Lee High School in Arlington. With 40 years of broadcasting experience with stations including NBC and Fox 5 TV in D.C., Buckhantz had a lot of advice for the young adults. He reminded students that they should remember where they came from and work hard for their futures.
The faculty awarded Ryan Davis the Faculty Award, which goes to a graduating senior who has been a great contributor to the Oakton High School Community.
This year was the last year that the Oakton principal, Dr. John Danbury, would be shaking students hands and handing them their diplomas. He was promoted to executive principal of region 1 a few months ago. Since then, Daniel Meier has been the interim principal until the position is filled.
Faculty received their share of appreciation from the speakers, including student Lydia Lodge, the Executive Council President, who said, "Without teachers, there would be no graduation."
The chorus sang a senior tribute of "Unwritten" by Natasha Bedingfield.
The class of 2017 had 188 honor graduates, more than any previous Oakton class. The Oakton cougars were able to proudly throw their burgundy caps in the air.