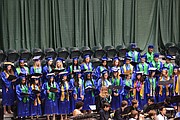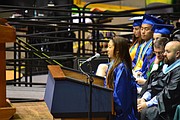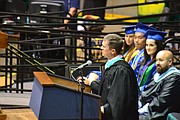 On Tuesday, June 20, the South Lakes High School Class of 2017 walked across the stage at the Eagle Bank Arena to receive their diplomas.
The South Lakes Band played "Pomp and Circumstance" as the students entered the arena. This was followed by the Presentation of Colors by the Army JROTC Color Guard, and "The Star-Spangled Banner," performed by Class of 2017 Chorus Members. The chorus also performed "The Climb" by Miley Cyrus, the Senior Class Song.
Graduation began with Class President Molly Sheets. Sheets thanked those who helped the Class of 2017 reach their moment of commencement. "Four years ago, graduation seemed like a distant dream," Sheets said.
Before the graduates walked across the stage to receive their diplomas, South Lakes teacher Lawrence Ward gave the keynote address.
Ward began his keynote speech by asking the graduates, "Are you ready?" Ward, English department chair of South Lakes High School, went on to speak about the new world the Class of 2017 would be entering, and what they will need to bring with them.
Confidence, courage, and compassion were Ward's three most important qualities to bring into the new post-graduation world, along with their diplomas. Referencing "The Sound of Music," "The Wizard of Oz," Winston Churchill, and "Catch-22," Ward reminded the graduates of the importance of both speaking and listening. He also emphasized lending a helping hand. "You probably can't help them all," he said. "Pick one."
Before Ward gave his keynote speech, Katherine Bae addressed her fellow classmates as the student speaker. She spoke of growth, community, and spirit. Of her school and the Class of 2017, she said, "This spirit, this community, goes unmatched for miles."
Bae recognized that graduation was both a big and small moment. Despite seeming big now, it would become a small moment in time as their lives continued. "Hold your breath, don't blink, because you might miss it," Bae said. She ended her speech with a simple phrase, repeated often by the graduation speakers, "Once a Seahawk, always a Seahawk."
Kimberly Retzer, South Lakes Principal, awarded the Bruce Butler Leadership award to Jenna Hirshfeld. Retzer also recognized the 178 honor graduates, who received a GPA of 4.0 or higher, and the three graduates who will be attending military academies.

Assistant Principal, Class of 2017, Greg Luongo, had advice for the graduates as well. "Focus on the hopes and dreams you have inside of you," Luongo said.
The ceremony concluded with the parting words of Lawrence Ward serving as a sum of the evening. "Class of 2017, working with you has been a privilege, an honor, and a treat. Farewell."