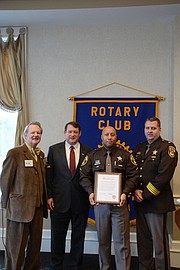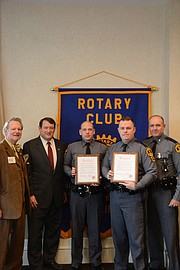 Members of the West Springfield Rotary Club honored three public servants with awards of recognition.
In a morning ceremony on Feb. 22, held at the Springfield Golf & Country Club, PFC Kevin Davis received the Deputy Sheriff of the Year award.
Davis retired from the U.S. Marine Corps and joined the Sheriff's office in 2009, where he works in the Civil Enforcement Branch and covers both the West Springfield and Burke communities.
Rotary recognized Davis' extracurricular work as a member of the Sheriff's office Honor Guard, participation in Project Lifesaver and National Night Out activities.
Supervisor Pat Herrity (R-Springfield) presented all three men with plaques bearing resolutions honoring them from the Board of Supervisors.
Rotary Club members pride themselves on the motto "service above self." Herrity commented that the law enforcement members "live and breathe that every day."
Virginia State Police Troopers Steven Muller and Kress Adamson were both recognized as Virginia State Trooper of the Year at the ceremony.
In August 2015, Muller was dispatched to a vehicle crash on I-495. Muller found an unconscious victim at the scene and began giving rescue breaths and administering CPR.
Trooper Kress arrived at the crash shortly thereafter and assisted Muller. A Fairfax County rescue team relieved them and after their combined efforts, the individual regained a pulse and was transported to INOVA Alexandria hospital in critical condition.
While some might say Troopers Muller and Kress were simply doing their jobs, the recognition certificates read, "to all in his office and members of the public with whom he has come in contact, and certainly this accident victim, his performance is nothing short of exceptional."
John Pellegrin with West Springfield Rotary announced the club would be making donations of $250 per honoree to the organization Law Enforcement United of Virginia, which provides assistance to the families of fallen heroes.