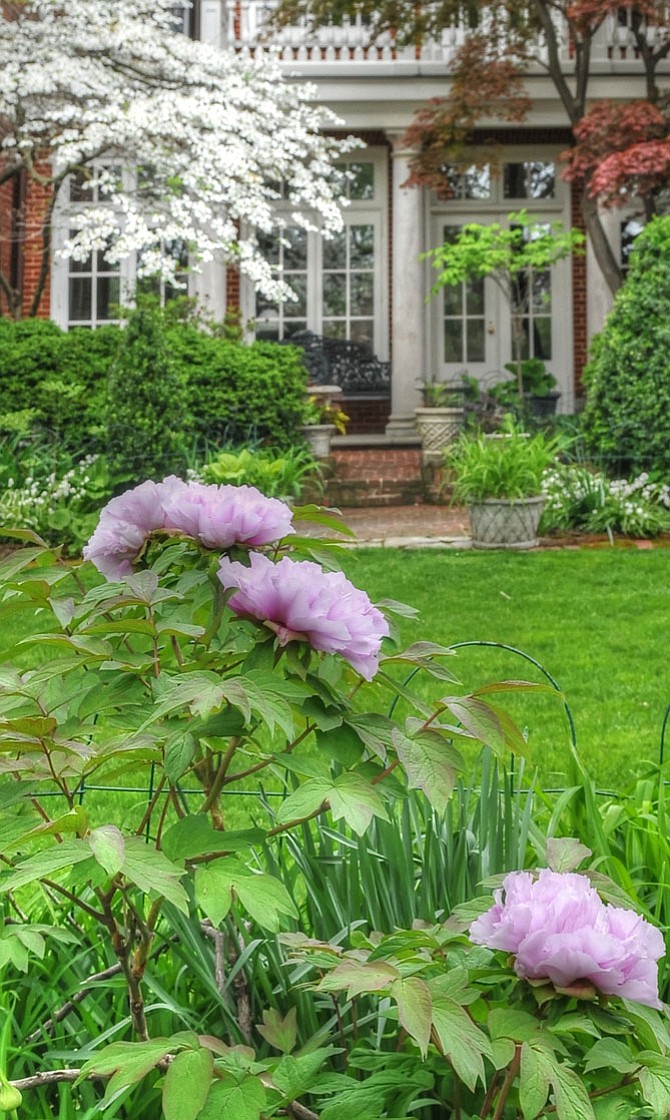 Five Old Town Alexandria homes and gardens will open to the public on April 22 as part of the 84th Historic Garden Week. The homes will feature flower arrangements created by the members of the Garden Club of Alexandria and The Hunting Creek Garden Club, which are sponsoring the tour, open from 10 a.m. – 4 p.m.
The house and garden tour will feature something for everyone:
Houses with History
Four of the tour houses were built over 150 years ago, in 1794, 1802, 1820 and 1859

George Washington dined in one of the tour houses in 1797

A young Robert E. Lee was tutored in mathematics in one tour house

Founding Father George Mason's grandson owned another of the houses

One house was designed and built by the man who designed GW's tomb at Mt. Vernon

Thomas, the ninth Lord Fairfax, lived in one of the tour houses.
Gardens with Distinctive Design and Spring Flowers
A garden designed by landscape designer, Jane MacLeish

A spacious walled garden built on two levels

A garden elevated from the street and screened from view

The gardens of Mt. Vernon, the American Horticultural Society, Green Spring Gardens, Gunston Hall, Carlyle House, and Lee-Fendall House are all included with the tour ticket.
Historic Architectural Styles

Signature, over-the-top flower arrangements by the garden clubs' designers


What is considered to be the finest Federal house in Alexandria will be open to the public for the tour

The Georgian architecture with an Italianate facade and unusual floating main staircase in one tour house

Original woodwork by the prominent Alexandria craftsman who built the house in 1859.
The Alexandria Tour Ticket includes entrance to:
Five private homes and gardens in Old Town

Tea and light refreshments from 11 a.m.-3 p.m. in the garden of a private house

Herb and Craft Sale at Carlyle House: Visit the 18th century mansion house, stroll through its gardens, and buy plants from 8 a.m.-4 p.m.

The Marketplace at the Athenaeum will sell clothing and accessories from high-end, distinctive vendors from 9:30 a.m.-4 p.m. Also at the Athenaeum will be a display of botanical art showing native plants and pollinators and a photo exhibit of bees and flowers,

Lee-Fendall House Museum and Garden: Built in 1785 and home to several generations of the Virginia Lee family, as well as labor leader John Lewis, this house is listed on the National Register of Historic Places

The American Horticultural Society, headquartered at River Farm, which overlooks the Potomac River with 25 acres of gardens, will be having a plant sale on April 21-22

George Washington's Mt. Vernon: With funding from the Historic Garden Week, the Garden Club of Virginia has helped restore the bowling green, one of Mt. Vernon's major landscape features

Green Spring Gardens, which includes a garden designed by landscape designer Beatrix Farrand

Gunston Hall, the 550-acre National Historic Landmark 18th century home of George Mason, author of The Virginia Declaration of Rights.
Alexandria Tour Details
Tickets may be purchased in advance for $45 at www.vagardenweek.org and at the Alexandria Visitors Center (221 King Street). On the date of the tour, they may be purchased for $55 at any house on the tour or at the Alexandria Visitor's Center. Group tours of 20 people or more, $40 per person. Single site tickets are $25 per person. The Alexandria tour will be held on its scheduled day, rain or shine.
The pay-for-parking lots and garages in Old Town are located at:
Cameron Street at North Saint Asaph Street

Cameron Street at North Pitt Street

South Pitt Street, between Prince and King Streets

North Fairfax Street at King Street

North Lee Street at King Street

South Union Street between Prince and Duke Streets.
Historic Garden Week tours throughout Virginia have been held annually since 1929, except for a period during World War II, when members of the Garden Club of Virginia (GCV) took time off to tend to their Victory Gardens and help with the war effort. Known as "America's Largest Open House," every year, more than 3,300 GCV members work to produce the tours during the last full week of April. Tour proceeds go to the restoration of gardens and grounds of Virginia's most historic sites, including Monticello and Mt. Vernon. Last year the tours grossed just under $1 million. To learn more about the restorations, go to www.gcvirginia.org and look under Restorations. There are six tours in the northern Virginia area this spring featuring 34 private homes/gardens.