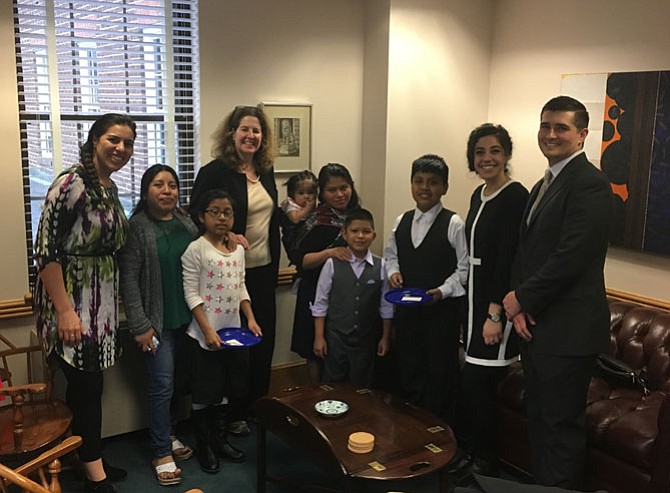 Alexandria — Alexandria Mayor Allison Silberberg's marathon first day of March provides a glimpse into the day-to-day work of city governance.
Her duties ran the gamut from citizen engagement to de facto internationa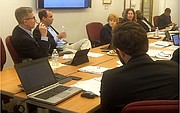 l diplomacy and touched on a A range of issues — with hustled transit and administrative tasks in between.
PRISONER REENTRY – The day began around 8 a.m. with Offender Aid and Restoration's ninth annual Second Chance Fundraising Breakfast. OAR helps released prisoners reintegrate into their families and communities in Alexandria, Arlington County, and Falls Church. "We are in the human asset recovery business," says their pamphlet. Partnering with more than 120 community institutions, OAR served 2,241 people in FY2016 and achieved an 89 percent non-recidivism rate through its Intensive Reentry Program. Silberberg joined other public officials, including Gov.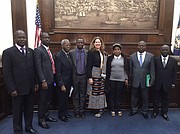 Terry McAuliffe, in showing support.
AFRICAN DIGNITARIES – Around 10:15 a.m., Silberberg received a congresswoman and a mixed entourage from the West African nation of Côte d'Ivoire. Aka Veronique represents her nation's Moronou region. Veronique met with numerous groups during her trip, aiming mainly to lay groundwork for new trans-Atlantic business relationships. Silberberg, speaking some French, welcomed the envoy.
They spoke of shared interests, and also of the unique contribution of women in government. Eby Aka, a 13-year Alexandria resident who hails from Côte d'Ivoire, organized the meeting. He founded Global Caravan for Education and Cultural Exchange, an Alexandria-based charity. He "thought [that the] exchange of ideas, partnership and cooperation" would be mutually beneficial for both his "native region" and his "current home," he said in an email. Veronique plans to invite Silberberg to Côte d'Ivoire.
GUN REFORM LOBBYISTS – At about 11:15 a.m., Silberberg met privately with representatives from Every Town for Gun Safety, a group that advocates for "common-sense" gun laws. In a March 3 press release, Every Town praised the defeat of recent state legislation that would have allowed the carrying of concealed firearms without a permit. They simultaneously criticized recently introduced federal legislation that would "[force] states to recognize concealed carry permits from every other state, many with significantly lower standards."
Joining more than 1,000 mayors nationwide, Silberberg has signed Every Town's statement, "Mayors Against Illegal Guns." She invited state Sen. Adam Ebbin (D-30), who was in City Hall at the time, into the meeting.
WMATA SURGE – Shortly after 1 p.m. Silberberg joined WMATA General Manager Paul Wiedefeld at the Huntington Metro station for a press conference about Metro's 13th SafeTrack Surge. This surge, in effect until April 9, "will particularly impact Alexandria travelers," says the city's web site. In her statement, Silberberg emphasized the city's various transportation alternatives.
HOUSING POLICY – At 3:15 p.m., after eating a late lunch at her desk, she met privately with ARHA Commissioners Selena Zellers and Daniel Bauman. They mainly discussed miscommunication between ARHA and city staff regarding "modernizing" Resolution 830, a move currently under discussion.
Resolution 830, adopted by City Council in 1981, mandates a one-for-one replacement of demolished public housing. ARHA has historically focused on serving the poorest households — those making between zero percent and 30 percent of the area median income. But with HUD funding drying up, Bauman says ARHA must build some higher priced housing in order to generate sufficient cash flow to support the lowest priced units. Yet the city staff seems to want ARHA to continue serving only the lowest incomes, without fully appreciating ARHA's fiscal constraints, Zellers and Bauman say. As changes to Resolution 830 are considered, they want to ensure that ARHA retains sufficient flexibility to rebuild mixed income developments as necessary in order to stay solvent.
IMMIGRANT YOUTH & FAMILIES – At 4 p.m. Silberberg gave a private tour of the Council Chamber to second grader Alexis Gonzalez and two other children. The youths participate in Casa Chirilagua, a faith-based nonprofit that offers a variety of programs to the largely Latino immigrant community of Arlandria. The children's mothers, Alexis' adult mentor Dorian Belz, and two Casa Chirilagua staffers accompanied the youths. Their visit followed from the Jan. 28 City Council meeting, where Alexis and Belz spoke.
"Alexis' story is not unlike many other young children that our participating in our organization's programs in the Alexandria community," said Belz to the council. "He grew up with extended family in Guatemala and has only been in the United States for just over two years. In the short time he has been here, he has rapidly picked up the English language and is already attended age appropriate classes at George Mason Elementary."
BUDGET WORK SESSION – Then, from about 7 p.m. to 9:30 p.m., Silberberg joined other council members and city staff to discuss the proposed 10-year Capital Improvement Program. The CIP is a $2 billion investment — a 20 percent increase over last year — in infrastructure through FY2027.
"This increase is largely driven by … Sanitary Sewer combined sewers projects, … WMATA capital contributions, … public school capacity projects, and … the government facilities 'state of good repair' program," according to the CIP proposal.
This confluence is "a bit of a perfect storm," Silberberg said earlier in the day. Some of these needs "have been brewing for years, even decades, and have now come home to roost."
During the session, Vice Mayor Justin Wilson said, "I want the CIP to be based in firm reality," summing up "the theme we've been talking about the whole night." As-of-yet unsecured funding sources — what Wilson called "unicorns" — include, for example, a dedicated $80 million for WMATA and developer contributions for slated building projects.
Much discussion also focused on improving cross-communication between the city and the school system, with respect to expanding schools. Councilman Tim Lovain suggested that a "construction management czar within ACPS, a direct report to the superintendent," rather than "one person [in charge] per project," might streamline the relationship.
Lovain also inquired about increasing short-term borrowing in order to realize some of the CIP's $325 million in unfunded "supplemental" options. These include, for example, additional funds for affordable housing and a new public swimming pool. "I think we also need to look to the schools for assistance," said Lovain.