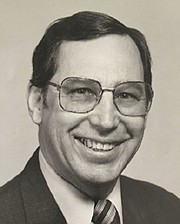 Raymond T. Olsen, 87, of Oak Park, Illinois passed away Feb. 27, 2017 after a long battle with Parkinson's Disease. He was born on Aug. 16, 1929, in Bagley, Minn., the son of Ervin Ames Olsen and Hazel Muriel (Tyre) Olsen. They had four boys: Norman Clair Olsen (Verna), Donald Ervin Olsen (Carol), Raymond Tyre Olsen (Marlys) and Curtis Edmund Olsen (Jacqueline), and a daughter, Phyllis Olsen, who died days after birth. They were raised and confirmed at First Lutheran Church in Bagley, Minn.
Ray graduated from Bagley High School in 1948. He married Marlys Ruby Pehrson on March 16, 1951. They were high-school sweethearts. He obtained a B.A. from Bemidji State College in 1951 and an M.S. from The University of Minnesota in Public Administration in 1953. He completed a City Management Internship in Phoenix, Ariz. He was called to serve in the U.S. Army at Brooke Army Medical Center in Texas as a Medical Corps Officer instructing troops in field medicine from 1953-1955. Ray was City Manager of Prescott, Ariz. from 1955-1959 and of Bloomington, Minn. from 1959-1966. He was Minnesota State Planning Director under two governors from 1966-1970. He was Assistant Professor in the graduate school of Public Administration at the University of Minnesota. In 1970, Ray moved his family to Reston to work for Peat, Marwick, Mitchell & Co. as National Practice Director until 1983. He became senior advisor to the U.S. Office of the Comptroller General where he developed a system for assessing the performance of the U.S. General Accounting Office. Upon retirement, he chaired the American Society for Public Administration's National Government Accomplishment and Accountability Task Force for three years. Raymond and Marlys (Marlee) moved to Chicago, Ill. in November, 2012 to be cared for by Tammy and Manuel Utset.
Raymond is survived by his wife, Marlys Ruby Olsen of Oak Park, Ill.; his daughters Sheryl Olsen Pollock (David) of Herndon, Kay Olsen Fleury (Mark) of Golden, Colo., and Tammy Olsen Utset (Manuel) of Chicago, Ill.; his grandchildren Heather Pollock Amico (Anthony) of Haymarket, Va., Russell Olsen Pollock (Marsha) of Centreville, Va., William Shane Eisley of Los Angeles, Calif., Anthony Ray Fleury of Littleton, Colo., Theodore Kendall Fleury of Golden, Colo., Julia Rae Utset of Chicago, Ill., and Henry Armando Utset of Chicago, Ill.; and his great-grandchildren Evan Mark Amico of Haymarket, Va, and Annette Michelle Amico of Haymarket, Va. Ray is also survived by his youngest brother Curtis Edmund Olsen (Jacqueline) of Storrs, Conn. He was preceded in death by Ervin and Hazel Olsen, brother and sister-in-law, Norman and Verna Olsen, brother Donald Olsen and his infant sister Phyllis.
The family will host a memorial service to celebrate Raymond's life on March 16, 2017 at 2 p.m. at Belmont Village of Oak Park, Ill. Let the family know if you wish to attend. In lieu of flowers, please send donations directly to the Parkinson's Disease Foundation, 1359 Broadway Suite 1509, New York, NY 10018.