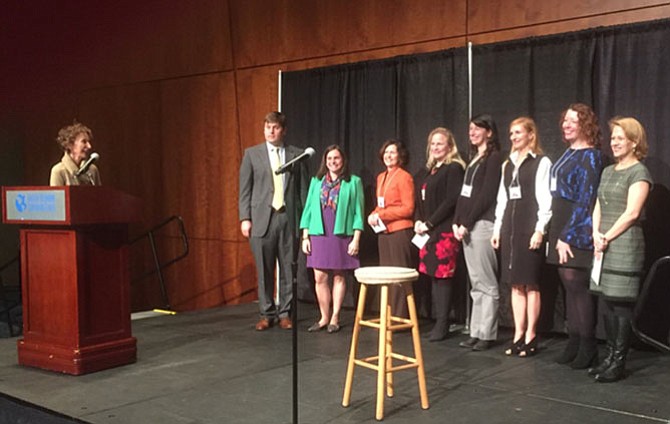 The McLean Project for the Arts (MPA) recently received a Shining Star ArtStars Award of $10,000 from the Dominion Foundation. The award recognized MPA's ArtReach program, which offers underserved students a field trip to experience contemporary art exhibitions and hands-on art projects exploring STEAM (Science, Technology, Engineering, Art and Mathematics) topics.
"ArtStars is about recognizing arts and cultural organizations that are making communities and schools more vibrant through theater, art, music, and other artistic forms," said Hunter A. Applewhite, president of the Dominion Foundation, the charitable arm of Dominion Resources. "Dominion is proud to support these five winners as they continue their efforts to enrich students' education through the arts."
Led by veteran artist-educator Sharon Fishel, ArtReach is a standards-based, two-part lesson that combines a field trip to MPA's exhibition gallery with a related classroom session featuring hands-on art projects that explore STEAM and other concepts through an arts perspective. In 2016 alone, the program conducted more than 90 ArtReach tours.
"MPA is honored and excited to receive this recognition of our ArtReach program," said Lori Carbonneau, Executive Director of MPA. "The ArtStars grant encourages and supports MPA in our work creating and delivering our SOL-based arts and cultural literacy partnership with Fairfax County Public Schools, and expanding visual arts education throughout our community."
For more information, visit www.mpaart.org.