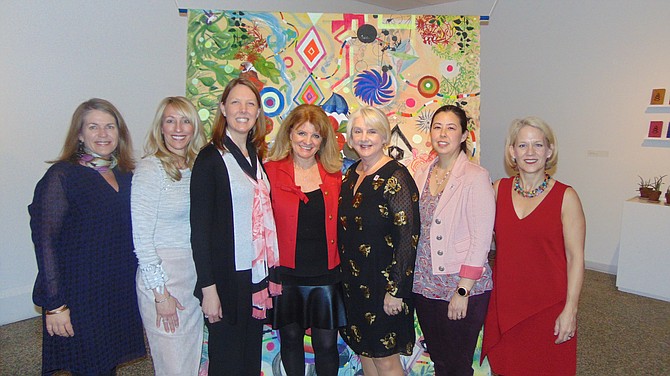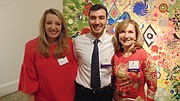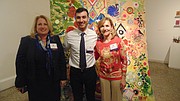 About 70 guests attended the New Dominion Women's Club's Arts Night Out fundraiser last Thursday, Feb. 7 at the McLean Project for the Arts' (MPA) Gallery located next to Giant on Chain Bridge Road. The event included works of art by two artists, a social gathering, wine and appetizers, as well as a silent auction with 30 donated items. With guests donating $25 each, they hoped to raise $5,000 for four local beneficiaries.
​The evening offered a curated tour by MPA Exhibitions Director Nancy Sausser of MPA's latest exhibition, "Intention/Invention: Works by Delna Dastur and Maryanne Pollock." These two abstract painters both make works created through a blend of intentional, planned process and improvisational experimentation.
According to NDWC President Jennifer Salopek: "Arts Night Out is one of New Dominion Women's Club's most treasured fundraisers. We do it in partnership with MPA every year and our members really look forward to it. It's a lovely evening of art, wine, hors d'oeuvre, and a silent auction and it's all to benefit NDWC's four beneficiary organizations this year." Those include: MPA, SHARE of McLean, the Safe Community Coalition and the Falls Church McLean Children's Center.
Arts Night Out Chairman Kimberly Briggs added: "This is a wonderful opportunity to bring the community together to celebrate art as well as many small businesses who are represented as either sponsors or donors through our silent auction…. This includes two wonderful groups – the New Dominion Women's Club who does charity work throughout the community as well as the McLean Project for the Arts who is, in fact, one of their charitable organizations that they support on an annual basis."
She added: "This event is an opportunity to highlight McLean Project for the Arts by holding a charity fundraiser at their actual location, exposing everyone to their wonderful art, and giving awareness to everyone as to where they are, and that they're available to the community on a regular day-to-day basis as a premiere spot to see modern art."
According to Lori Carbonneau, Executive Director, McLean Project for the Arts: "What's special about the Arts Night Out for New Dominion Women's Club, for MPA, is that it celebrates both the community that MPA creates as well as the art that we are able to exhibit and bring to the community.….For MPA, what this night means is it is a way for us to convene in our space, under our roof, with many thanks to McLean Properties for helping us be here, a celebration of that unique confluence of community and art."