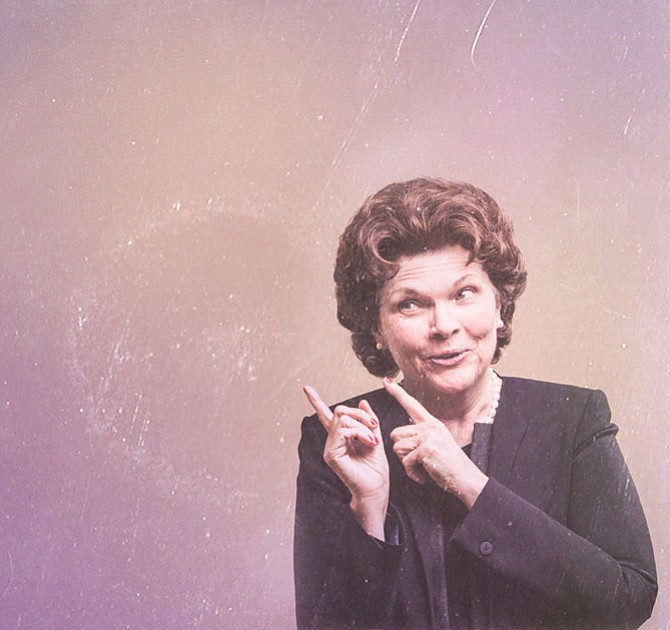 Signature Theatre in Arlington is staging "Mrs. Miller Does Her Thing" from now through March 26. Based on the real life story of Elva Miller, this portrait offers Emmy and Tony Award winner Debra Monk the role as the warbling songstress whose off-key singing became an unlikely pop phenomenon in the 1960s. The play was written by Pulitzer Prize winner James Lapine who wrote "Sunday in the Park with George."
Artistic Director Eric Schaeffer said he always admired the work of Lapine. "His writing is witty, interesting and his characters are deep and relatable," he said. "In 2015, Signature named him as our annual recipient of the Sondheim Award, an honor we bestow in collaboration with Stephen Sondheim given on a yearly basis to an individual for his or her career contributions to interpreting, supporting, and collaborating on Stephen Sondheim's music works."
He said when Lapine received the award, they spoke about his upcoming projects and coming to Signature. He mentioned this new piece based on the real-life story a 1960s housewife named Mrs. Elva Miller, a 59-year old who became an unlikely pop star, singing hits like "Monday, Monday" and "These Boots Are Made for Walking" in a slightly warbly, off-key, operative voice.

He added: "I'm really thrilled that we agreed to bring the world premiere of this new piece, and after working on it and rehearsing, it will open almost exactly here two years later from when we first spoke about it."
The piece is very relatable, warm and funny, he said. "I think audiences will love a journey down memory lane with the music from the '60s throughout the show — it's going to be an enjoyable evening out."
He added: "At the same time, so many of the themes of the show are still very resonant in our culture today, so it's the best of both worlds — you will go away both humming the tunes and with something to think about."
Rebekah Brockman plays the role of Joelle Taylor, Mrs. Miller's niece. "Joelle's social and political views evolve with the time period. She is Mrs. Miller's eye into what is unfolding in the outside world," she said.
The play spans about two years and the characters develop new points of view, she said. "The challenge (and fun) is threading together those moments your character is off stage and filling them with back story," she said.
The play makes audiences laugh at the absurdity of this woman, and then pulls the rug from under them when the reality hits that she was an actual human being, she said. "I hope the audience will get a glimpse of the tumultuous time in which the play is set by following Mrs. Miller's story," she said.
Corey Mach plays the role of Simon Bock, a good-natured young pianist who accompanies Mrs. Miller while she sings as a hobby. "Once he realizes Mrs. Miller has the potential to catapult him to fame, he gets sucked into that lifestyle and begins to see Mrs. Miller as an object. This leads to a downward spiral as he leaves his wholesome, moral life behind him for a life of fame, drugs, and acid rock," he said.
As far as challenges, he said: "The show spans about 18 months, and Simon really ends up in a completely different place than where he begins, so I think one of the biggest challenges for me was managing to create the arc of exactly how he changes, and tracking that throughout the show using James Lapine's brilliant writing."
Signature Theatre in Arlington is staging "Mrs. Miller Does Her Thing" from Feb. 28 to March 26. Discussion Nights are March 15 and 21. Tickets are $40 to $94. Showtimes are Tuesdays through Saturdays at 7:30 and 8 p.m.; Saturday and Sunday matinees at 2 p.m.; Sundays at 7 p.m. The venue is located at 4200 Campbell Avenue, Arlington, VA 22206. Visit the website at www.sigtheatre.org or call the box office at 703-820-9771.