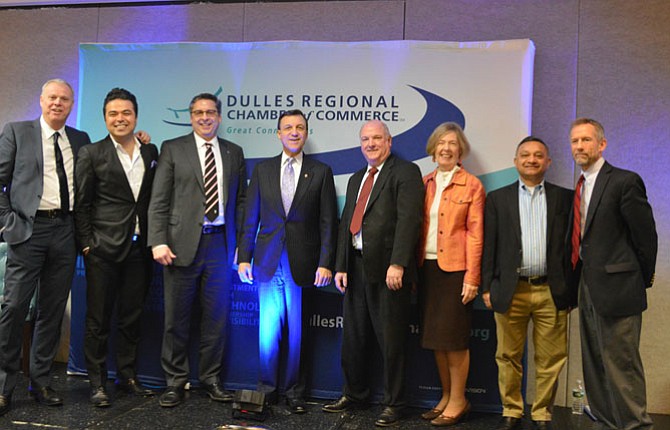 The Dulles Regional Chamber of Commerce hosted a luncheon on March 8 during which three experts discussed their perspectives on how President Trump's policies may potentially impact the business community. More than 100 people attended the non-partisan discussion at the Holiday Inn Washington Dulles in Sterling.
At the event, entitled "Business Insights for Navigating the Trump Administration," experts Michael Pocalyko, Jeff W. Dick and Dr. Terry Clower presented their insights on formulating business strategies in an era of uncertainty at the beginning of a new presidential administration. Moderated by Doug Guernsey, EVP/COO at Guernsey Office Products, the panelists discussed how anticipated policy changes may potentially impact businesses from a global, national and regional perspective.
As the first speaker at the event, Michael Pocalyko, CEO of Monticello Capital, focused his remarks on providing a global perspective. "ln order to understand President Trump, his administration (and) the persons around him, three factors are very important," Pocalyko said. "Number one is what I call the 'Wharton factor'... that persons from Wharton have a conceptual series of values: the creation of enduring value; gaining an edge all the time and doing so entrepreneurially; enhancing of brand identification and brand equity; and using financial strategy as the primary driver of power and growth."
But, secondly, Pocalyko said that it is important to understand that Trump is not a corporate leader, but instead runs a large and successful family businesses that has transplanted to the government. The third important factor is understanding Trump's "deep distrust of the political establishment."
In terms of navigating for business, Pocalyko advised: "Chaos is opportunity. Agile businesses are going to win — those that can change, pivot and change. This the rise of the American mittelstand, it's a German word that essentially means those companies that aren't real small and aren't real big."
Next, Dick, chairman and CEO of MainStreet Bancshares, Inc. and MainStreet Bank, focused on a national perspective on the topic. He has worked at the Office of the Comptroller of the Currency and has served as an adviser to the U.K. Financial Services Authority. At the panel discussion Dick discussed how policy changes may impact the banking and regulation industry sectors. Dick provided a brief history of banking regulation and focused on the unintended consequences of Dodd-Frank et al, and how that might be positioned for change with the current Administration. Dick also discussed the potential for impact to small businesses if regulations are left unchanged.
Dick said, "Congress and the current administration has a golden opportunity to fix the inefficiencies of Dodd-Frank, the Volker Amendment and the Durbin Amendment. To do so will provide a terrific opportunity for the banking industry, with small business in general reaping the greatest rewards."
Following up, Clower, Northern Virginia chair and professor of public policy at George Mason University (GMU), talked about what the Trump administration means for the world of government contractors and business in general in Northern Virginia. Clower recently replaced Dr. Stephen Fuller as director of GMU's Center for Regional Analysis, which provides economic and public policy research services to sponsors in the private, non-profit and public sectors. Prior to joining GMU, he was director for the Center for Economic Development and Research at the University of North Texas.
Clower gave his input into how President Trump's policies will impact the regional Northern Virginia business climate. "We don't know which of (Trump's) policies are actually going to turn into law and which spending programs are going to happen yet," Clower said. "What we have now is an era of uncertainty that we have not had since we were in the depths of the Great Recession."
Clower ended his talk with a prediction about federal spending. "OK I am going to step out way on the limb here. But it's a pretty thick limb. Federal spending is going to increase. We are going to have lots of teeth gnashing, we are going to have lots of stuff said back and forth, but the fact of the matter is that we are going to see federal spending increase," Clower said. "... because I can promise you that spending is going to continue to help to protect the political interests of the parties in place."