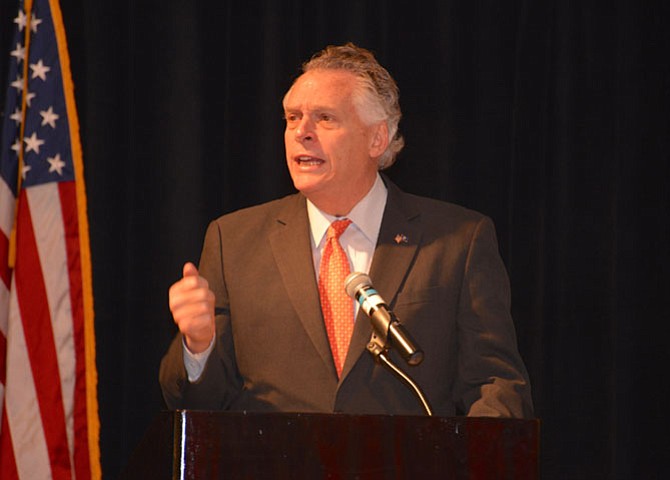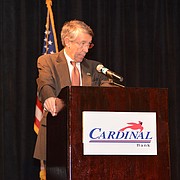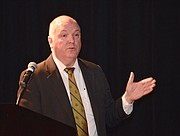 The road signs along the highway to the region's economic future are a bit difficult to read, sometimes pointing positively one way, and at other times seeming to indicate slow downs and hazards ahead, according to speakers and panelists at last week's regional economic conference.
"Mapping New Economic Opportunities" was the title of the 25th annual conference, hosted by the Northern Virginia Chamber of Commerce (NVCC) in partnership with Cardinal Bank, George Mason University, and the Washington Business Journal, that played to a standing room only crowd on Feb. 1 at the Marriott Fairview Park in Falls Church.
Stephen S. Fuller, Ph.D. has been studying, analyzing and reporting on the region's economy for decades. A member of the faculty at George Mason University since 1994, from 2002 until May of 2015 he was the director of GMU's Center for Regional Analysis. After a brief retirement, Fuller is back as the Dwight Schar Faculty Chair and as the director of the university's Stephen S. Fuller Institute.
FULLER'S SESSION was billed as a "Progress Report" on the area's recent economic performance. He started with the "Downsides of Being a Company Town," noting the adverse effects that sequestration has had on the region. From the end of 2011 through 2014, sequestration and the reduction in Federal procurement and contracts has meant a loss of about $2 billion in government wages and more than $6 billion less in contract revenues.
Fuller and speaker Terry Clower, Ph.D. Northern Virginia chair and professor of Public Policy at GMU — and Fuller's successor at the Center for Regional Analysis — agree that business in the region has done surprisingly well over the last two years, slowly pulling away from its dependency on the Federal Government. "2015 and 2016 were our third best two years in history," said Fuller, "and that without booming Federal spending."
"Despite all of the campaign rhetoric," the overall trend in job growth has been positive since 2010, with 14 million jobs added since then, and 2.2 million just in the last year," said Clower. It's been a steady, but not "spectacular" climb, according to Clower, but both experts detect potential threats ahead unless addressed promptly.
Clower provided a list of "look out" items. Related to the new administration, the factors that will impact the region — and the nation's — economic growth ("positively or negatively remains to be seen") included changes to the corporate tax rate, spending on infrastructure, changes in interest rates, the ratio of spending vs. revenues vs. debt and the potential for the rise of inflation and changes in immigration policy.
Among the speakers, Clower was not in the minority on the subject of immigration. "There is no doubt we need immigrants" particularly in the science, health and technology fields. Clower, Fuller and others among the speakers insist that educated immigrants are vital to the companies that currently employ them, and key to the future viability of the economy. In many industry sectors, "they don't take jobs away," said Clower. "They help create jobs with their work and innovations. And if we can't attract them, someone else will."
In his remarks, Gov. Terry McAuliffe expressed his concerns that poorly crafted immigration policies can have disastrous effects, noting the recent cancellation of two foreign investor site visits to Virginia that had been in the works for months. "Businesses are afraid to take a chance that the people they need might not be able to get into the country."
While acknowledging the challenges and the uncertainties in navigating economic growth, McAuliffe, Clower, and panelists like Jennifer Aument, general manager, North America, Transurban Inc. and chair of the NVCC, Teresa Carlson, VP, Amazon Web Services Worldwide, S. Tien Wong, CEO, Tech 2000 & Appnetic, and chairman, Lore Systems, and Keynote Speaker Christopher Nassetta, president and CEO of McLean-based Hilton, offered positive comments on doing business in Northern Virginia.
Nassetta spoke about Hilton's decision to move its headquarters from Beverly Hills to McLean in 2009. "It was a major disruption and enormously expensive," but the benefits offered by the region, including a robust hospitality talent pool, lower cost of living, and the Eastern Time Zone that enhance global operations made sense to Hilton executives, and allowed the company to "accelerate cultural change."
THE GOVERNOR gave a high-speed update on achievements in job growth and business recruitment that have taken place during his administration, including the Commonwealth's surge to become the nation's leader in cybersecurity centers and the fact that the Port of Virginia now handles more cargo than any other in the country. He also informed the attendees that he was about to announce another major corporate relocation. After leaving the conference, the governor announced the upcoming relocation of Nestle, S.A. from Glendale, Calif. to Arlington.
While they agreed that Northern Virginia does have an enviable talent pool in some disciplines, and in general a well-educated population, the speakers and the governor all provided examples of difficulties in finding enough personnel with technology-specific knowledge and expertise.
McAuliffe said Virginia has about 36,000 openings for cyber-related jobs with starting salaries of $80,000, and 149,000 vacancies in other tech fields. "This is our biggest roadblock. We need internships, externships, on the job training, and curriculums that are realistic."
"A Bachelor's Degree has been called the modern high school diploma," said Clower. To compete as a region, and for individuals to compete in the job market, Clower says there needs to be "continuous personal educational upgrades."
Using a series of statistical charts, Fuller showed the audience just where the growth in the region's economy has been coming from and explained why this pattern is ultimately not sustainable. Dividing types of jobs into 11 main "clusters," he illustrated that professional and business services, retail, and leisure and hospitality were three of the top four clusters in growth from February 2010 through December 2016. Biomedical and health services was third on the list, but it's the smallest cluster in the region and the numbers don't compare with the other three.
Those three clusters are the most vulnerable to economic pressures in Fuller's estimation, and generally don't pay as well as jobs in clusters like "information services" — an area that has lost ground, in spite of the fact that Northern Virginia has earned a reputation as a cybersecurity hub. "We are basically selling services to ourselves, and that is still the wrong focus." Fuller's research indicates that a failure to refocus job creation direction will lead to compounding money lost to the region totaling an estimated $177.9 billion by 2025.
"And the longer it takes to get off this slow track, the harder it is to do. Remember, many of our competitors are on that fast track right now," said Fuller. "It's going to take a true regional approach, real regional cooperation and a redoubling of our efforts to get us there."