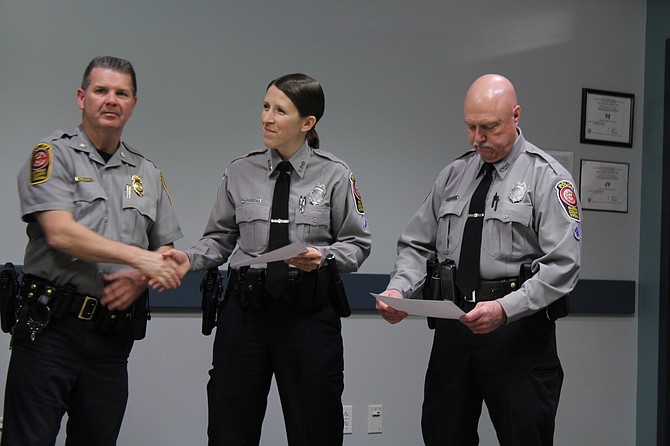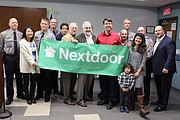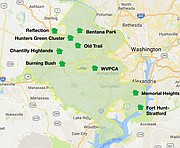 Fairfax County residents are major users of the Nextdoor social network and the Fairfax County Police Department has taken advantage of it to connect with the communities they patrol and protect.
Nextdoor spokesperson Joseph Porcelli joined the FCPD at the McLean District Police Station on Thursday, March 23, for a press conference to acknowledge the county's widespread adoption of its free service.
"Over the past year, we have seen the community embrace Nextdoor as a valuable and reliable communication tool," Deputy Chief of Police for Administration Lt. Col. Tom Ryan, said during the press conference. "In fact, resident adoption has been so strong that Fairfax County is now the fastest growing county using Nextdoor in the Mid-Atlantic and Northeast."
Adoption of Nextdoor by neighbors across Fairfax County has more than doubled over the past year. Now more than 100,000 residents, in more than 760 neighborhoods, are connected to each other and the police department.
These neighborhoods were acknowledged for their adoption of Nextdoor at the press conference:
Most Members Enrolled – Fort Hunt-Stratford, Alexandria

Most Talkative Neighborhood – Bentana Park, Reston

Most Supportive Neighborhood – Hunters Green Cluster, Reston

Most Social Neighborhood – Reflection, Herndon

Most Helpful Neighborhood – Memorial Heights, Alexandria

Most Generous Neighborhood – Chantilly Highlands, Herndon

Most Watchful Neighborhood – Old Trail, Reston

Most Welcoming Neighborhood – WVPCA, Annandale

Nextdoor Neighborhood Champions – Burning Bush, Fairfax
Ever since the department started using Nextdoor a year ago, the social network has given them access to communicate with more people than ever before, according to Ryan.
"The residents need to understand that we work for them," Ryan said. "They do not work for us, we do not control them. We work for them. We are your police department. I can't emphasize that enough and therefore you have a right to know what's going on in your neighborhood. You have a right to know what's going on in your community."
When crimes happen, crime prevention officers use the social network as another platform to post alerts and warnings that are intended to keep their communities safe and help officers locate suspects.
These crime prevention officers also monitor the social network for chatter to stay abreast of happenings in their communities.
"We could not do our jobs without the help of Fairfax County residents," Ryan said.
Ryan then told the audience that he would like to replace the term "community policing" with the term "community engagement."
"Nextdoor allows us to do that," he said. "Nextdoor allows us to get the word out to a multitude of neighborhoods and a lot of people in just a short amount of time."
"Being proactive is getting the word out quickly," Ryan said. "We can target information to certain neighborhoods that are more impacted [by crime or crisis]."
The department created an Instagram account in September and also uses Twitter and Facebook.