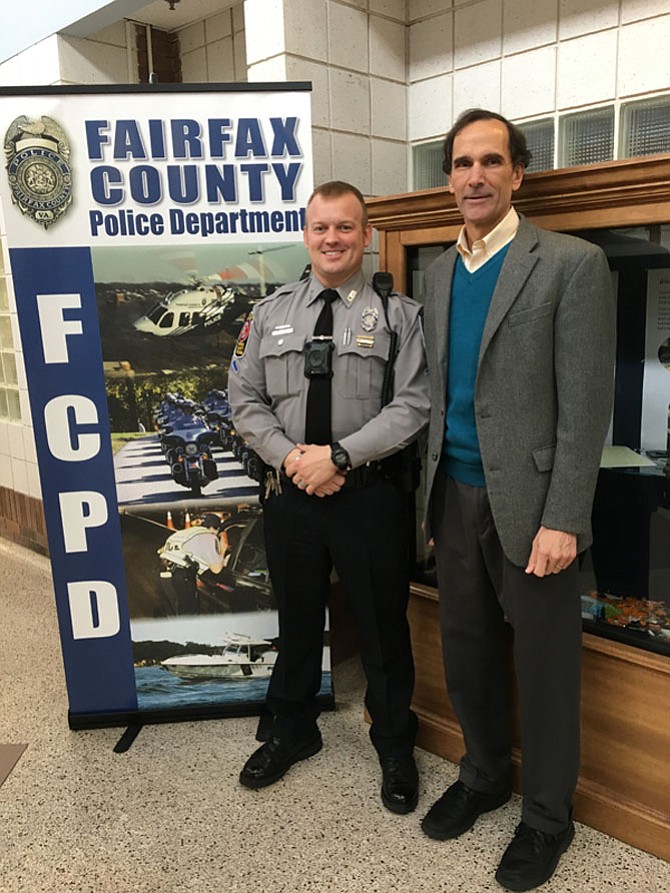 In February, Mount Vernon District Police Captain Matt Owens and his team presented the "2018 Mount Vernon State of the Station" to me, as well as at a meeting of the Mount Vernon Citizens Advisory Committee. Their preliminary findings from the presentation have been reinforced by the release of Fairfax County Police Department's Statistical Report for 2017. The good news is that statistics show an overall decline in crime and an increase in police and citizen engagement in 2017 in the Mount Vernon Police District, which includes both sides of Richmond Highway from the Beltway to Fort Belvoir in both the Mount Vernon and Lee Districts.
County wide, crimes across all categories had an overall decrease of 1.60 percent in 2017, as compared to 2016. In the Mount Vernon Police District, we saw a decrease of 4.40 percent over the time period. The statistics for the District show:
Arrests, incidents and citations are down.

DUI Enforcement arrests are up.

Fatal crashes remain the same.

Non-fatal opioid overdoses are down, but fatal overdoses increased slightly.
Across the county and here in the Mount Vernon Police District, officers noted an increase in calls for service. They attribute this to the community feeling more connected with officers, allowing individuals to feel more comfortable in making these calls. This was echoed in a statement from Chief of Police Ed Roessler Jr.: "The entire community worked with their police department to achieve these results for 2017. Community engagement, information sharing, accountability and public trust energize our partnerships that keep Fairfax County the safest jurisdiction of its size in the United States."
I am very encouraged to see the many improvements in our local crimes rates. New community connections, including our new Community Liaison Officer Monica Meeks; continued outreach efforts such as Worship Watch and Neighborhood Watch, 39 National Night Out neighborhood events, and the Tour de Mount Vernon Community Bike Ride, are providing many more opportunities for our residents to engage with our police force in and around our community. These opportunities to build bonds and work together are leading to better understanding, more confidence and an increased sense of community. My many police neighborhood bike patrol and car ride alongs have helped me to experience the value of those interactions.
New public safety and engagement efforts in 2018 are anticipated to continue to build the police – community connection. Perhaps the most significant is the body worn camera pilot program which just launched this month. I worked to make sure the Mount Vernon Station was selected to participate in this pilot and research study, and truly believe it will enhance and improve safety and accountability for both our officers and our residents. You can read more about the body worn camera policy here: https://www.fairfaxcounty.gov/police/sites/police/files/assets/images/chief/generalorders/sop18_056.pdf.
Please join me in thanking Captain Matt Owens, Lieutenant Jerry Watts and our outstanding station officers for their hard work and continued efforts to safeguard our community. If you would like to show your appreciation for our local officers, join us during National Police Week, May 13-18. Stop by Mount Vernon Police Station to drop off a card, shake an officer's hand or treat them to commercially packaged goodies. Or, if you would like to make a bigger difference, consider making a donation to the Mount Vernon Station Gift Fund. These funds provide support for the station officers and community engagement efforts throughout the District.
The full Fairfax County Police Department Statistical Report for 2017 can be read here: https://www.fairfaxcounty.gov/police/chief/crimestatistics