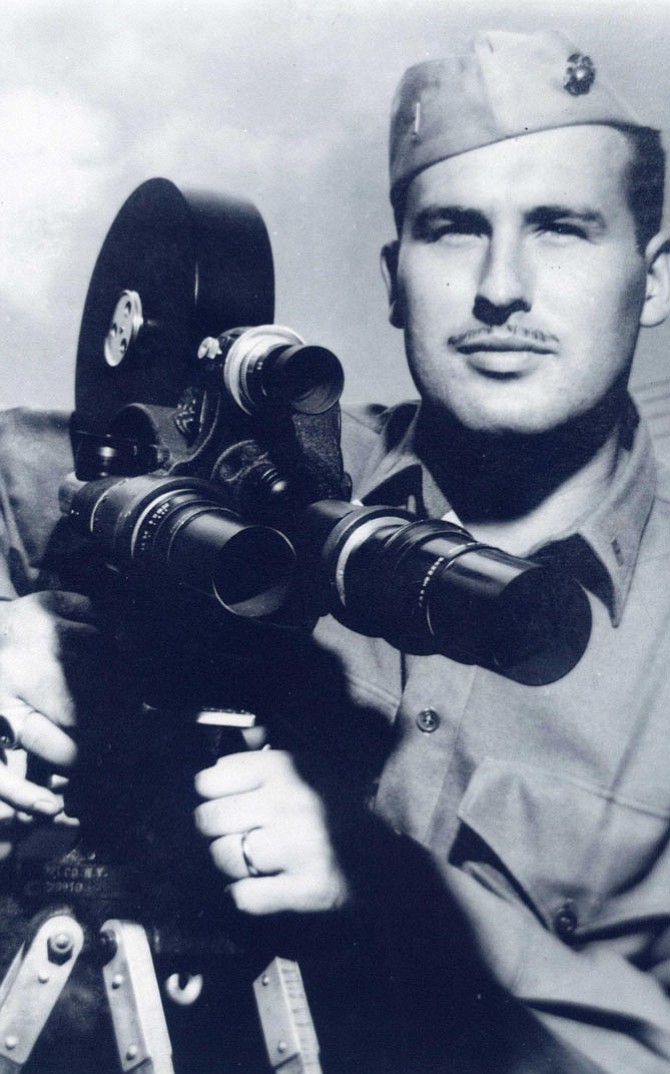 The morning of Feb. 19, 1945, was quiet. Too quiet, thought Marine Staff Sergeant Norm Hatch as he made his way through the volcanic ash on the shores of the remote Japanese island of Iwo Jima.
"I said right away 'Something doesn't smell right,'" recalled Hatch, a seasoned combat photographer who had faced the same enemy at Tarawa in 1943. "I knew the Japanese were there waiting for the right moment to strike."
It didn't take long for the 20-millimeter dual purpose guns buried in the side of Mount Suribachi to explode, erupting into what would be one of the bloodiest battles in U.S. history.
"I learned in Tarawa how to anticipate where the action would be," said Hatch in 2011 on the 66th anniversary of the battle. "Iwo Jima presented some difficult terrain — there were 22 miles of hidden tunnels. But even though we expected the war to continue on the Japanese mainland in the fall, we all realized the significance of what was happening on the island."
Hatch's work in Tarawa won an Academy Award in 1945 for Best Documentary Short Subject and his footage of Iwo Jima became another critically acclaimed documentary. On April 22, 2017 the legendary combat photographer and longtime resident of Del Ray died at The Hermitage in Alexandria. He was 96.
"Dad was always looking at life through a lens finder," said Hatch's son Thomas. "He knew how to tell a story with his camera and it was important to him that people understood the sacrifice made by those in combat."
Norman Thomas Hatch was born March 2, 1921, in Boston and grew up in Gloucester, Mass. He joined the Marines in 1939 after graduating from Gloucester High School. After completing his training at Parris Island, Hatch was posted to Marine Barracks Washington as part of the 8th & I Honor Guard.
While stationed in Washington, Hatch met Lois Rousseau. The two were married on Sept. 19, 1942, residing first in Presidential Gardens before purchasing a home on S. St. Asaph Street. In 1951, the couple moved to Del Ray, where they lived for more than 65 years.
"Norm Hatch was not only a national hero, he was a treasure for the Del Ray community," said longtime Del Ray resident Gayle Reuter. "From the early days of his business on Mt. Vernon Avenue to when he moved it next to what is now Northside Restaurant, Norm was always active in the Del Ray Business Association. I still picture him with a twinkle in his eye serving as Santa Claus one year and can picture he and his beautiful wife Lois showing up with bags of toys for a family we adopted for the holidays. He will be greatly missed by all of us who were lucky to know him."

Hatch left active duty in 1946 after documenting the aftermath of the atomic bomb in Nagasaki. He joined the Department of Defense as a civilian employee in the early 1950s, where he served as a consultant to the White House Press Office during four administrations and to the House and Senate Photo and Television Galleries in the National Capital.
Following his retirement in 1980, Hatch formed Photo Press International. Headquartered in Del Ray, the company produced editorial and commercial photography for over 20 years. In 2011, Hatch's life was the subject of the book "War Shots" by combat historian Charles Jones.
Hatch is survived by his wife of 74 years, Lois Rousseau Hatch; and two children, Norman Thomas Hatch Jr. and Colby Hatch, both of Alexandria. Burial with full military honors will take place Aug. 17 at 3 p.m. at Arlington National Cemetery.
"How all those bullets being fired missed him is beyond me," said Thomas Hatch. "But Dad had an angel on his shoulder right up to the end."
More like this story