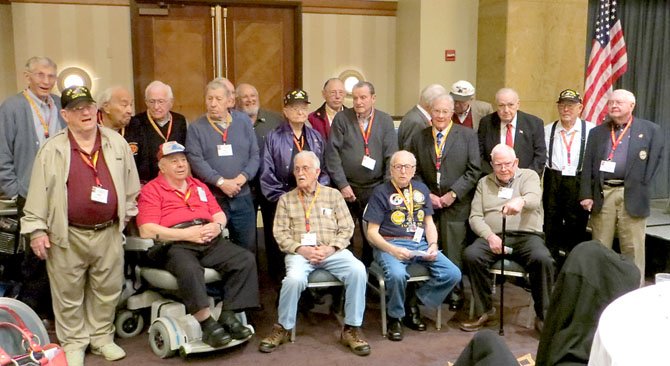 Photo Gallery
68th anniversary of Iwo Jima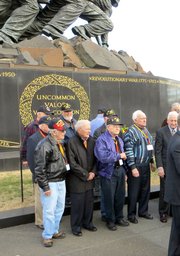 Click Photo for Flash
Arlington — The morning of Feb. 19, 1945, dawned eerily quiet as Private First Class Carl Norton made his way toward the shores of the remote Japanese island of Iwo Jima. But in an instant, the 20-millimeter dual purpose guns buried in the side of Mount Suribachi exploded, erupting into one of the bloodiest battles in U.S. history.
"I was one of the first to make it onto the island without getting shot," said Norton, who knew his odds of survival that day were slim. "It was a terrible, terrible battle, with two sides who hated each other willing to fight until the bitter end."
Norton was badly wounded in the ensuing skirmish and later awarded a Purple Heart for his heroics. Now 93 years old, he joined 20 other Iwo Jima survivors at the Sheraton Hotel in Arlington over the weekend to mark the 68th anniversary of the battle.
"Dad never spoke of Iwo Jima when we were growing up," said Norton's daughter Becky Dunlop, who lives with her husband George in Arlington. "But he came to the dedication of the World War II Memorial in 2004 as part of an Honor Flight and it was then that we saw him lighting up and beginning to share his service stories."
Other survivors attending the reunion included George Alden Sr. of Fort Worth, Texas, who was 17 years old when he enlisted in the Marines.
"I was wounded during that first day of battle," recalled Alden, who was caught in a Japanese crossfire and shot five times as his 5th Marine Division struggled to gain footing in the shifting volcanic ash of Red Beach-2. "I lost track of time after that but remember a few days later seeing the flag being raised atop Mount Suribachi."
"It was a terrible, terrible battle, with two sides who hated each other willing to fight until the bitter end."

— Iwo Jima veteran Carl Norton
The raising of the American flag by five Marines and one Navy Corpsman took place on Feb. 23, 1945, and was immortalized in a Pulitzer Prize-winning photograph by Associated Press photographer Joe Rosenthal.
"I went in the day the flag went up," said Lou Smith of Bellevue, Ky. "I never heard so much noise and cheering as when I looked up and saw the flag flying. But the very next morning I was hit with a hand grenade."
Smith was one of 19,000 troops wounded in the 35-day battle that claimed more than 21,000 Japanese lives. Additionally, approximately one-third of all Marines killed in action during World War II were killed on Iwo Jima, where more than 100,000 Americans fought and 6,821 died — 5,931 of them Marines.
"No one knows exactly how many Iwo survivors are still alive," said Fairfax High School history teacher Shayne Jarosz, executive director of the Iwo Jima Association of America and organizer of the four-day reunion. "Just last week I got word that five more had passed away. It's sad to realize that we are at the precipice of the end of an era."
More than 250 people joined the veterans for the reunion, which included a symposium, dinner gala with music donated by Radio King Orchestra and a visit to the National Museum of the Marine Corps at Quantico.
"A docent was answering questions from a group of school children when he spotted Dad," said Norton's daughter Rachel. "Everyone's jaw just dropped as the children realized they were hearing about the Battle of Iwo Jima from someone who was there. Afterwards, they all lined up to shake Dad's hand."
Norton's eyes welled up when asked about Helen, the stateside nurse he met during his recovery who has been his wife for 65 years. Helen took her future husband to church on their first date, and from there he went on to study under Billy Graham and spend his life in the ministry.
"God has blessed us with so much," Helen Norton said as her husband wiped tears from his eyes. "Please tell the young people today to be thankful. We may have our problems but there is no greater country in the world than the United States of America."
For more information on the Iwo Jima Association of America, visit www.iwojimaassociation.org.