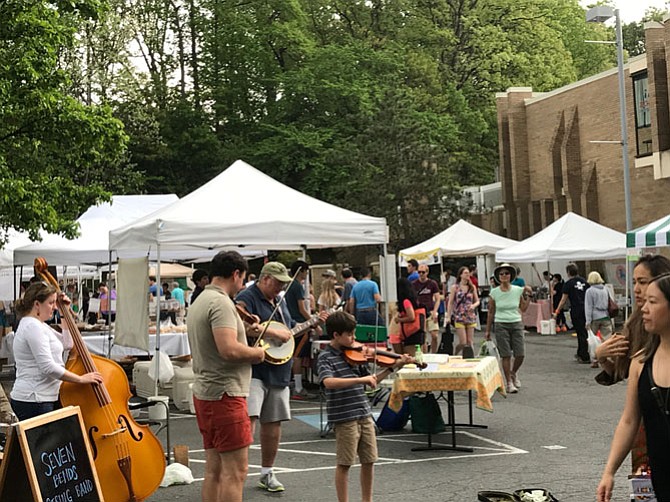 Reston — It's been a long time since the first Reston Farmers Market opened, but on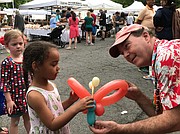 Saturday, April 29, the cowbell rang loud and clear declaring the market open for its 20th season. Faces may have changed a bit, but the quality of food and community spirit has stayed the same.
John Lovaas, a co-manager of the market, in opening remarks reminded those present that Del. Kenneth "Ken" Plum, D-36, opened the Market along with Reston Founder Robert Simon on May 7, 1998. Since that day, Plum has been with them just about every Saturday, as was Simon until he passed away.
Unlike some markets elsewhere, the Reston Farmers Market is filled with stall after stall of vibrant, fresh produce and more. "On May 9, 1998, we had 12 vendors," Lovaas said. "Now we have 30." With this year's market bigger than ever, it offered fresh produce cheeses, bakery items, meats, fish, pasta, sweets, savories, ice cream, and plants.
An even bigger difference between the 1998 market and the Reston Farmers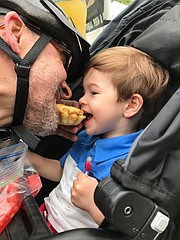 Market of 2017 was the variety of fruits and vegetables sold. Their number appears to have grown exponentially. Lovaas said that in 1998 they had three or four varieties of tomatoes. "Today in our market, we have 50 varieties," he said.
A key element of the Farmers Market is its tradition. Sridhan Ganesan, President of the Reston Citizens Association, shared a bit about why he came to the market Saturday morning. "Coming to the market is a longtime tradition in my family; it's great to be part of it."
Another important aspect of the Reston Farmers Market and one heard from many patrons that morning, was the friendly and welcoming atmosphere, how farmers and customer get to know each other.
Lauren Smith brought her daughter Kate age 5. Smith said, "When you know your farmer by name, that's really special."
The Reston Farmers Market is located at Lake Anne Village Center, 11401 North Shore Drive. It is open on Saturdays 8 a.m.-noon through Dec. 9 but will be closed for Multicultural Festival on Sept. 23. The market is operated under the direction of Fairfax County Park Authority.
For more information about the Reston Farmers Market and to view their vendor list visit www.fairfaxcounty.gov/parks/farmersmarkets/restonmkt.
Starting May 6, the Reston's Indie Arts Market at Lake Anne Plaza kicks off and will run every week through the first Saturday in November. Located steps away on the plaza beside the lake and operated separately from the Farmers Market, the craft market will feature hand woven textiles, handcrafted jewelry, organic skin care products and more. Visit www.lakeanneplaza.com to learn more.