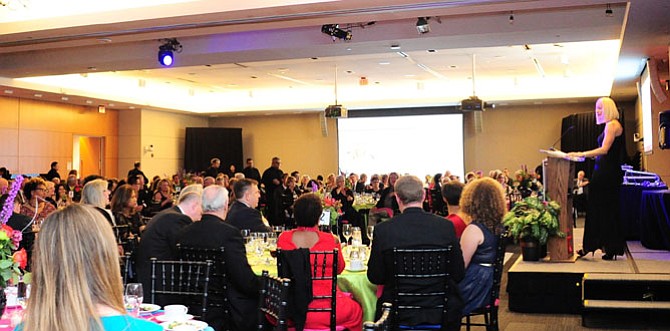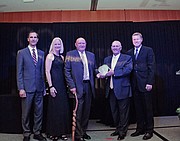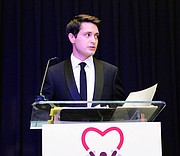 Nearly 300 people filled the atrium of the U.S. Patent and Trademark Office in Alexandria on Saturday evening, May 6. They came to support the United Community Ministries' annual "Give from the Heart" Gala, UCM's largest fundraiser of the year.
The black-tie affair, hosted by The Friends of UCM, featured cocktails, a silent auction, dinner, live and reverse auctions, music and dancing. One of the highlights was raffling off a free trip to Cancun, Mexico.
The evening's emcee was NBC TV News4 reporter and anchor David Culver. The two event chairs, both members of UCM Friends, were Donna Jarvis-Miller and Margaret Murphy.
UCM's newly created Gerald W. Hyland Humanitarian Award was presented. The UCM board will annually "recognize outstanding individuals who have demonstrated a commitment to the welfare and overall economic prosperity of the community." UCM board chairman Ken Disselkoen, Mount Vernon District Supervisor Dan Storck, and Lee District Supervisor Jeff McKay presented the inaugural award to Hyland himself.
Hyland served as Mount Vernon supervisor for 28 years before his 2015 retirement. He was instrumental in many community improvements, including keeping INOVA Mount Vernon Hospital open, improving roads, coordinating closely with Fort Belvoir, and helping shape the revitalization of Route 1. Hyland also served on the UCM board 1981-87.
UCM focuses its efforts along the Route 1 corridor and holds as its vision: "No member of the United Community Ministries community will ever be hungry, homeless, helpless, or hopeless." The organization's mission follows that vision: "United Community Ministries mobilizes the power of community to equip, educate, and empower people to measurably improve their lives."
The UCM board recently appointed a new executive director, Alison De Courcey. She came to UCM from Ernst & Young Global, an international professional services and accounting firm. A 20-year Alexandria resident, DeCourcey also has held several volunteer executive positions in other charitable and community organizations.
Preliminary accounting indicates the Gala raised about $190,000 in donations and auction proceeds, slightly more than last year's event.