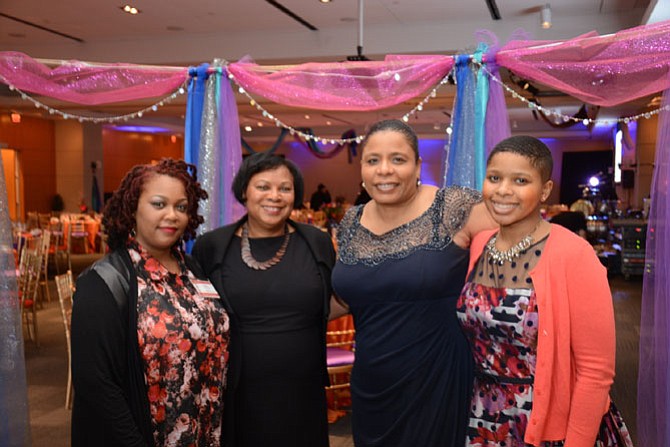 United Community Ministries executive director Nichelle Mitchem wasted no time addressing the challenges she and the multi-faceted service organization are facing. Heavy on her mind is the Healthy Families program, aimed at preventing child abuse through intensive home visits to first-time parents, that's slated to be eliminated in FY2016.
"I'm horrified for it to go," Mitchem said during the silent auction portion of the Spring Gala hosted by the volunteer fundraising group Friends of UCM. Mitchem explained Healthy Families costs $3,900 per child per year, as opposed to $7,200 for foster care, and has proven efficacy.
"It's frightening," she said, "I can't understand the rational basis for cutting it. In light of dwindling funding, that's what makes this type of event even more important."
The "Magic of Giving: Spring Gala" is the second of two annual major fundraisers hosted by Friends of UCM to benefit United Community Ministries, a non-profit which provides the greater Route 1 corridor community basic needs services, professional assistance, literacy and citizenship classes, crisis intervention and numerous other community initiatives.
"All of us live along Route 1; these people are our neighbors, is how we look at it," said Friends of UCM member and gala co-chair Elin Bohn.
The gala, hosted for the second time at the U.S. Patent and Trademark Office in Alexandria after previously being held at the Mount Vernon Country Club, featured a silent auction, raffle and formal dinner. After the Friends of UCM was established in 2001, the first gala followed in 2002.
According to Diane Tollefson on the board of the Friends of UCM, the 2013 gala raised about $123,000 and 2014 rose to $193,000. With attendance at this year's event expected to peak at a new high of 280 people, Tollefson and others hoped to see the fundraising increase again.
One hundred and fifty items for auction included a stay in a Paris apartment and 24 vacation trips around the country, from South Beach and New York City to Las Vegas and destinations on the West Coast.
Supervisor Gerry Hyland (D-Mount Vernon) was bidding on a robust basket of mixed gourmet treats he planned to deliver to the sisters of the Monastery of the Poor Clares.
"[United Community Ministries is] the reason I've been supervisor for 28 years," said supervisor Gerry Hyland (D-Mount Vernon). "They got behind me. And they're doing the things government should be doing, at half the costs. They just do it so well and really have a finger on the pulse of the community."
Hyland's daughter Gigi is chair of the UCM board of directors. "This is just a big community event," she said. "The friends are meant to be celebrated as well. We're very thankful to them."
For more information the work of United Community Ministries, visit www.ucmagency.org.