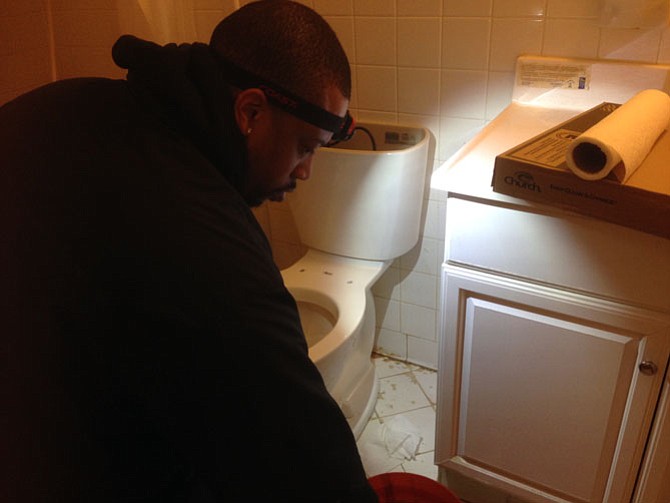 Fairfax — Fairfax resident Angel Meza is 71 years old, has three jobs, and needs to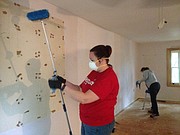 repair his Fairfax house so his 25-year-old daughter and her four children will have a healthy and safe place to live. His house, purchased 41 years ago for $89,000, was in need of major repairs before this can happen, so in stepped the Fairfax County Department of Family Services, Keller Williams Tysons Teams and local volunteers to get the job done.
"All my kids grew up here, that's why I want to stay here," Meza said. "I didn't ask for help, they came to me," he said.
Keller Williams agent Monique Milucky led her team they called the Keller Williams Culture Committee on their company RED Day, May 11, Renewing-Energizing and Donating. According to the company, RED Day, introduced in 2009, takes place on the second Thursday of every May, where associates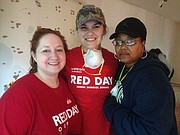 celebrate Keller Williams Realty's Vice Chairman of the Board Mo Anderson's birthday by spending the day away from their businesses serving worthy organizations and causes in their communities. "We also do fundraising events, some are donating time and supplies," she said.
THE TEAM ripped out the carpet upstairs, fixed water damage downstairs, rebuilt the bathrooms, walls and kitchen to help Meza out. It was pouring down rain when she left her house in the morning, but the mission outweighed everything. "I just knew we had to keep going, I was thankful most people showed up despite the rain," she said.
Nicky Johnson is an agent from Keller Williams and one of the people that brought this house to the county's attention. Upstairs, Johnson was making sure they didn't miss anything. "The biggest project is the basement, we need to clean the bathroom and laundry room," she told the group.
Downstairs, Meza's house had major water damage from a pipe that broke near the hot water heater, and water sat on the floor downstairs and seeped into the woodwork and wall board. Eventually he had to move out because the conditions were so bad and he could not fix it. At one point "squatters" broke in and spray painted obscenities on the wall too.
Mike Coyne, president of Coyne's Home Improvement, showed up to help and analyzed the water damage with Arlene Mains, another Keller Williams agent. "I feel like we should cut that out," Coyne said, pointing to the moldy wall board.
Upstairs, crews were ripping out the carpet, taking out the bathroom fixtures and preparing the walls for painting. Art Barletta was with Michael & Sons, a local bathroom and kitchen reconstruction company that donated some of the materials and manpower that included a special needs toilet for one of Meza's grandchildren that is physically challenged. "We're here to move and install the toilets and vanities, and lend an extra hand," he said. There were also contributions and volunteers from Movement Mortgage, Universal Title, Property Management Advisors, 123 Junk, Pest Now, Colonial Flooring, Triple B and Reliable Hauling.
THE COUNTY become aware of Meza's situation as they helped his daughter and children move towards becoming self-sufficient, said Krissa Slone, the Fairfax County director of Volunteer and Partner Services.
The county Volunteer and Partner Services Program engages volunteers and builds partnerships to support families with children who are at risk of abuse, neglect or placed in foster care or with relatives. The program builds volunteer capacity in the division, implements programs, and directs activities that promote positive relationships within the community. The carpet went in the next day, and by Saturday, several family members moved back into the house. Termite damage was discovered, so that is being worked on so the remaining family members can move in before Memorial Day.