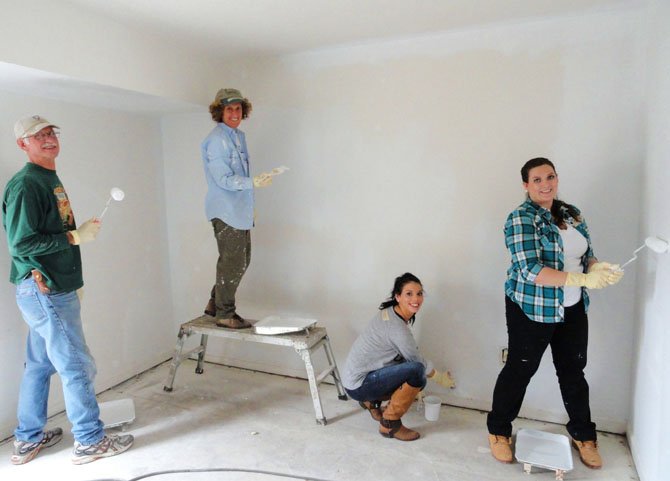 Not everyone has the money to buy a home. But thanks to Habitat for Humanity of Northern Virginia (HHNV) and some willing volunteers from a company in Reston, a family will be able to buy a house in Centreville at an affordable price.
On a recent weekday, 15 people were hard at work renovating and repairing it to make it livable. Built in 1971, it's a two-story, three-bedroom house.
"This property is in the National Neighborhood Stabilization program," said Romana Sanchez, HHNV's construction director. "It was foreclosed and, since banks give us the first right of refusal, we purchased this one. Structurally, it was fine, but it was otherwise in disrepair."
Although people had lived in the house, the kitchen wasn't functioning. "We started the demolition in May," said Sanchez. "We pulled everything out of the kitchen and bathroom and took out all the kitchen drywall and all the damaged doors. We also replaced the windows, heating and air conditioning."
The electrical wiring was brought up to code and the plumbing repaired. "There was a huge leak under the kitchen sink and in the upstairs bathroom," said Sanchez. "We subcontract out the mechanical, plumbing and electrical work, and it's done either pro bono or at a discount."
THE HABITAT CREW and their volunteers have been working here two days a week because they're working on other, similar projects at the same time. Eventually, Habitat's family-selection committee will chose a family that's applied for a Habitat house and then that family will buy this one.
"We provide affordable homes for first-time homebuyers," said Sanchez. "Because we get monetary contributions, in-kind services donated and our labor is free, we keep the cost of the home down."
"I enjoy working with the volunteers and homeowners – who also put in sweat-equity hours," she continued. "And it's rewarding seeing a family move into a home they'd otherwise be unable to purchase."
Habitat's dedicated volunteers are called the sandlot; they're usually retirees and many have been with the organization for 15-20 years. They lead the corporate or community volunteers in the day's work. And on a recent Thursday, four sandlot members, two Habitat staff members, one Americorps volunteer and eight volunteers from Reston's FM Global Corporate Property Insurance Co. worked together on the Centreville home.
"It's been completely gutted and we're remodeling it," said Habitat's volunteer-manger, Erica Painter. "We put up drywall, primed the upstairs and downstairs and, today, we're painting the walls. I'm lucky because I get to do this full time. The rewarding part is being able to connect people looking for an opportunity to give back with those needing help."
"I've always wanted to work with Habitat for Humanity," said FM Global's Susan Godshall. "FM Global is generous and gives us a volunteer day every year, and I'm part of our volunteer committee at work that finds ways for people to help in the community."
That day, she painted the kitchen and the upstairs baseboards and windowsills. "We've already painted the majority of the downstairs, including ceilings, and it looks really good." she said. "It's great seeing the transformation already. It's pretty awesome knowing that what we're doing will benefit someone who's going to live here – that's a good feeling."
After all, added FM Global's George Plesce, "What's better than helping someone have a home? I painted downstairs, too, and did some caulking. It was fun helping out and doing something with my coworkers."
THE PROJECT appealed to Mercedes Powers, who primed and painted the living room and detailed the corners. "Habitat for Humanity is very reputable," she said. "And I knew this would be fun and I'd feel good afterward; it's very fulfilling."
Coworker Tiffany Hines "wanted to get physical and do something that makes a difference. I painted the stairwell, ceilings, foyer and hallways."
FM Global's Janice Henry did those tasks with her. "From watching 'Extreme Home Makeover' on TV, it was always something I wanted to do," she said. "It inspired me and seemed like a great experience."
Hines said trying to reach the highest spots was the toughest part for her. "But we teamed up, joked and had a good time together," said Henry. "I kept threatening to get paint on her."
"But I got it on me first, so I stole her thunder," said Hines.
Both women were happy to "give back to someone." And, said Henry, "I like knowing that a family will get something they wanted and worked for – and that their children will be able to grow up in a home."
FM Global's Victor Ling had never volunteered for Habitat for Humanity before so, he said, "It was a good opportunity to try something new. I painted the hallways and kitchen, and it's fun seeing what you're accomplishing right away. It's also nice to see everyone outside the regular, work environment."