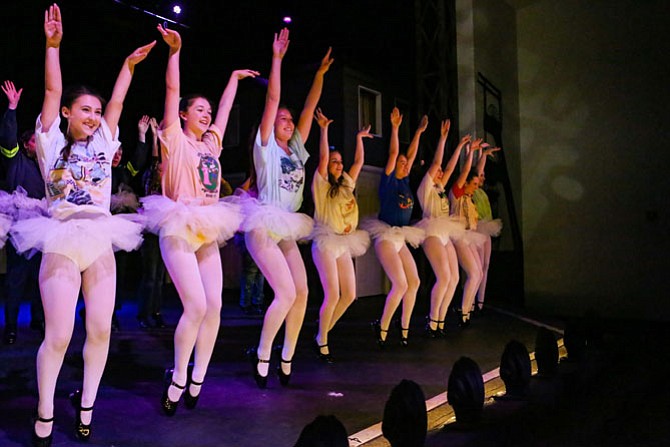 Even if you're not pirouetting across stage, West Potomac's production of Billy Elliot will keep you dizzily captivated with its "shine." The intense choreography and political backdrop keep this show complex and engaging, and West Potomac High School did not disappoint in their performance.
Based on the original film, "Billy Elliot" tells the tale of a young boy, Billy, who falls in love with ballet, an activity discouraged for young boys because of its association with negative stereotypes. The show takes place during the coal miners' strike in England, providing a politically charged background to the young boy's story. With the help of dance teacher Mrs. Wilkinson, Billy's affection for dance becomes unavoidable, and ultimately leads to a change of perspective for his family and town. The show is heavy on choreography, as it is centered around Billy's love for dance, and features poignant commentary on class struggle, stereotypes, and individual expression.
Lead Franco Cabanas, playing Billy, was terrific in his vocal, acting, and choreography range. Despite Cabanas' youth, the consistency in the sensitivity and strength during his performance was impressive beyond his years, particularly in the scenes with his Dad (Jonathan Barger), where the chemistry unfolded marvelously. Bargers' execution of the Dad's character arc was one of the strongest aspects of the show, where he transforms from an angry widower to a softer, more accommodating father figure towards Billy. Bargers' talent shown in the heartbreaking and moving number, "Deep Into the Ground." Despite the intensity of some scenes, it was balanced by the comedic moments and numbers, like that of "Expressing Yourself." Sung by Michael (Grant Hamilton) and Billy, it is simultaneously funny and heartwarming. Mr. Braithwaite, the perpetually intoxicated piano player, was terrifically played by Josh Stein, who showcased his humor, vocal range, and choreography skills in "We Were Born to Boogie." Notably, Mrs. Wilkinson played by Adrianna DeLorenzo had terrific, over-the-top numbers like "Shine" and "We were Born to Boogie," demonstrating both bravado and warmth in her motherly affection towards Billy.
The leads' terrific performances were only amplified by the ensembles of the ballet girls and ensemble minors. The ballet girls were consistently high-energy, and each seemed to have their own, developed persona. Their scenes featured impressive choreography, and were hilarious in their clumsily uncoordinated dance scenes, managing to look good ... dancing badly. The minors were consistent in their harmonies, and added depth and unity to the production in the catchy numbers "Solidarity" and "Once We Were Kings."
The talent of performers were reciprocated by that of the tech and crew. The attention to detail is immediately apparent in the complex and faced-paced lighting scenes, and which were designed to highlight the bodies and choreography. We were quite literally blown away with the use of the student-operated assisted flying mechanism during the Dream Ballet, beautifully executed against the "starry sky" background. Particularly in scenes like "Solidarity" and "Angry Dance," the juxtaposition of police, strikers, and Billy was heightened by lighting choices, which used strobe and quick changes. Finally, the work that was put into choreography was evident, as the numbers seemed very coordinated. Consistencies in some patterns of movement and dance helped to pull the show together, particularly in the culminating number "Finale."
West Potomac's production of "Billy Elliot" was beautifully executed, and completely enjoyable for audience and performers alike. The performance truly highlighted its cast and crews' "star quality," making it an all-around impressive show.