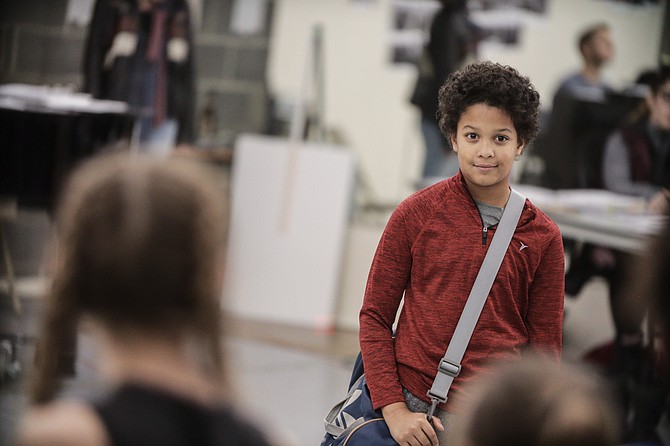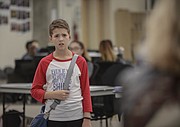 All 11-year-old Billy from England wants to do is dance. While the 1984 coal miners' strike squeezes his family and splits his town, Billy's passion for ballet first divides, then ultimately unites, the community – and changes his life. Based on the 2000 film, "Billy Elliot" swept the Tony, Drama Desk, and Olivier awards for Best Musical with a score by Elton John. This Signature show, running through Jan. 6, 2019, is directed and choreographed by Matthew Gardiner with book and lyrics by Lee Hall.
Owen Tabaka is playing the lead role of Billy Elliot, a boy who finds his love and passion for dance despite all of the challenges he and his family have faced. "Billy is strong and is forced to fend for himself a lot because his mom died when he was so young. This inner strength and courage help him pursue his dream of becoming a ballet dancer," he said.
He added: "I have loved every minute of working on 'Billy Elliot.' The two most challenging things for me while working on it have been learning a new accent and learning how to speak and sing with that accent, and learning how to use my emotions differently through dance. Billy is very angry at moments and very sad or vulnerable the next. It has been challenging, but fun to learn how to express those emotions with different styles of dance."
As far as audience takeaways, he continued: "I hope the audience leaves the show feeling like anything is possible if you work hard and have the love and support of your family. Playing the role of Billy has really taught me to be thankful for what I have and I hope everybody leaves the show feeling the same way."
Liam Redford, who is also playing the role of Billy Elliot, added: "My character, Billy Elliot, is a young boy who lives in Northern England during the 1984 miners' strike. Billy finds himself immersed in a dance class taught by the hilarious Mrs. Wilkinson, and falls in love with it. Billy struggles with the loss of his mother, his grandmother losing her memory, and his older brother and father being so busy with the strike."
As far as challenges, he said: "The challenge for me while working on 'Billy Elliot The Musical' was building up the stamina to play such a demanding and challenging role — a role where the characters must perform ballet and tap, as well as sing, act, and even fly, while barely having an opportunity to leave the stage."
For audience takeaways, he added: "I hope the audience will take away the importance of family, individuality, coming together as a community, believing in dreams, and breaking stereotypes."
Signature Theatre is presenting "Billy Elliot The Musical" through Jan. 6, 2019. Tickets are $40 to $102. Show times are Tuesdays through Saturdays at 7:30 p.m. and 8 p.m.; and Sundays at 2 p.m. and 7 p.m. Specialty Nights are Discussion Nights, Dec. 5 and 11; Pride Night, Dec. 14; and Open Captioning, Dec. 16, at 2 p.m. The venue is located at 4200 Campbell Ave., Arlington. Visit www.sigtheatre.org.