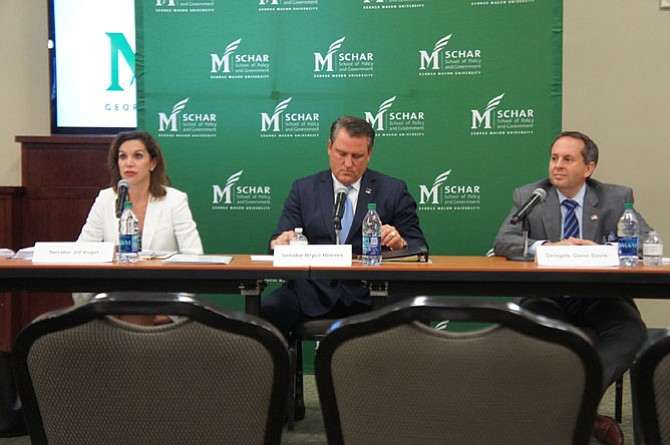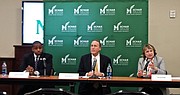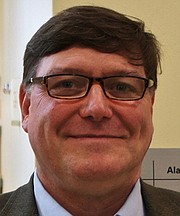 At the May 23 lieutenant governor candidates' forum at George Mason University (GMU), there was none of the verbal fireworks or often embarrassing vitriol that has come to characterize the political debating arena of late.
Instead, the six major party candidates — three Republicans and three Democrats — sometimes passionately, but always politely, fielded questions posed to them by moderator Mark Rozell, dean of the co-hosting GMU Schar School of Policy and Government. So civil toward each other were the candidates that there were only two occasions when any of them took advantage of the 30 second "opportunity for rebuttal rule."
The fact that the forum was split into two sessions, with the GOP hopefuls taking the first shift, followed by the Democratic contenders after a brief recess, may have influenced the tone of the event.
THE REPUBLICANS seeking the position are all current office holders and they took the opportunity to discuss some of their governmental accomplishments during opening statements. The Democrat candidates have never held elected office.
State Sen. Jill Vogel (R-27) is an advocate for rural economies and a supporter of school choice legislation. She also introduced bills to strengthen the enforcement of immigration laws.
Sen. Bryce Reeves (R-17) is a former Army Ranger and police officer. Describing himself as "Pro-Life and Pro-Gun" Reeves says he seeks to "protect our values and outlaw sanctuary cities" and grow the state's economy.
Del. Glenn Davis (R-84) says he is the one with a "plan to unleash Virginia" with tax reform, attracting "21st century jobs, modernizing education" and cutting "government red tape."
ON THE DEMOCRATS' SIDE, Justin Fairfax is a former assistant U.S. attorney and businessman.
Gene Rossi spent 27 years as a federal prosecutor. Rossi told the audience that he led the largest investigation ever to address the opioid epidemic, helping to secure 200 convictions of "unscrupulous pain doctors, pharmacists, health professionals, and drug dealers."
Susan Platt served as chief of staff to former Vice President Joe Biden and serves on the Virginia Tourism Board as an appointee of Tim Kaine.
ALL SIX TROD CLOSELY along their party's lines. The Republicans focused on economic development in the Commonwealth via tax reform, defending Virginia's "Right-to-Work" status, exploring other options before increasing taxes, and reducing what Reeves called the "regulatory burdens placed on businesses."
Reeves sees the "constant change in the regulatory environment" as an inhibitor to economic health. "We need some stability," he said, and a process to appeal to business investors.
Vogel agreed. "For the first time, more people are leaving Virginia than coming here. We need tax reform and financial stability and predictability."
"We used to be the number one state for business, now we are 13th," added Davis, "and we need to better market ourselves" and tout the resources and advantages of the state.
Again, all three candidates stuck with the GOP platform on issues like opposing state regulation of utilities, the expansion of Medicaid, and the notion of collective bargaining for workers, and protecting gun rights.
Davis said he voted six times against expanding Medicaid, stating that the monies spent on Medicaid in the Virginia budget have already doubled in less than 10 years and needed to be reined in.
Regulating utilities like Dominion Power is not to their liking, either. "Competition solves the issues," according to Davis, while Vogel maintained that with government, "less is usually more."
A simple, but emphatic "No," was how Vogel, Reeves and Davis all "voted" on the subject of collective bargaining.
"I'm flabbergasted, why would anyone choose to make the state less competitive?" was Vogel's comment when asked if Virginia should turn away from its Right-To-Work status and more toward unionization.
"I would fight that tooth and nail," said Reeves.
"That would mean a negative outlook for our credit rating," predicted Davis. Recent indicators that suggest a less-positive outlook on the state's future credit worthiness is of significant concern to the Republican trio of candidates.

When the Democratic candidates were seated for their session, the overall tenor of the forum remained unchanged. Dean Rozell asked similar — and sometimes identical — questions of the second candidate panel, with Fairfax, Rossi and Platt usually agreeing with each other in principle and disagreeing with the GOP approach offered during "Round 1" of the forum.
Fairfax does not subscribe to the more dire economic picture painted by his Republican rivals. "Unemployment has declined from 5.4 percent to 3.4 percent. Our economy is strong," he said, but admitted that more work, especially in developing "middle skill jobs" needs to be done. He is a particular proponent of lessening the burdens of student debt, saying that freeing young workers from this obligation would benefit everyone as these graduates could "start their financial lives sooner … buying homes, starting families and getting the capital to start and grow their own businesses."
On the subject of collective bargaining and Virginia's Right-to-Work laws, the three would support unions and changes to the laws, but none of them saw this issue as a fight that could be easily won. "Let's concentrate on filling the 175,000 jobs that are open because our workers are not trained or qualified for them first," said Fairfax. Platt agreed, saying she supported unions, but realistically sees Virginia as a Right-to-Work state. "It's entrenched here."
THE EXPANSION of Medicaid was another area the three firmly supported, in contrast to the GOP line. "Not doing so, that's $10.4 billion lost to our economy, plus more jobs and healthcare coverage for another 400,000 Virginians," said Fairfax.
Rossi told the audience of his daughter's battle and victory over a form of lymphoma, as well as his own more recent blood disorder. Saying Virginia needs a brand new blood supply, "and I am the candidate with new blood," Rossi pledged that he would "fight like a dog for Medicaid."
All three Democrats approved of the regulation of utilities as emphatically as the Republican candidates were against it.
Solving the woes that plague Metro also served to highlight the differences between the two camps, but the unity within each party. Vogel, Reeves and Davis are not in favor of a proposed 1 percent regional tax to subsidize the ailing Metro system.
The Democrats, on the other hand, see Metro as vital to the area's economic health and growth and all are convinced that a dedicated and sustainable revenue source is needed. "Metro was a great story, but we kept kicking the can. You reap what you sow," said Fairfax.
Platt suggested going after more federal funds to support Metro, coupled with better planning of communities to avoid "two-hour commutes," while Rossi said this was another issue he was willing to fight for. Rossi also warned that the Trump administration's cuts would devastate Northern Virginia.
The two groups came closest together when it came to the subject of tax reform. While the Republicans placed the greater emphasis on its need and the shape it should take, the Democrats did not disagree that tax reform should be on the table, and that Virginia's budget should be more predictable.
Platt was the only one, however, to tie this issue to the the "need for income equality and an increase in the minimum wage."
They also all agreed, Democrats and Republicans alike, that each would make more of the position than it has been traditionally viewed in the past, looking for ways to more actively engage and to be real advocates for Virginians and the state's economic development. All stated that whichever party took the Governor's Mansion in the fall, they were ready, willing and able to work with colleagues on both sides of the aisle.
THE PRIMARIES for both parties will be held on June 13 and voters will choose who goes forth to the election on Nov. 7. "Whoever wins," said attendee Joe Spellicy of Herndon, "this has been a really great forum. I like this process, and it was good to hear from both sides, all candidates, answering the same questions."