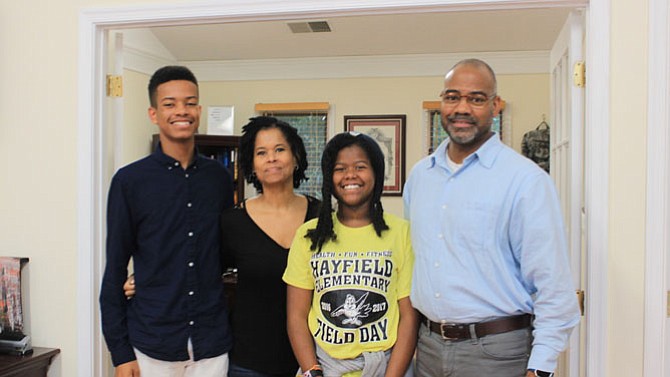 David Toomer, 16, is among 29 semifinalists of 11,000 contestants from around the world who submitted engaging, imaginative and humorous videos to demonstrate a difficult topic in science. The final winner will receive $400,000 and join world-famous scientists on stage at the Breakthrough Awards ceremony in Palo Alto, California.
The 11th grader at Hayfield Secondary School was homeschooled until sixth grade. He never thought he would pursue math and science as a career; instead, he wanted to be an architect.
Q: How did your interest in math start?
A: I think that my love for math and science really came when I got to high school; I was always good at math and science but I started doing it out of personal interest after taking classes in high school.
So my geometry teacher, my freshman math teacher, who is the person I nominated for the $50,000, she really inspired me to keep doing things in math; to push myself and keep doing more.
Q: What is her name?
A: Ms. Carpenter. Pam Carpenter.
Q: How about filmmaking?
A: I did not know much about filmmaking at all when I was going into this challenge. That was the main obstacle for me in making the video. I had seen the email and I thought it was kind of far-fetched because I did not know how to make a video.
Q: Where did you get the email from?
A: I had a Khan Academy account that sent out an email supporting the challenge.
Q: Not the school? Such a big prize, $400,000, and not so many people knew about it?
A: I knew two other people who I talked to who knew about it. That was it, for the most part. They have been trying to get the word out about the popular vote on Facebook, and not a lot of people knew about it. People have been stopping me in the hallway, asking me about it. It is kind of sad that not a lot of people knew about it.
Q: How did you overcome your obstacle (filmmaking)?
A: I have family friends who do a lot of graphic design. They were able to help me find the tools to make the video and from there it was just watching series of YouTube videos and learning how to do things.
Q: When did you start working on it?
A: I got the email in the beginning of September. I decided I was going to make a video about three days later and then I had to finish it by Oct. 1.
Q: What I liked about your video is your sense of humor combined with rich content.
A: The main thing that I wanted to do is to explain it to somebody like my sister or someone who did not ever learn about that kind of math. Even if I can't explain it to them on a mathematical level, I can explain it on a conceptual level.
Q: Why did you choose Euler's formula?
A: I learned about Euler's formula about a year and a half ago and it absolutely blew my mind. I had seen the proof which is really fancy and it was just beautiful to say the least. Usually mathematicians define a beautiful identity or formula as something that is succinct but carries a lot of weight. And that was just exactly what I saw in Euler's formula.
Q: What would you do if you win?
A: I will, probably stare at something…My mouth would probably hit the floor…I would probably jump up and down for 20 minutes…I don't know…It would be unequivocal joy.
Q: Why do you want people to vote for you?
A: Obviously because I want to win but also, I want them to vote for me because when they vote for me, it brings more attention to the video I did or maybe the entire challenge in itself. When they vote they are supporting students' love for learning and their want for curiosity, instead of just doing work for work.
The finalists' videos are up on YouTube and Facebook, and the general public can vote for a people's choice winner until Nov. 2.
David's video can be viewed here: https://youtu.be/m8POUuGiwPQ