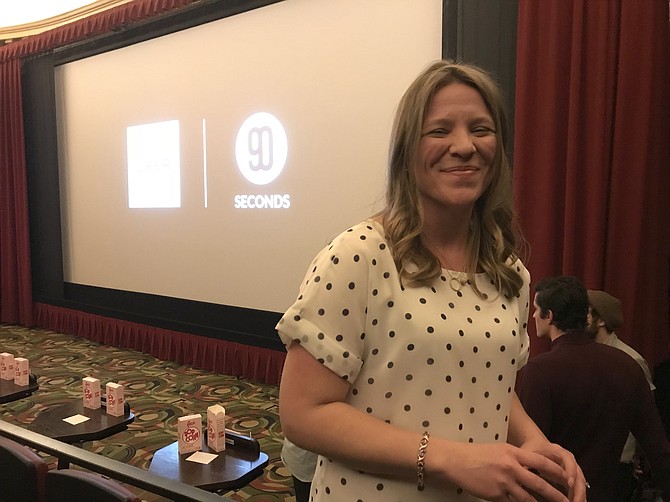 Pamela Mathieson, 33, of Burke Commons is a video producer and editor. She works in her current job in video production at the non-profit Population Reference Bureau in Washington, D.C. For her first personal video project, she entered a contest sponsored by the Uber ride-sharing company called the Uber & 90 Seconds Short Film Festival held in San Francisco, and won third place for her film, "A Trip Down Memory Lane."
In front of a crowd of 100 people in San Francisco's Alamo Drafthouse, the festival held a live red-carpet film premiere for the finals on Feb. 1-2. There, they screened the films of the top nine finalists, who were each flown to San Francisco. They also held a cocktail hour, did a Q&A with each of the film creators, and announced the top three winners.
"It was very exciting. It was a relief and I was a very proud girl," she said upon hearing she won third place. "They were all really good and very different; it was surprising that there were no repetitive narratives," she said of the films.
THE INSTRUCTIONS were to get as creative as possible with the theme, "Where To?" Filmmakers could choose to create a video told from the perspective of an Uber rider, an Uber driver-partner or from the perspective of her city. The videos had to be 90 seconds long, there could be no X-Rated or violent content, and participants could work in a team. Mathieson chose to work with Umit Gulsen, who accompanied her to San Francisco, as her cinematographer.
Since Mathieson was one of the top finalists, she received $3,000 to produce her 90-second short film. The grand prize winner received $10,000; the second-place winner received $1,500 plus a drone; and the third-place winner received $500 plus a GoPro Hero. The final winner was decided via a public vote on YouTube. For every "like" they received on their YouTube video, they got one vote.
What did she learn from the experience? "Especially at the event, it was great to be among other filmmakers like me, other creatives. I think it inspired me to do more by seeing their work and what they can accomplish, and being accepted into that crowd. That was inspiring," she said.
After she saw the listing for the contest, she started thinking about the "Where To" theme. "Instead of going to a location, I went to a memory. You're taking a trip down memory lane. The idea of it was originally a single person, but then a couple sharing those moments together – I think inspired me."
She added, "So, I started to think about somebody taking a trip to a location that meant something to them – that had a memory for them. And, basically taking Uber to that location, and it snowballed to many locations to show the history of their relationship," she said. Next, she wrote the script on the VRE train in two train trips; it took her an hour and a half.
With a budget of $3,000, which covered her actors and crew, she shot the film on Dec. 2 at locations in Washington, D.C. She chose Dupont Circle, the Washington Monument, Stanton Park behind the U.S. Capitol, and outside a brownstone on H Street.
"We shot in one day. It went very smoothly. I have many friends in the film business; there were a lot of people helping. It was cold in the morning but the weather held up so it was a good day," she said.
When she did the casting call through the Pat Moran Casting Agency, she didn't list any ethnicity so she got a slew of applicants. She chose a few African American actors plus a white driver. "I wanted a couple with similar looks so the casting agency sent me many choices. I think I picked people with different ethnicities. From the audition tapes, I picked the cast from their auditions," she said.
She added, "I've been working in video and film for over a decade now. This was my first personal project. That was rewarding, and in the future, I would like to do more of that while I do my career."
Does she have any aspirations to work in Hollywood? "Probably not," she said. "I would like to write a full-length script for competitions like this for independent filmmakers."
MATHIESON grew up in New York City and moved here to attend the University of Maryland where she graduated with a degree in broadcast journalism in 2006, and a graduate degree in film from American University in 2013. She is married to husband Richard, a Department of Defense contractor, and they have a daughter, Annabelle, 22 months old.
You can find Mathieson's video here: youtu.be/o3RG3r4xxmo.