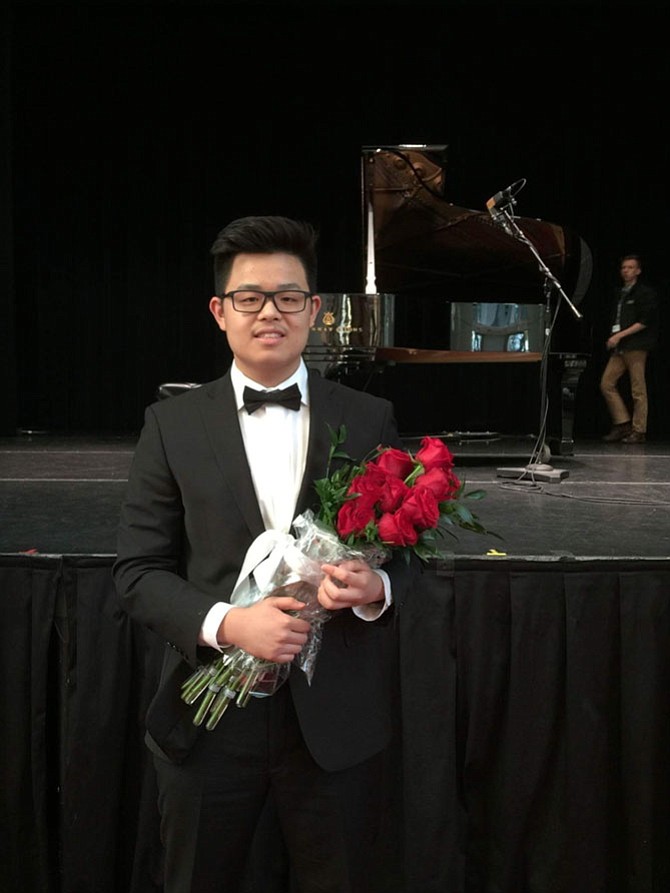 Harry Wang, a senior at Winston Churchill High School, was selected in July to play at The Kennedy Center in Washington, D.C. as part of the Washington International Piano Festival.
Wang said he knew when he took part in the festival there was a possibility of playing at the Center's millennium stage but did not worry about it.
"When Ms. Koras [his piano teacher] told me about the Kennedy Center she believed I had a good chance," Harry said. "I wasn't putting pressure on myself, whatever happens, happens, that was my attitude."
He said being part of the International Piano Festival was exciting enough.
"People come from all over the world," he said. "During the week we do Master Classes and some performances. You can look at it like an audition, people vying for the Kennedy Center."
When he learned he was one of the students selected, he was happy.
"I had a chance to really share my passion with a huge audience," he said.
Harry speaks often about his love for piano, the joy it brings him and others and sharing his passion.
"Playing for myself is fun," he said. "Playing for others is more a sharing of that joy. After recitals I see people smiling and it makes me feel good."
Harry, 17, grew up in China and moved with his parents to the United States when his was 14.
"I had visited before, mainly Los Angeles, the other side of America." he said. "I thought America was a fun place because in L.A. they have Disneyland and all those theme parks and the movies."
But now that he is living here, he said, he finds everybody really focused on their professions.
Harry was already an accomplished pianist when he moved here, having started playing when he was 5 years old.
Neither of his parents play the piano but they always thought the ability to make music a real joy, he said.
"It was something they always wanted to do," he said. "They found I really liked music on the radio and all, so found a teacher for me."
When he was 8 or 9, he said, his parents realized it was time for him to learn in a more professional way, so he changed teachers. That was when he was still in China.
Harry said what he likes most about playing the piano is the carefulness of it, the precision and the interpretation.
He studies with Aglaia Koras of Bethesda, herself a concert pianist.
"What is great about Ms. Koras is she gives me inspiration and also gives me space to be creative," Harry said. "She is really understanding and loving towards her students. She wants us to do well. She really cares … I think that is the best thing about Ms. Koras."
Koras thinks highly of Harry too.
"He is just the kind of person you would like as your own son," she said. "He is kind, respectful, polite, well trained, well brought up."
As for his piano playing, she also had high praise.
"He is an electric performer and is capable of very sensitive music," she said.
That "electricity" is something Harry said he can almost feel.
"Before I perform my hands are really cold, after the performance, they are hot," he said.
Though piano is a "long-time passion" for Harry, he does not plan to be a full-time concert pianist.
"Piano is not really about competitions," he said. "It is more about enjoying the music and the interpretations you do."
For now, his focus is on college applications. He hopes to study law in the future, and is especially interested in entertainment law.
"Piano and law are similar," he said. "They are both sharing a love to the world around you — law is spreading justice."
More like this story