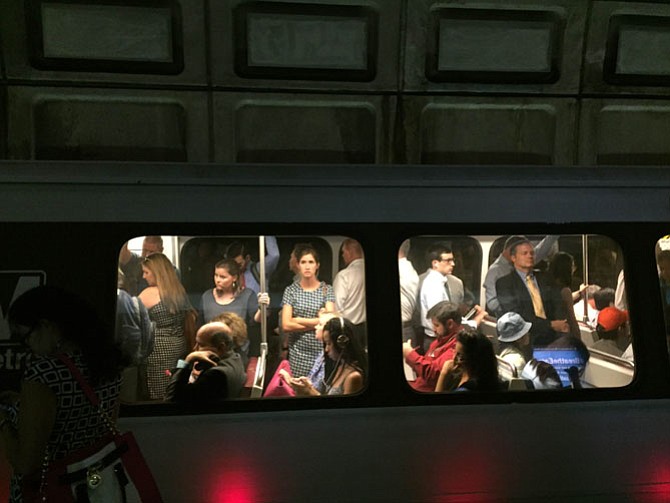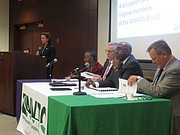 The good news is there's no planned fare increases or service reductions in the upcoming Metro budget.
The bad news is that without an adequate funding source the Metro system will continue to disintegrate.
At a Northern Virginia Transit Commission public forum on Nov. 16 in its Courthouse area headquarters, representatives of Arlington, Alexandria and Fairfax updated residents on the precarious situation of the region's rail system.
It's been one year since the Safe Track, a project that implemented systemwide delays to allow for greater maintenance on the aging rail lines. Combined with a fare increase and service reductions, Safe Track had a major impact on the system's ridership. With rising capital costs and dwindling revenue, the Metro system faces a $7.5 billion funding gap.
"In FY 2017, capital spending was $1.2 billion," said Paul Smedberg, a City Council member from Alexandria and the city's representative to NVTC. "It was the largest investment in the Metro since its completion. But by FY 2022, the budget will grow to $1.5 billion."
For the FY2019 budget, Smedberg said the focus of the capital budget is on rehabilitation and maintenance of existing services, with 85 percent of the investments going into existing lines. Arlington County Board member and NVTC representative Christian Dorsey said the $1.8 billion operating budget includes no service cuts or fare increases, but that the budget still has its share of challenges. The majority of the operating budget, 71 percent, is budgeted for Metro personnel, which meant the new budget reduced Metro staff by 800 employees. Some of those were vacant positions that weren't filled, but Dorsey said that also included employees who were laid off. There could be further Metro employee trouble looming as well. Metro employees are not permitted to strike, but that was adopted as part of a bargain that expired over a year ago. According to James Corcoran, CEO of the Northern Virginia Chamber of Commerce, Metro is in negotiations with workers over the next few months to reach a new settlement, but Corcoran said that could change the negotiating power or add costs to the budget.
Corcoran also said there are challenges coming up that the FY 2019 budget does not address. The budget makes no contribution to the Metro's rainy day fund and makes no wage increases for Metro employees. The Phase 2 plan for the Silver Line includes increased bus and rail service, neither of which are covered in the FY 2019 budget. Even beyond what's already noted as unfunded plans coming up for Metro, Smedberg noted that there are costly projects like expanding the Rosslyn tunnel that are looming on the horizon that are vital to the system's long-term survival.
"Our expenses are growing essentially at twice the rate of our income," said Corcoran. "[Without outside funding] that's going to come from higher rider costs or reduced service."
But Corcoran noted those possibilities could also lead to what other regional leadership has called a death spiral, where driving up costs begins to reduce ridership, which continues to force costs for riders higher and higher. Corcoran also noted that revenue from ridership also accounts for a higher percentage than nearly any other Metro system in the country except New York, whose density puts their subway system on a different economic scale.
The NVTC leadership argues that the Metro needs direct funding, but so far even maintaining existing levels of funding from the federal and state level is proving to be a challenge.
Smedberg emphasized the importance of the reauthorization of the Passenger Rail Investment and Improvement Act (PRIIA). PRIIA was first enacted in 2008 and has designated $1.5 billion in funding to the Metro over 10 years. Maryland, Virginia and D.C. matched that funding with $50 million each year for capital improvements. However, the transportation spending bill in the House Appropriations Committee would only allocate $75 million to the Metro each year, a decrease from the $150 million standard.
In Maryland, the state covers the cost of Metro usage, but in Virginia much of the funding is left to localities. In terms of state funding, Corcoran described 2019 as a fiscal cliff for the Metro system. Funding form Virginia bonds issued in 2009 will run out. In the proposed FY 2019 budget, Virginia and Maryland are hit with pretty heavy contribution increases. Alexandria's contribution to the operating budget, under the proposed FY 2019 budget, would increase from $40.3 million to $42.1 million, a 4.5 percent increase. Fairfax County's contribution goes up from $135.3 million to $139.4 million, a 3 percent increase. Arlington's increase is slightly less, from $70.9 million to $72.8 million, a 2.7 percent increase. Smedberg said the jurisdictional contribution has been capped at three percent growth per year moving forward, but Corcoran noted that without funding from the state, more and more of those costs will begin to shift down to localities. As the bonds expire, the state's funding to the Metro system could start to steadily decline.
Many in the audience were confused by why the state would not put more funding into the Metro system.
"Virginia receives a 250 percent return on investment," said Griffin Smith, referencing an NVTC study. "I don't understand how the state could not fund this."
Dorsey said the main challenge in convincing the state is breaking through the regionalism rife in Richmond.
"To them, it's a [Northern Virginia] thing," said Dorsey. "We have to break through the idea that this just benefits the People's Republic of Fairfax, Arlington and Alexandria. We have to make it patently obvious that this is a benefit by focusing on the dollars."
This can be difficult, Corcoran said, when Metro is competing for funding against education, prisons, and healthcare.
"Every official is looking for what's best for their locality," said Corcoran.
Alternatives have been proposed, but each of those have their own challenges. The idea of a regional sales tax was put forward, but was rejected at a state level. State Sen. George Barker, representing Alexandria, Fairfax and Prince William County, expressed concerns at the time that a sales tax across the region would put the financial burden unfairly onto Virginia. Without state approval, Dorsey said the localities also have varying levels of restrictions on whether or not they could implement a sales tax on their own. While Alexandria, as a city, has the autonomy to put a sales tax into place, Fairfax would be required to hold a referendum, which Arlington can't even initiate.
"There's a question of equity," said Smedberg. "One jurisdiction might be putting in more while having less stations. That's something that gives people heartburn."
Currently, much of the jurisdiction funding in Virginia is derived from a regional gas tax. However, no floor was ever set on this gas tax, so as prices on gas have continued to decline over the last few years, so has the revenue.
Al Francis, a Centreville resident, asked about the potential for expanding the Orange Line further into Northern Virginia, but NVTC leadership said that was unlikely in the near future.
"We can figure out how to expand," said Hudgins, a member of the Fairfax County Board of Supervisors, "but the focus right now is on maintaining. It's hard to argue for expansion in our current state."