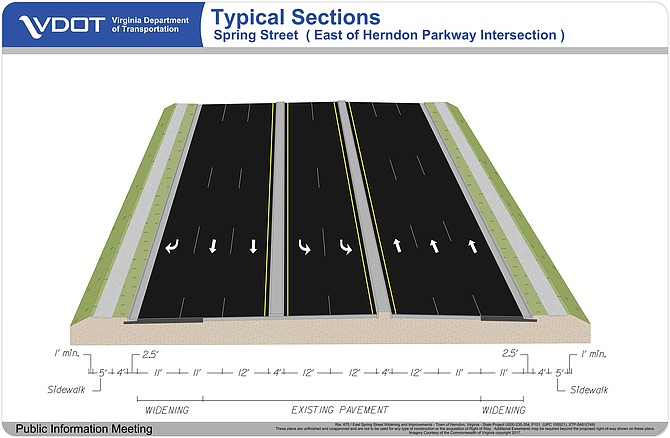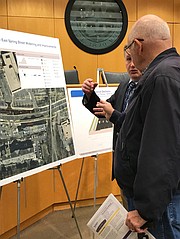 The Virginia Department of Transportation invited residents and drivers to a public information meeting on plans to widen East Spring Street in the Town of Herndon just west of Herndon Parkway to Fairfax County Parkway. The meeting was held in the Herndon Town Chambers, 765 Lynn St., on Monday, Nov. 13, 6:30-8:30 p.m.
Concerned citizens stopped by to view the large-scale display maps and to talk one-on-one with VDOT and Town of Herndon staff.
According to VDOT's description, the project aims to improve safety, operations, and connectivity along East Spring Street. Improvements include widening the road from four to six lanes, providing additional turn lanes for vehicular traffic, adding sidewalks on both sides of East Spring Street and the east side of Herndon Parkway, and replacing the existing sidewalk on the west side of Herndon Parkway.
Additional improvements cited include adding a cycle track and a bike facility that combines the user experience of a separated path with on-street infrastructure of a conventional bike lane.
A couple of citizens expressed concern about changing the access to the Sunset Business Park off Spring Street, east of the Herndon Parkway intersection. For those traveling westbound on Spring Street and wanting to get into the Business Park, with no U-turn allowed in the proposed project description of the intersection, it appears drivers will have to turn left off Spring Street onto Herndon Parkway, drive down Herndon Parkway and enter the business park from there.
The project is being funded with federal and state funding. Estimated project cost is $10.5 million, including:
Preliminary engineering costs: $723,000

Right of Way/Utility Relocation costs : $4.2 million

Construction costs: $5.6 million.
Although the Public Information Meeting was held Nov. 13, the Comment Period does not end until Monday, Nov. 27, 2017. Input is encouraged. VDOT states in their Guide to Property Owners and Tenants that all information received at and after the hearing will carefully be reviewed by VDOT with decisions made to continue or modify the plan.
VDOT directed that comments or concerns related to the proposed roadway widening and the proposed bicycle and pedestrian improvements along East Spring Street and Herndon Parkway be postmarked by Nov. 27, 2017, and either mailed to Mr. Hamid Misaghian, P.E., Virginia Department Of Transportation Northern Virginia District, 4975 Alliance Drive, Fairfax, VA 22030 or emailed to meetingcomments@vdot.virginia.govwith "East Spring Street Widening" in the email subject. All comments are subject to public disclosure.