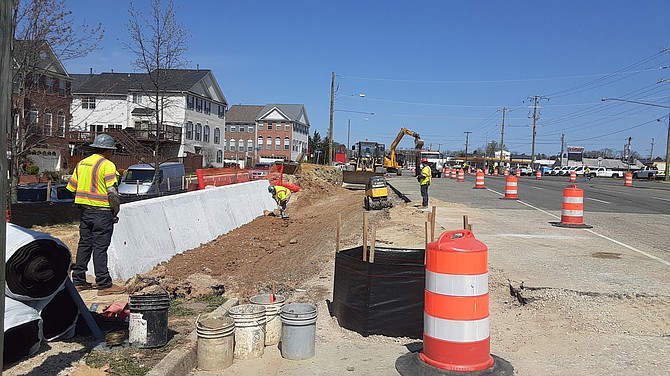 One of the biggest intersections in Springfield got a little bit busier in recent weeks when the Virginia Department of Transportation broke ground on an intersection widening project at Old Keene Mill and Rolling Roads in the western part of the Springfield District. This project is the first step in the widening of Rolling Road from Old Keene Mill Road to the Franconia-Springfield Parkway and Fairfax County Parkway interchange.
According to VDOT, the intersection project consists of adding a second left turn lane from Rolling Road to westbound Old Keene Mill Road, adding a dedicated right turn lane to eastbound Old Keene Mill Road, upgrading the traffic signal and improving the intersection alignment. This work should be completed later this year, VDOT said.
The second phase of this project is the Rolling Road Widening phase which will widen Rolling Road from two to four lanes between Viola Street near the parkway, and Old Keene Mill Road, upgrade traffic signal and put in a shared-use path for bicyclists and pedestrians. Construction on this part of the project is scheduled to begin in 2024, the VDOT website reads.
The price tag on both projects together is $78.9 million, and this funding comes from federal, state, county and Northern Virginia Transportation Authority funds. Initially, officials looked at putting the utilities underground in this area, but "this is no longer being pursued due to cost," VDOT said.