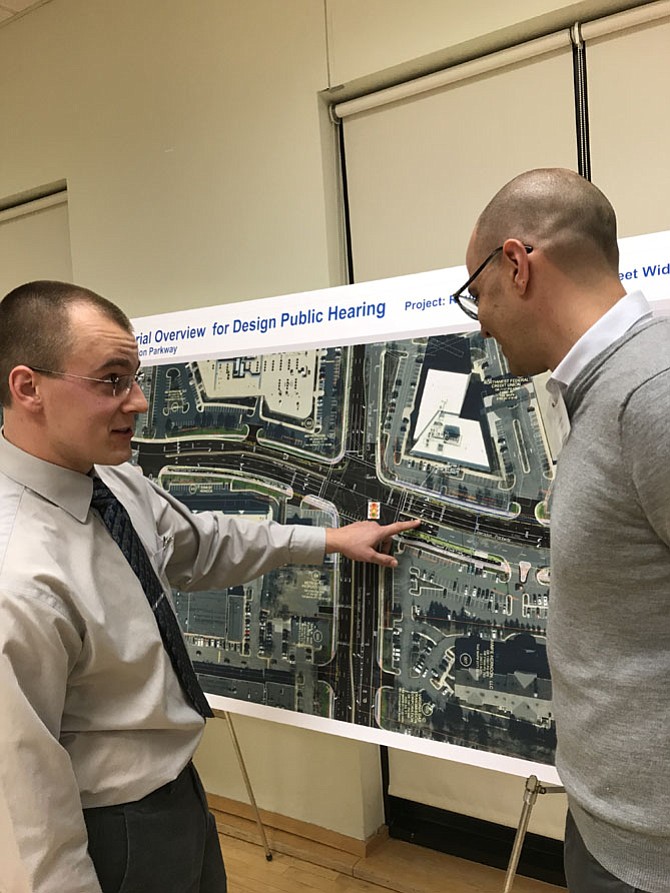 The Virginia Department of Transportation (VDOT) held a Public Design Hearing on the proposed East Spring Street widening project in the Town of Herndon on Thursday, March 8, 6:30 p.m. – 8:30 p.m. at the Herndon Community Center. At times during the Public Hearing, VDOT representatives outnumbered citizens.
The meeting provided an opportunity for the public to meet one on one with VDOT representatives and hear them discuss the proposed improvements. The meeting also allowed citizens opportunities to ask for clarification and provide comments and suggestions on the proposed improvements either directly to VDOT representatives or comments could be transcribed by a Court Reporter and officially submitted to VDOT.
In a Project Overview, VDOT proposes to: "Widen East Spring Street from four to six lanes, including a cycle track east of Herndon Parkway in the vicinity of the intersection located at East Spring Street and sidewalk improvements."
The project also proposes to close the median entrance to Sunset Business Park for traffic traveling from the east on Herndon Parkway. In order to gain access to the Business Park if coming from the east, citizens will have to travel to the light on the corner of Herndon Parkway and Spring Street, turn left onto the Parkway, and then take a left into Sunset Business Park about a block down. U-turns will not be allowed at the light.
The total estimated project cost is $11.1 million with preliminary engineering: $778,000, Right of Way/Utility Relocation: $4.2 million and Construction: $6.5 million. This project is being financed with federal and state funds, including Smart Scale funding. The Anticipated Schedule for the Approve Design is slated for Summer 2018 with construction to begin Fall 2020.
If citizens have not voiced their concerns, questions, or comments, time is running out. Comments must be postmarked, emailed or delivered to VDOT by March 19, 2018. Email comment to Mr. Hamid Misaghian, Subject Line "East Spring Street Widening," at meetingcomments@vdot.virginia.gov. Or mail comments to Mr. Hamid Misaghian, Virginia Department of Transportation, Northern Virginia District, 4975 Alliance Drive, Fairfax, Virginia 22030. Project information is available at www.virginia.org/projects and at VDOT's Northern Virginia Office.