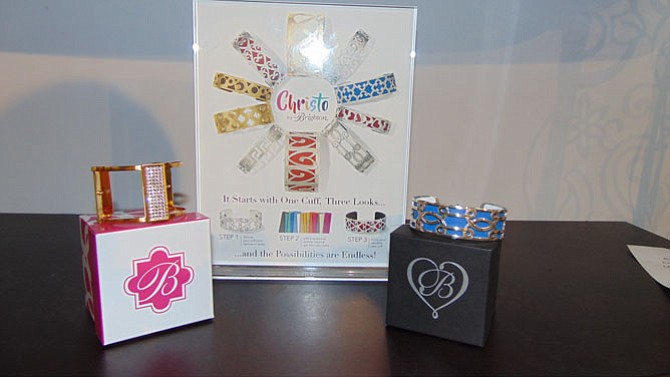 Judy Ryan of Fairfax: Everything is 30 to 70 percent off.
Looking for some holiday gifts from local mom and pop shops in the community? Judy Ryan of Fairfax in the Twinbrooke Centre Shopping Center has just the answer. The store is a lifestyles shop where savvy shoppers get dressed, decorate their homes and select the best gifts. Having been in business for 30 years at the same location, Ryan decided it's time to retire and close shop, which is what she'll be doing in mid-December, so for now everything is 30 to 70 percent off price.
"These final weeks are bittersweet," she said. "We have been supported so well by the local community and we will miss all of our interaction with them. There's so many changes in the retail mode that all the signs are saying it's a good time to retire."
Ryan said her next plans are to have an in-person consulting business called "Styled!," which will be part-time as opposed to a full-time endeavor.
Judy Ryan of Fairfax is located at 9565 Braddock Road in Fairfax, in the Twinbrooke Centre Shopping Center. Call 703-425-1855. Visit www.judyryanoffairfax.net.
Wild Bird Center of Burke: Everything for the Birder
The Wild Bird Center of Burke offers everything for the birder – from bird houses to backyard bird seed. According to owner Steve Pyne, "We cater to backyard birders with all levels of expertise but also carry a selection of items to help bring nature into your backyard."
Pyne offered up a few holiday gift ideas including bird nesting boxes made out of cypress wood and priced from $40 to $120. He said they are perfect for cavity nesting birds to raise their young. The birds will have two or three broods over the course of the summer and the houses will last multiple years and don't require a lot of maintenance. They make the perfect gift for somebody who doesn't want to have to repeatedly fill a bird feeder.
Wild Bird Center of Burke is located at 5765-I Burke Centre Parkway, Burke, in the Burke Centre Shopping Center. Call 703-250-0090 or visit www.wildbird.com/burke.
Edible Arrangements of Burke: Thoughtful and Unique
Edible Arrangements of Burke offers gift ideas for everyone on your list. According to store owner Sora Yoon, they sell thoughtful and unique gift baskets, fruit bouquets and fruit arrangements for every occasion. Yoon said what's popular this holiday season are the Christmas Tree Bouquets with Holiday Swizzle Berries starting at $126; the 2018 Fruit Festival, which comes in three sizes, starting at $88; and different fruit bouquets including the Seasons Greetings Party, in six sizes, starting at $109. The store offers a lot of specials before the holidays targeting Thanksgiving and Christmas.
Edible Arrangements is located at 9570 Burke Road, Unit O, in Burke. Call 703-323-5555.
Hallmark Creations of Burke Town Plaza
For all of your holiday needs, Hallmark Creations of Burke Town Plaza offers a broad selection of gifts and cards for holidays like Thanksgiving, Christmas, Hanukkah, New Year's, birthdays, anniversaries, Valentine's Day, Easter, Mother's Day, Father's Day, the 4th of July, Halloween and more.
According to store manager Jeanine Stevens, you can find any gift for anyone on your Christmas list – from the easiest to the hardest to please. They offer Classic Hallmark gifts that include the "Snoopy Continuity Band" as well as classic traditional Christmas ornaments and Christmas cards sealed with the famous Hallmark Gold Crown seal.
Hallmark of Burke is located in the Burke Town Plaza, 9598 Old Keene Mill Road, Burke.
More like this story