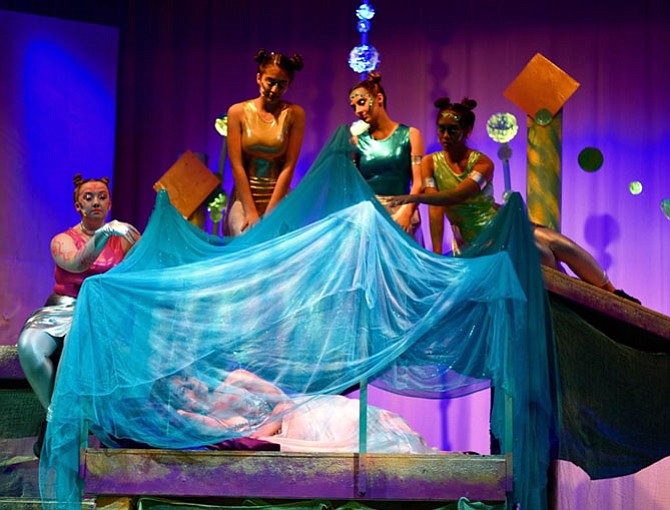 Springfield — Shakespeare in space. Not exactly the first setting that comes to mind when one thinks of a Shakespeare play, but in Robert E. Lee High School's "A Midsummer Night's Dream," the setting of outer space worked perfectly.
The play consists of three overlapping subplots which intertwine in the story's final act. Four youths, in this adaptation city dwellers on a faraway planet, grapple with a complicated love story, as two men, Lysander and Demetrius, are hopelessly in love with Hermia, while her best friend Helena is lovelorn for Demetrius. Meanwhile, fairies, in the version more like aliens, roam the woods causing mischief and a hilarious, bumbling group of mechanicals attempt to put on a play for an upcoming wedding.
This futuristic and bold theme was brought to life in the fantastic choices made by the costume and set teams. The city dwellers had a very geometric style, with the girls wearing beautifully-crafted skirts reminiscent of the Jetsons and the men wearing Star Trek-like shirts. The fairies had on neon leotards and, in a particularly stirring scene, pranced about the stage in black light, with glow-in-the-dark paint shining off their bodies.
The music in the play also added to the theme, as they used '80s synth music to set each scene. One excellent choice was to have quiet music going on under the dialogue in some of the more intimate scenes, adding an almost cinematic element to the play.
This production was very well acted, with the entire cast bringing a consistent energy that kept on building throughout. Their commitment to the difficult language was evident, with the fairies in particular making an interesting choice to deliver Shakespeare's poetic words in an almost musical way.
Daniel Burgess delivered a starring turn as Lysander, displaying fantastic chemistry with both Hermia and Helena, portrayed by Remy Thompson and Leah Block, respectively. Burgess and Jacob Durish as Demetrius really showed their acting chops as they flipped the switch from loving Hermia to Helena while under the influence of a love potion. The two staggered around the stage as though they were drunk on love, with some excellent physical comedy as they fought over Helena.
This comedy was taken even further by the mechanicals, who worked perfectly together as a unit in their uproarious scenes putting together their play. Each actor created a strong comedic character without going too over the top, as they all bounced off each other's choices.
Playing Nick Bottom, Fredric Marquez gave a strong performance, using the full range of his voice as he moved about the stage. In addition, Kennedi Roland gave a strong turn as Puck, the spritely and devoted slave to Oberon, king of the fairies. She wonderfully toed the line between alien and fairy, and really seemed to understand exactly what she was saying at all times.
All in all, this was a creative and consistently strong production, without a weak link in its large ensemble cast. Every element of the show supported its inventive theme, as the tech team pulled out all the stops to create an outer space environment. The acting was well-informed, as each character clearly knew their objective in each scene and no one was overpowering. Everyone involved clearly put in the work necessary to bring such an interesting twist to such a classic work.