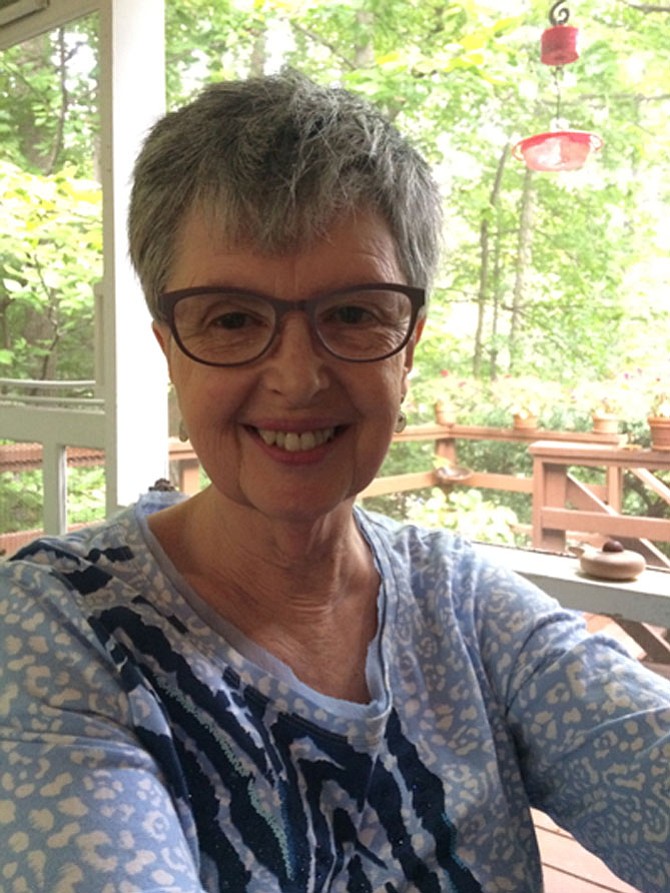 For active "seniors," there is nothing worse than when the bank teller and the waitress start calling you "sweetie" or "dear," and the passengers in priority seating on the bus get up to offer you a seat.
Old? Of course none of them feel old. The hair may be graying, the shoes may be sneakers, and the membership may be AARP, but Northern Virginia is a haven for people who want to stay active and useful after retirement.
Tree Stewards of Arlington and Alexandria
This is a group of volunteers who go through a six-week course reviewing basic botany and pruning techniques, among other skills. One of the leading lights of the Tree Stewards, Nora Palmatier, described her discovery of this group this way: "I've always believed volunteering is important as a way to 'give back' to society. When I retired, it didn't take me long to realize I needed volunteering to keep me socially and cognitively active. So I signed up for a 10-week class on something I knew nothing about — tree physiology and maintenance — which made me use basic science again, and became a Tree Steward. As a group we do tasks like planting new trees, pruning trees, and staffing education tables at community events. Not only do I get to be outside with a group of friends, but we get thanked so much by the public as they pass by our work area and we get to work with county's great park and school staff."
For more information, see www.treestewards.org
Wednesday Mid-Week Hikers
"Another way to stay fit and social is the Wednesday Mid-Week Hikers," Palmatier added. "We have a large listserv and someone organizes a hike each week, then you go or not."
Kate Hughes provided the details: "Initially organized in the late 1970s, the PATC Mid-Week Hikers are an enthusiastic collection of retirees, semi-retirees and others that love to hike. While the pace varies somewhat within the group, participants need to be very fit as most hikes are a brisk 8-12 miles, with up to 3,200 feet of elevation gain. Including a lunch break, most hikes last 5-6 hours. Hike locations include the Shenandoah National Park, the George Washington National Forest in Virginia, Sugarloaf Mountain and Catoctin National Park in Maryland. Hikes are posted on the PATC website calendar (top of the homepage www.patc.net) a few days before each hike."
The Potomac Appalachian Trail Club (PATC) also has an easy hikers group. There are dozens of other hiking meet-ups in the Northern Virginia area, and finding them is easy: see www.meetup.com/topics/hiking/us/va/arlington/
Master Gardeners
The Virginia Cooperative Extension (VCE) Master Gardener program trains participants in best management practices of gardening and landscaping techniques that preserve and sustain the environment. Offered by the Arlington County Office, in partnership with the City of Alexandria, The Master Gardener Training classes are offered once a week several times a year. The class is 9 a.m-3:30 p.m. with a break for lunch from 12-12:30 p.m. The cost of the 2017 volunteer training is $235 for Arlington/Alexandria residents and $285 for non-residents.
Limited scholarship assistance is available; for more information contact Leslie Fillmore, Master Gardener coordinator at 703-228-6426 or leslief7@vt.edu or look up activities on www.mgnv.org.
Make a Bucket List
Diane Allard of Arlington describes this stage of life as "a time to make a list of things I wanted to do long before I retired. I have a list of local sights I haven't seen, a bucket list of places I want to visit, untapped hobbies, unopened books, travel. I'm able to travel with my husband to some of those places on my bucket list — without having to ask anyone's permission — except maybe the dog."
Eldercare
"I retired two years ago and my parents entered into a phase of tumult," Allard said, and many other seniors echo this. "I have been able to step in and help assist them with a number of major medical issues, financial disaster, and moves. Getting them qualified for Medicaid took months of concerted effort — filing forms, paperwork, updating their legal documents. It's been more than a part-time job. It's challenging, but fulfilling, and simply feels like the right thing to do. Another priority has been taking better care of myself: swimming at the local high school pool, walking the dog, having coffee or breakfast with friends, hosting out of town visitors, music."
Join a Rock n Roll band
Allard sings with two groups — a rock band and a small show choir. It helps keep her connected to friends, another important aspect that changes when one retires. Her husband helped her dive into something else she has long wanted to do — learn to play guitar. She said, "Learning a musical instrument is fun, challenging, but also rewarding. Music is great for the aging brain."
Take a Course
Allard is also taking Spanish class through the Arlington County community education program. She also volunteers for charities she finds meaningful, like Meals on Wheels. With all this going on, it is sometimes hard for Allard to even get the time to revisit her retirement list, but when she does, it inspires her to keep exploring new parts of the USA and beyond.
Join a Musical Group
Sallie Klunk of Arlington says she plays in a small musical group at a local nursing home. "I play flute with three other instrumentalists and about 10 singers once a week at Powhatan Nursing Home. Residents are provided with song sheets. My husband Dave and I played at Powhatan Nursing Home for 10 years as a piano and flute duo before I joined my present group."
During her time in the nursing home in Fairfax, she learned about Pets on Wheels, and saw the impact it had on residents. "For the residents, singing and enjoying animals are enriching experiences."
Volunteer for Pets on Wheels
The Fairfax Pets on Wheels program requires six steps: submit an online application; attend an orientation on the first Wednesday of each month, starting at 7:30 p.m. Get a pet behavior assessment. Pet Handler teams are required to pass a behavior assessment to evaluate the pet's controllability, aggression, reaction to strangers, and overall behavior and level of stress in unfamiliar surroundings. Step 4: Get a Fairfax County Government Appointee Background Form. Step 5: Certify your pet's wellness. A FPOW health certificate is completed by your pet's regular veterinarian certifying that the pet is healthy and vaccinations are current. Step 6: Attend training at the facility of your choice.
To learn more, email dfspetsonwheels@fairfaxcounty.gov or call 703-324-5406.
Tutor Others Who Need Help
Gary Usrey tutors local students who need help with everything from history to biology to the citizenship test, or dissecting math word problems. He recommends the program at the Arlington Community High School. "It is a rewarding experience," he said, "Sometimes they are young people, and sometimes they are adults who are putting themselves through school while working."
To learn more, contact F. Lourdes Sanchez, bilingual resource assistant and Tutoring Center coordinator, Arlington Community High School, 800 S. Walter Reed Drive, Arlington, VA 22204, 703-228-8227 (direct) or Felisa.Sanchez@apsva.us.
Usrey said he also does some mentoring through the Affordable Housing Corporation (AHC Inc) and is currently helping with college applications. For more about mentoring, contact Cindy Rozon, 703-486-0626, ext.154, or see www.ahcinc.org/get-involved/volunteers/.