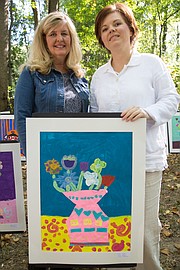 On Sunday, Central Park in McLean was crowded with families who attended the MPAArtfest, annual arts festival in McLean. Local artists from the area displayed their artwork, paintings, photography and much more under canvas tents set up all over the park. A band played under the gazebo and food trucks were present for people looking to have lunch.
The event was sponsored by the McLean Project for the Arts, which is in its 55th year of promoting arts in the community in downtown McLean. Sunday was the 11th annual MPA Artfest.
The New Dominion Women's Club, a non-profit focused on community engagement and empowering women, organized an arts walk at the entrance to the park – 13 local schools within a few miles of McLean participated by showcasing their artwork.
"I love the arts walk. It's inspiring," said Shreem Ramineni, a McLean resident and a stay at home mom and tax attorney. Her son Vasav, a 4-year-old student at Country Day Montessori School proudly pointed to his artwork, the 3D fish tank. "My kids love art and see what the other kids do at school. I have an art background so I encourage it," she said.
The New Dominion Women's Club had 15 of their members helping out at the event. The children's art walk was part of the MPAartfest but the club committed financial support and coordination.
"It catches people as they walk in and celebrates art in its rawest form," said Dessi Woltman, current president of the New Dominion Women's Club. "It's the glue because it brings the families looking for the art that they did at school," she said.
Supervisor John Foust (D-Dranesville) was a big supporter of the children's art at the art fest and has been supporting the festival for years. "It's awesome. I have three major paintings, murals that they put together for me after the art fest in my office," he said.
"Kids being active in the arts and community building in McLean's most central venue helps to create the kind of community that we want here," said Foust.
Katherine Li, sophomore at McLean High and her sister Sofia, eighth grader at Longfellow Middle School were volunteers at Sunday's event. "I really like art!" said Katherine Li.