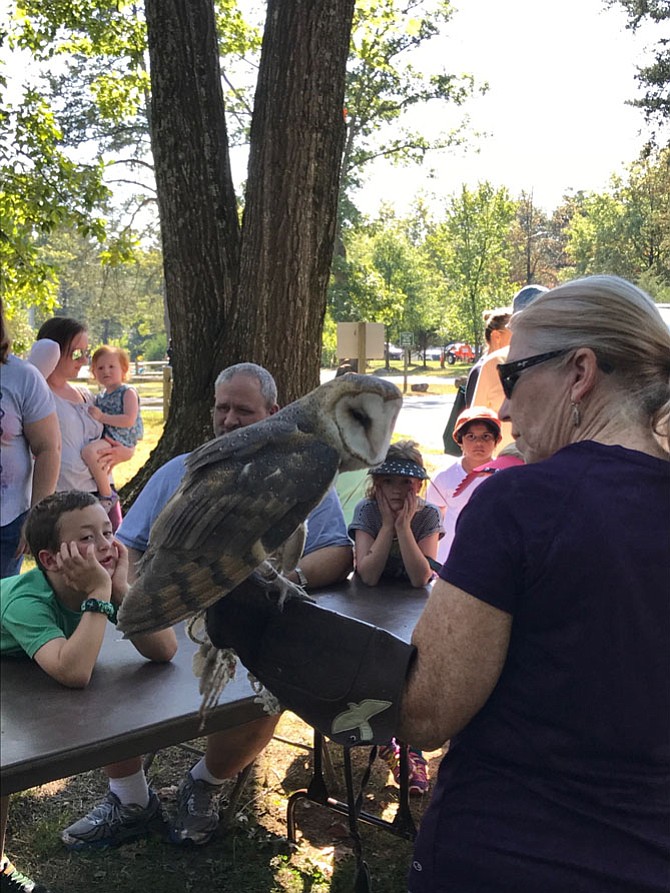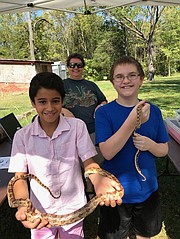 Runnymede Park in the Town of Herndon is 58 acres of natural beauty, a hidden gem of mostly unpaved winding trails, tree canopies, and wild meadows. Much of the park is in the shade. The meandering curves of Sugarland Run flow along the far eastern length of the park, following the border between Herndon and Reston. The stream's banks vary from short vertical drops to shallow rocky slopes. They provide critical habitat and vegetation to foraging wildlife while increasing biodiversity. Eventually, the run drains into the Potomac River, which then drains into the Chesapeake Bay.
Located at 195 Herndon Parkway, Runnymede Park is a peaceful haven, frequented mostly by joggers and dog walkers out to enjoy the quiet. That all changed on Sunday, Sept. 24, 1-5 p.m. when the Friends of Runnymede Park (FRP), a nonprofit organization in cooperation with the Herndon Parks & Recreation Department, invited the public to "Enjoy the Gift of Nature" at NatureFest 2017, their free family-friendly event.
ACCORDING TO FRP BOARD PRESIDENT Carol Hadlock, an estimated 550 people descended upon the park to experience "...one of the few natural parks in Herndon." Hadlock reported the board of FRP took almost an entire year, planning, contacting and inviting organizations to participate. "Fretting over last minute details," she said. FRP billed the event online as "one of the premier nature events in Northern Virginia."
Sandra Brown is a new board member of FRP. She manned the Welcome and Check-in table. Brown said, "Our goal today is to enlighten and encourage families to come out and experience all the natural beauty as well as help support and protect our environmental resources."
Twenty-one activity stations greeted patrons. The stations were spaced throughout the park and included such activities as live animal demonstrations featuring reptiles and raptors, arts and crafts, owl pellet dissection, to see what the bird had for dinner, and a BioBlitz, an app-based cooperative citizen-science effort to record as many species within a designated location and period as possible.
Laura Cunningham came to the event with her young son. She stood deep in the forest at Station # 8 manned by Brent McKenna, Virginia Department of Game and Inland Fisheries. In front of McKenna rested a large tub filled with swimming fish he had scooped out of the stream.
McKenna asked the children if they wanted to touch the fish lightly. While Cunnigham watched her son edge closer to the fish, she said, "I heard about the event from a friend. I haven't explored everything yet, but I've enjoyed being able to walk through nature, the trails, and bring my son. I like how the stations are spaced apart."
John Dudzinsky is the Town of Herndon Forester. Among his many other duties as the forester, Dudzinsky is responsible for providing educational programs for adults and children. He explained the environmental impact Sugarland Run has outside of Herndon. "Sugarland Run flows eastward into the Potomac River, which drains into the Chesapeake Bay. Everything we do in Herndon affects the bay."
As visitors wandered the park, they learned Runnymede is home to many different mammals including beavers, raccoons, foxes and deer, a wide variety of insects including pollinators, and a diversity of birds, from songbirds to raptors. Lois Auer managed the raptor station. Auer holds permits from the U.S. Fish and Wildlife Service, the Virginia Department of Game and Inland Fisheries, and Maryland Department of Natural Resources to possess non-releasable birds of prey for educational purposes.
Auer said, "It always amazes me how diverse the wildlife in Runnymede Park is; it lives in proximity to us humans, yet we don't see much of it. We have a tremendous impact on the wildlife. I think that it is very important for us to have a better understanding of our wild neighbors."
NatureFest visitors also learned Runnymede is recognized as a Native Plant Registry site in Virginia, where more than 400 varieties of native plants can be found in the park.
AFTER THE EVENT CLOSED, Hadlock recalled that the first NatureFest held on Oct. 25, 1998, was titled "Happy Birthday, Runnymede!" It had only nine stations compared to the 21 stations at this year's event. Hadlock added that all the time and energy FRP spent on NatureFest 2017 was worth it. "When we see so many families learning new things about nature and having fun doing that … it makes all the work worth it. And we couldn't make it happen without lots of wonderful volunteers."
For more information about Runnymede Park or volunteer opportunities with the Friends of Runnymede Park, visit www.frpweb.org